Pally paddlers put friendship first
Share - WeChat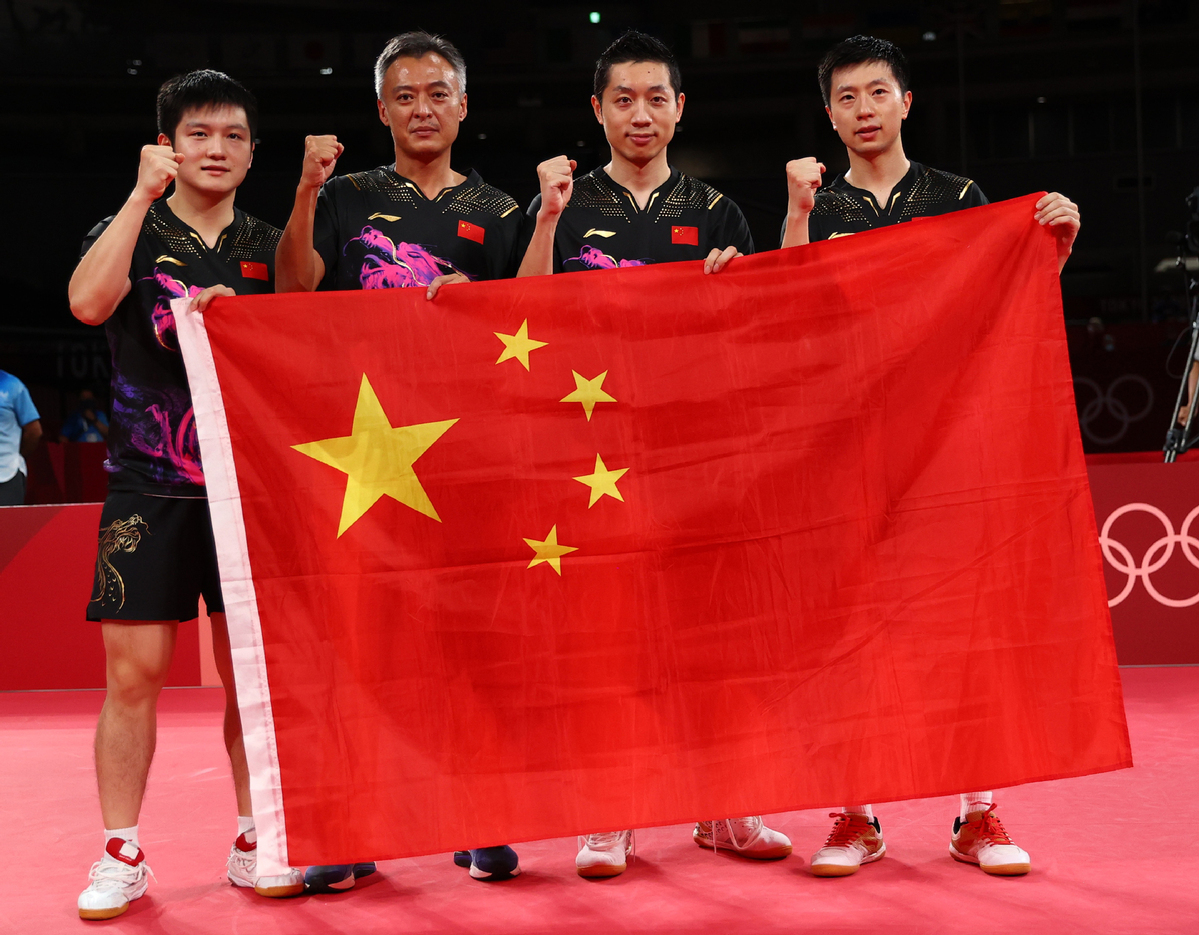 China's all-conquering table tennis stars reveal secrets of their tight-knit bond
Chinese paddlers' glorious Tokyo Olympics campaign was built on individual brilliance on the table and an unbreakable team spirit off it.
Bagging four of the five gold medals on offer, China maintained its dominance of the sport in the Japanese capital. However, fans back home were equally cheered by the obvious solidarity and kinship within the squad-even between gold-medal rivals.
Six days after beating Sun Yingsha in the women's singles final, Chen Meng was captured on camera helping her younger teammate with the nuances of correctly wearing a face mask. The clip, filmed after China's semifinal victory in the women's team competition, went viral on social media, racking up 160 million views on Weibo by Wednesday.
"Of course, we all know Sun Yingsha has very 'pinchable' cheeks! There were obviously regulations at the Olympics about wearing face masks, so when we stopped playing, we were supposed to wear them," Chen told China Daily during an exclusive Douyin livestream on Monday.
"We were all really focused on watching our teammates play that day. But when I turned my head to chat with Sha Sha (Sun Yingsha), I noticed she wasn't wearing her face mask properly. So, naturally, I helped her. After all, she's younger than me, and in our daily training, we just help and support each other."
Chen revealed that feeling of camaraderie was nurtured from the top down thanks to the example shown by Chinese Table Tennis Association president Liu Guoliang, the legendary former player and coach.
"I was really in trouble in my women's singles quarterfinal. I lost the first two games, and at 0-2 down things were looking pretty precarious for me. That day my opponent played really aggressively, so it was a truly hard-fought win," Chen said.
"But many people noticed that day, in the toughest situation, that president Liu never stopped cheering and encouraging me from the stands. He stood up and cheered when I won each point. That was truly unforgettable for me.
"Being able to win the two Olympic gold medals, in the singles and the team event in Tokyo, was really special for me. After all, Tokyo 2020 was my Olympic debut. What's more important is the people who supported me throughout the journey, including my coach, teammates and the CTTA.
"I also want to thank our support team, which has offered us the best possible training and living conditions. Under the leadership of CTTA president Liu Guoliang, the team has constantly had our backs in every difficult situation we faced. That's why I was able to consistently perform well and achieve what I did."
Men's doubles specialist Xu Xin, who helped China to men's team gold and mixed doubles silver in Tokyo, also singled out Liu for high praise.
"CTTA president Liu Guoliang helped us a lot during the Tokyo Olympics. Actually, we could always hear his voice and his cheers and words of encouragement from the stands when we were playing," Xu told China Daily during Monday's livestream.
"Before we arrived in Tokyo, he was always very serious and was pretty strict with us. But when we actually arrived, he helped ease the pressure and encouraged us.
"He spoke to us about many things. The Tokyo 2020 campaign was a long, drawn-out process, so at certain times he encouraged us in different ways. Actually, many fans have seen the video clips of our team meetings before the various finals. He just made us more passionate. Especially, before the team finals, his pep talk truly motivated us and we just wanted to show the best of ourselves on the biggest stage."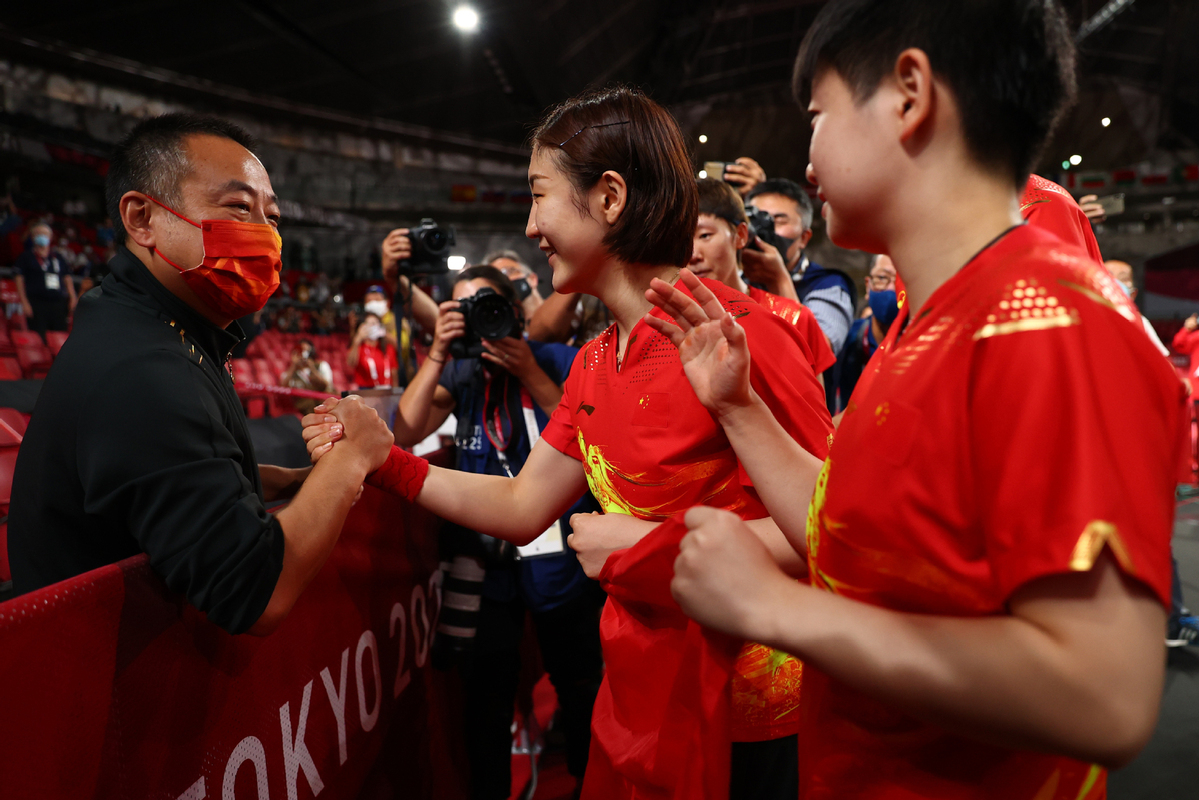 'Natural comedians'
Even without paddles in their hands, Team China's stars proved to be true entertainers, with the Weibo hashtag "All Team China paddlers are comedians" showing just how much the public enjoyed their quick-witted responses in front of the TV camera.
"I think for all Team China players, we have had quick reactions since we were kids. We can react quickly to any questions in interviews and other situations. So we always have some funny answers to the questions from media," said Xu.
"I'm only one of the funny players in the squad, and my teammates all have really good personalities. In a way, we are all natural comedians."
The revelation that Chen is related to renowned actor Huang Xiaoming was also a big talking point among fans online.
"Before the women's singles final, my cousin, who is filming his new movie, texted me some words of encouragement. He said he would be cheering for me in front of the TV," said Chen.
"Of course, he congratulated me after I won the gold, and said he would personally prepare a big meal to welcome me home. But I haven't finished my quarantine, so I will for sure have that meal when I get out."
Despite their dominant display in Tokyo, China's paddlers are wary of a new breed of foreign talents eager to knock them off their perch.
"There are a number of foreign players in their early 20s, who are very talented and play a really attacking game. We've played them on many occasions, and we know how much they want to defeat Chinese players," Xu said.
"For example, 25-year-old Hugo Calderano from Brazil has now broken into the top 10 of the men's world rankings, and we also have many rivals in Asia.
"Before major international tournaments, our team draws up a big chart to pinpoint our major rivals across the globe. This time the chart was too big as we have many competitive rivals. Our rivals are not only from Asia, there are many good players from Europe and South America."
Chen says the up-and-coming opposition only serves to motivate Team China players to keep pushing their limits.
"My goal is simple-to win more titles," she said. "There will be many more top-level international tournaments, and my table tennis dream is far from over. I just hope now I can keep this momentum and keep improving my performances in the future."