China's economic progress, stability benefiting the world
By ZHONG NAN in Beijing and PRIME SARMIENTO in Hong Kong | China Daily Global | Updated: 2021-08-17 01:00




Share - WeChat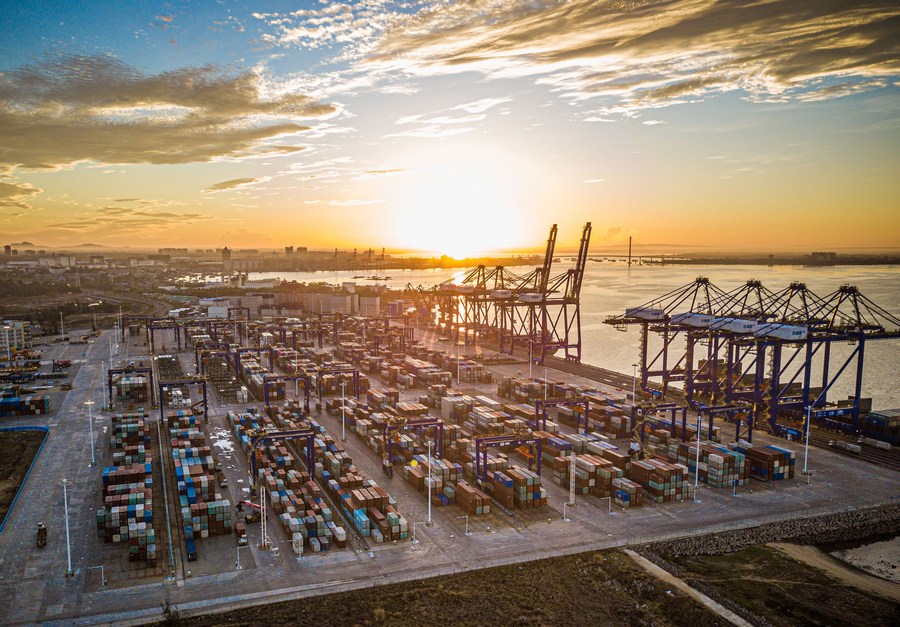 CPC injects momentum into reform, opening-up and socialist modernization
Editor's note: As the Communist Party of China celebrates the 100th anniversary of its founding this year, China Daily is publishing a series of stories to show how the Party leads the country and people to development and prosperity.
Javier Gimeno, 57, a Spanish citizen working for a French company in Shanghai, did not expect that China would grant him and his family permanent residency, the equivalent of a "green card", last year.
The privilege, as he sees it, came remarkably quickly, as Gimeno, who is group senior vice-president of Saint-Gobain, a French industrial conglomerate, relocated from Paris to Shanghai just over a decade ago with his wife and two children. The Shanghai municipal government recognized his value addition to the local economy.
Saint-Gobain, which entered China in 1985, runs a large-scale research and development center and more than 40 manufacturing facilities, with over 8,000 employees, across the country. It plans to open at least 10 plants during China's 14th Five-Year Plan period (2021-25) to ramp up its production capacity in the nation to meet growing demand.
"Over the years, the opening-up initiatives, led by the Communist Party of China, have been constantly updated and upgraded," Gimeno said. "The new negative lists in China's pilot free trade zones are proof. China's openness and welcoming attitude allow foreign companies to come to invest more conveniently and confidently."
For global communities, in particular multinational corporations and foreign consumers, the China story in recent decades has been a win-win result. They have expanded their reach to capture lucrative market opportunities and gained the goods manufactured and designed in China, while the nation has grown in economic strength and enhanced the welfare of its 1.4 billion people.
Many of the success stories of these foreign companies and consumers have dovetailed with the first centenary goal set out by the CPC of building a moderately prosperous society in all respects.
"One of the key factors behind this centenary accomplishment is the strong leadership of the CPC, which has successfully united people to strive together for a common goal, and generated tangible benefits for the world's supply chain and a large number of foreign companies' fiscal sheets," said Wang Shouwen, vice-minister of commerce.
Far-reaching reforms
As China embarked on far-reaching economic reforms in 1978, it was still a low-income, developing country with a relatively high share of the population still below the poverty line.
However, the CPC has played a key role in driving economic reforms that have resulted in China's GDP growing from around 454.56 billion yuan ($70.2 billion) in 1980 to 101.6 trillion yuan in 2020.This has made China the world's second-largest economy, and this was driven by the very rapid growth in per capita GDP, according to National Bureau of Statistics data.
The CPC's economic policy framework has resulted in large-scale foreign direct investment inflows and the rapid expansion of global trade over the past four decades, said Wang.
China's gross domestic product expanded 12.7 percent year-on-year in the first half of 2021, while the country attracted 607.8 billion yuan in foreign direct investment, surging 28.7 percent year-on-year to a record high, data from the NBS and the Ministry of Commerce show.
Backed by China's complete industrial chain, the nation's foreign trade expanded 24.5 percent year-on-year to 21.34 trillion yuan in the first seven months of the year, according to the General Administration of Customs.
At a ceremony marking the CPC's centenary celebration in Beijing on July 1, Xi Jinping, general secretary of the CPC Central Committee, said: "We established the Party's basic line for the primary stage of socialism, resolutely advanced reform and opening-up, overcame risks and challenges from every direction, and founded, upheld, safeguarded and developed socialism with Chinese characteristics, thus bringing about a major turn with far-reaching significance in the history of the Party since the founding of the People's Republic of China."
This enabled China to transform itself from a highly centralized planned economy to a socialist market economy brimming with vitality, and from a country that was largely isolated to one that is open to the outside world across the board, he said.
Denis Depoux, global managing director at consultancy Roland Berger, said that central planning and the disciplined implementation of a long-term vision have been crucial to China's success.
"This institutional determination, articulated with a long-term vision combined with reasonably flexible short- to medium-term targets, has enabled China to achieve infrastructure investment, which has favored the general interest," he said.
"Despite the size of the country, the magnitude of transformation and the progress needed, central planning has enabled the building of a holistic vision of objectives, required resources, roles and responsibilities," Depoux added.
Lawrence Loh, director of the Centre for Governance and Sustainability of the National University of Singapore's Business School, said that the CPC has served well as a bedrock for national development in the century since its establishment. It has turned around a country from a more backward starting point into a formidable China that is a key country in the world, he said.
'Drastic shifts'
"The external environment is extremely dynamic and is in a more delicate state of flux than ever before. New policies are needed in view of the drastic shifts in the world's geopolitical settings and recent strategic emphases, particularly investment and trade as well as sustainability and the climate," he said.
In economic growth, the limits posed by maturation are inevitable, Loh said. Constant technological progress will be crucial for China to persevere in the path of development, he added, and innovation in policies, products and practices will be the cornerstones of progress.
"China's continued success long into the future will be crucially dependent on its ability to keep up its good governance, coupled with a firm commitment to sustainability for the country and for the world," he said.
Rajiv Biswas, Asia-Pacific chief economist at global research and information provider IHS Markit, said he believes that the CPC will continue to play a central role in coordinating economic policy for the future macroeconomic management of the Chinese economy.
"A key role for the CPC will continue to be in setting strategic medium- and long-term economic plans for the future economic development of China. Another important focus for the CPC will be to drive industrial transformation toward high-value added industries as well as the green energy transition in China," he said.
Biswas noted that China has seen a tremendous economic transformation since the 1980s, which has resulted in the nation moving from the status of low-income developing country in the 1970s to an upper middle-income country today. Within a decade, China is poised to move into the ranks of the advanced economies in terms of per capita income.
According to a World Bank forecast released in June, China's GDP is expected to grow 8.5 percent this year. The projection is higher than the country's growth target of more than 6 percent set by the government.
Zhang Liqing, chief economist of PwC China and director of the Central University of Finance and Economics' Center for International Finance Studies, said the country is likely to see 5.5 percent growth in the second half of the year, and more proactive policies, including expansion of fiscal spending and monetary support to lower corporate financing costs, can be expected.
Li Fang, president and general manager for China at Corning, a United States-based material manufacturer of industrial goods and daily necessities, said, "Since the CPC decided to pursue a policy of reform and opening-up in 1978, China has made significant achievements in its reform, opening-up and socialist modernization, which continues to contribute to China's stable and prosperous momentum."
China's new "dual circulation "development paradigm, in which the domestic market is the mainstay and the domestic and foreign markets reinforce each other, will usher in a higher level of opening-up, enabling the market to improve its business environment, further stabilize foreign investment and accelerate balanced and sustainable growth, Li said.
Production accelerated
Besides expanding investment in its Chongqing plant and adding manufacturing capacity by opening a new glass substrates plant this year in Wuhan, Hubei province, Corning has also accelerated the mass production schedule for its new borosilicate glass tubing plant. This will address the increasing need for high-quality pharmaceutical packaging in China.
"China is a strategically important market for Corning, and the only market that is home to all of Corning's businesses. We have invested more than $8 billion in this market and employ a work force of more than 6,000 across the country," Li said.
The optimistic views that foreign companies hold regarding China are also reinforced by the strong rebound of the Chinese economy amid the COVID-19 pandemic. Despite the recent softening of growth momentum, the Chinese economy remains on the path to recovery supported by timely and effective policy measures to shore up domestic consumption and investment.
While living in China for more than a decade, Mark Edwards, managing director for Diageo China at London-based Diageo, one of the world's largest spirits producers by sales revenue, said he has been impressed by the country's many developments. One of the key factors that has struck him about the CPC's progress is the country's spirit of agility.
"The world's political and economic environment continues to constantly change and evolve rapidly, and the market and people here respond quickly and proactively to varying circumstances and different situations," he said. For example, China has set an example for how quickly markets can recover from the COVID-19 pandemic and emerge stronger, demonstrating the resilience of the Chinese economy, said Edwards.
Enhancing trade flow
Iris Pang, chief economist for China at Dutch investment bank ING, said the major challenge for China's long-term growth will be strengthening its technological competitiveness in the international environment. This does not only mean producing top-notch technologies but also being able to export them to the rest of the world, she said.
Noting that China and its partners are pushing for the Regional Comprehensive Economic Partnership agreement to take effect next year, Pang said the RCEP will not only benefit China's economic growth, but also that of other participants, since the deal will enhance trade flows among member countries and change the supply chain network.
International trade offers sellers and buyers alike a better price for the same transaction than they would get for trade within their own economy, and domestic circulation provides backbone support for the economy when the external part is weak, Pang added.
Eager to put its economic growth on a firmer footing, China will maintain the consistency, stability and sustainability of macro policies, ensure the alignment of macro policies between this year and next, and keep major economic indicators within a proper range, according to a statement released after a meeting of the Political Bureau of the CPC Central Committee in late July.
The tone-setting meeting highlighted an increasingly complex and challenging external environment, with the COVID-19 pandemic continuing and domestic recovery remaining unsteady and unbalanced.
The meeting reiterated the importance of acting on the general principle of pursuing progress while ensuring stability, faithfully and comprehensively carrying out the new development philosophy, deepening supply-side structural reform and accelerating the fostering of the new development paradigm.
Tracy Xie, president for China at Vale, a Brazilian iron ore producer, said there is no doubt that great leadership, a stable political environment, consistent economic policy and persistence in reform and opening-up have contributed to China's achievements.
"This is a powerful example that clearly demonstrates the CPC's focus of putting people's lives first, therefore benefiting the country and all its people," she said
Xie also said there are many areas in which China could further increase the resilience of its economy and its attractiveness to foreign companies, including urbanization, traditional and new infrastructure, including information-based infrastructure, big data and artificial intelligence, and innovative infrastructure that supports scientific research, technology and product development.