Speedster Su chasing new targets
Share - WeChat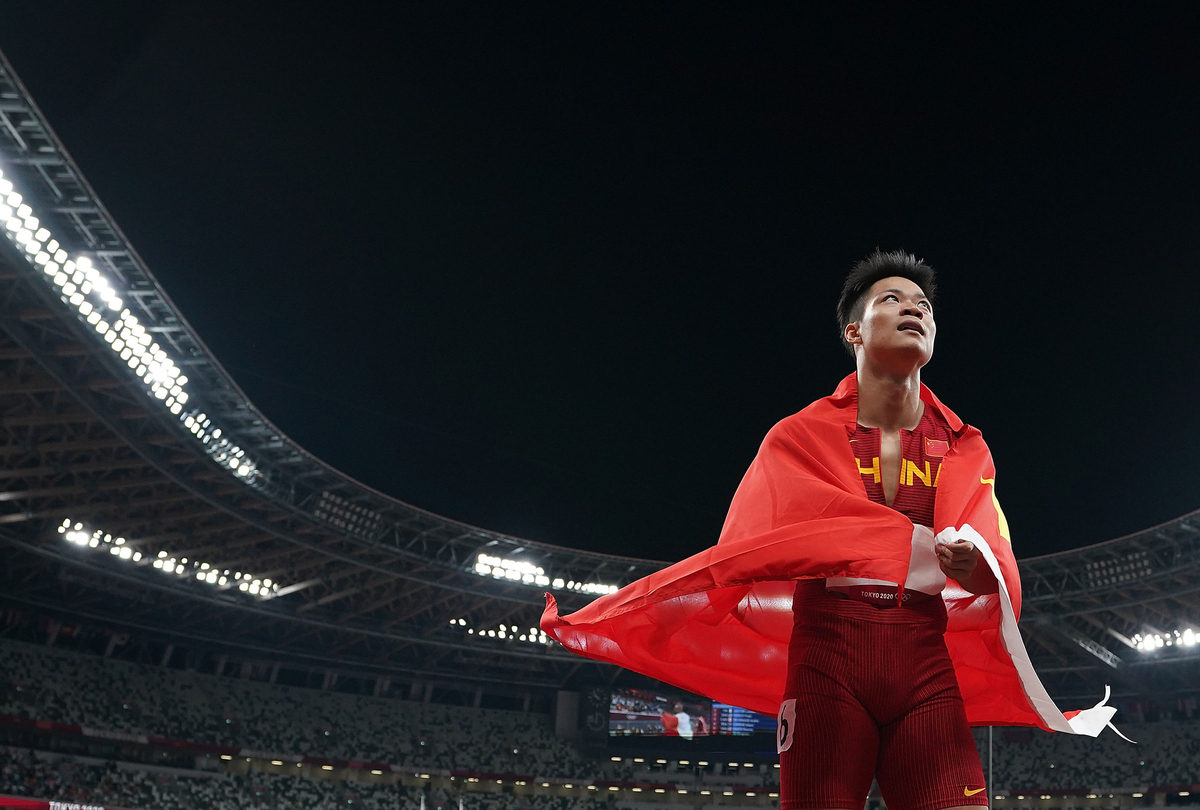 Su Bingtian still feels the need for speed, declaring that his scintillating late-career surge is not over yet.
Already the quickest Asian sprinter of all time, Su dashed to more history earlier this month by becoming the first Chinese to reach an Olympic 100m final, refreshing the continental record to 9.83 seconds in the process.
Those feats were among the highlights of Team China's superb Tokyo 2020 campaign, but Su, who turns 32 on Aug 29, now wants to push his body to even greater speeds.
"Whether or not my career has peaked, I am not sure. But I am not done yet. I still want to challenge (for faster runs) in the future," Su told China Central Television this week.
"You won't know if you can be better or not until you really get there. Now I've run faster than my previous best, so I am sure that there is still room for improvement … I don't really buy the theory that this was already the limit for Asian-born athletes."
With the Tokyo final scheduled just three hours after his semifinal, Su admitted that his conditioning and recovery ability were not quite what they needed to be.
"My biggest takeaway from Tokyo is that it's the ultimate test of the whole process of racing, recovering, readjusting and then racing again on a higher level, not just giving all you have just once," he said.
Su's American coach Randy Huntington, who is credited as being key to the Chinese star's blistering pace in Tokyo, believes some technical tweaks to Su's stride could take him to the next level.
"No, it's not the limit for sure," Huntington told China Global Television Network. "He is still a little stuck in stride frequency… I think if he hits that stride length properly, he would have run 9.79 or 9.78 seconds, which he is capable of."
As the former mentor of long jump world-record holder Mike Powell, Huntington took over Su's training in 2017, four years after joining the Chinese program.
Huntington essentially redesigned Su's technique, including his start out of the blocks and arm swing in acceleration.
Four straight sub-10s and tying the then Asian record of 9.91, held by Nigerian-born Qatari Femi Ogunode, showed Su was on the right track under Huntington's guidance.
Su's lighting start and initial acceleration are now considered among the world's best, and Huntington reckons he can go even faster with improvements to his velocity in the final meters of races.
"You can still continue to run pretty fast into your mid-30s for sure. But the problem is that nobody's ever done it in China before. We've done it in the US quite often, but not here," said Huntington, who coached his compatriot Powell to leap to a world-record 8.95m at the 1991 world championships in Japan.
"The style of Su's training prior to the Olympics allowed him to continue his career. Now, of course he's getting stronger, getting faster, yet he still needs to work on the last 25 meters."
With the Paris Olympics just three years away, Su said he has yet to decide if he will go for more glory in the French capital.
"It's not a guarantee," said Su, who will take a break and return to campus to continue teaching as an associate professor in athletic training at Jinan University in his native Guangdong province.
"My plan is to continue racing for one more year and see where I will go from there. If I can still compete at the elite level in 2023, I will naturally embrace the challenge to go for the Paris Olympics in 2024.
"Should I be unable to run as fast as I need to, I will walk away without any regrets."
Huntington, who has spent most of the past eight years in China, says he is open to the idea of working with Su again to prepare for Paris 2024.
"I know he wants to go one more year," said the American. "I will go home for a break and consider whether to come back.
"It's not about the money. Compared to soccer and basketball coaches, we don't get paid that much. It's really about being appreciated for what you are doing, which is really a big part of why we do this."