Tesla again cuts the price of its Model 3
Share - WeChat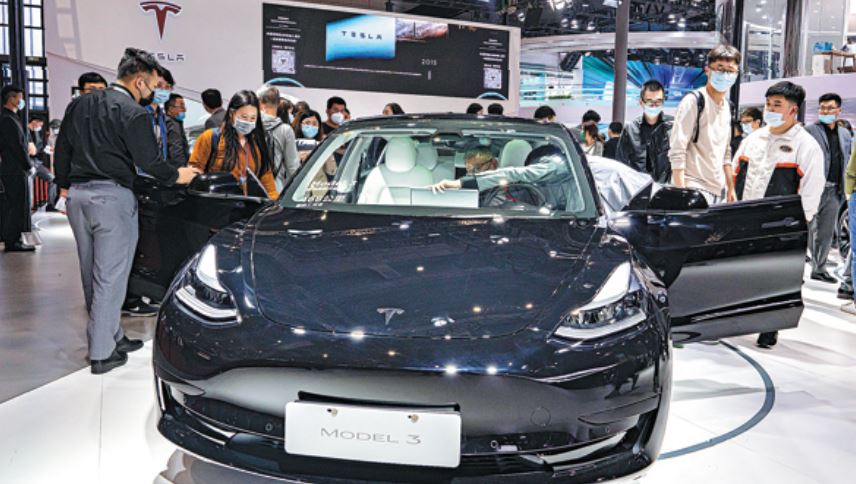 Tesla has again trimmed the price of its Model 3 in China, in an effort to boost sales in the world's largest electric vehicle maker.
The electric vehicle maker announced that the price of China-made Model 3 Standard Range, after subsidies, has been reduced by 15,000 yuan ($2,323) to 235,900 yuan. The models are expected to be delivered in four to six weeks.
Since Tesla started production of the entry-level model at its Shanghai factory in late 2019, it is the fourth time the price has been dropped. From its original price of 328,000 yuan, the Model 3 has been reduced by a total of 92,100 yuan so far.
Tesla said that the price adjustment is based on cost fluctuations.
Tesla CEO Elon Musk has said that the company's mission is to make electric cars affordable and has blamed vehicle price increases on a shortage of chips and raw materials.
A Tesla employee said the pricing strategy is simple-costs plus a certain and reasonable profit. Without dealers hoovering up profits and advertising costs, once the profit margins are set, the price will fluctuate only according to costs.
Yale Zhang, managing director of consulting company Automotive Foresight, said that having a production facility in Shanghai allows Tesla to source locally and more cheaply from suppliers in the Yangtze River Delta.
Tesla is aiming to reduce the price difference between the Model 3 and the Model Y, whose price was reduced in early July, Zhang said.
The starting price of the Model Y Standard Range is 276,000 yuan after subsidies, which is more than 70,000 yuan lower than the previous model at 347,900 yuan. The previously lowest-priced Model Y is not eligible for China's state subsidy because it was priced above 300,000 yuan.
Zhang forecast that the price of the Model 3 will continue to fall and end up being priced at around 200,000 yuan, considering the production capacity in China, chip shortage and the positioning of the Model 2, which is expected to launch in late 2023.
In the next two to three years when the models have longer ranges, the Model 3 could potentially pose a threat to popular models such as the Honda Accord and Toyota Camry, Zhang said.
Compared with other markets, especially its home market of the United States, Tesla faces fiercer competition in China from local rivals, including Nio and Xpeng, and problems that include product recalls, high-profile protests by consumers and pressure from regulators, Reuters reported.
A study by Bernstein analysts found Tesla owners in China were less enthusiastic and had lower repurchase intentions than owners in the US and Europe.
"Tesla is looking to be as competitive as it can be in China. Lower prices will be a part of that aggressive market positioning," Roth Capital Partners analyst Craig Irwin was quoted by Reuters.
In China, Tesla's market share slipped to 11 percent in the electric vehicle market, which excludes plug-in hybrid cars, in the second quarter from 18 percent a year earlier, according to GLJ research.
Unlike the models produced in China, Tesla also raised the prices of the Model S Long Range and Model X Long Range in China again last week. The Model S and X are produced in the US.
Tesla sold 161,700 cars in China in the first half of this year, accounting for 41.9 percent of its global total. The sales of Model 3 reached 16,515 units in the same period. Tesla's Shanghai factory can produce more than 450,000 cars annually.