Tesla's Shanghai factory produces superchargers
Share - WeChat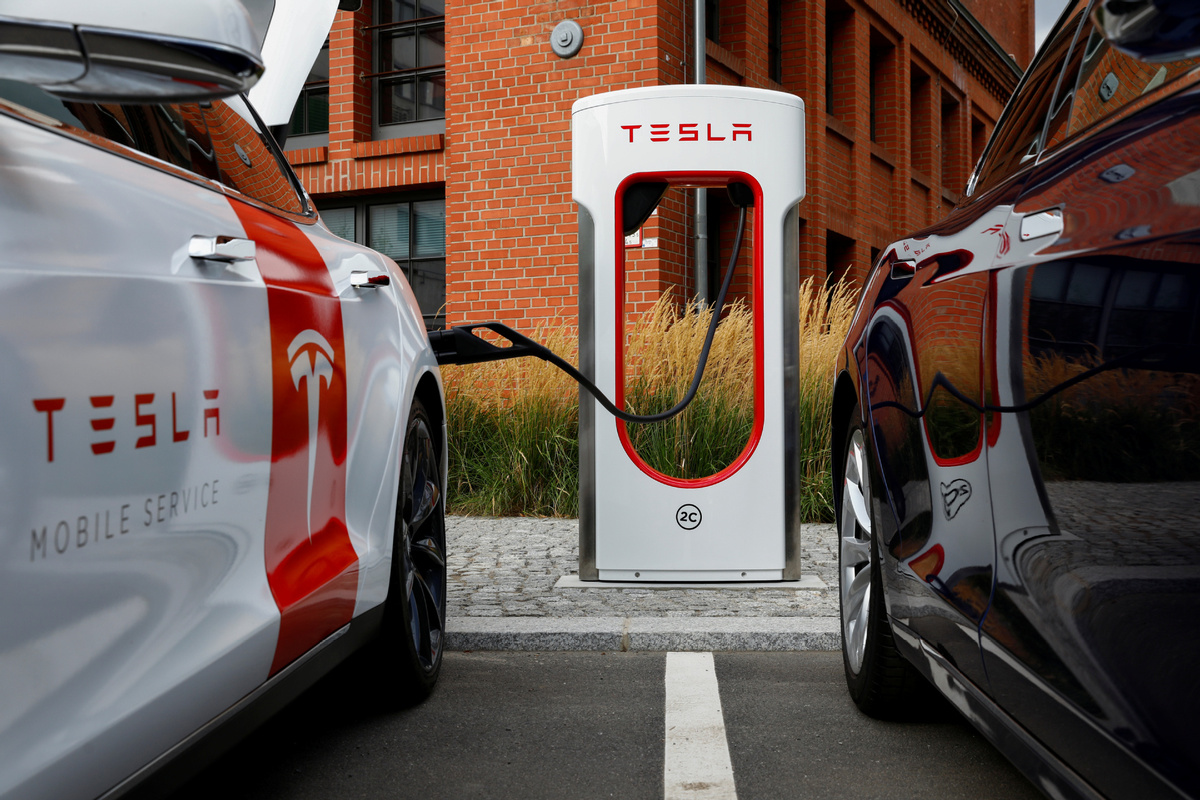 Tesla Inc has started producing electric vehicle superchargers at its new plant in Shanghai, as the US electric carmaker continues to expand its footprint in China, the world's largest automobile market.
The company said on Wednesday that a factory mass-producing its V3 superchargers has been officially put into production, less than six months since the project was approved in August.
"It is again a reflection of 'Shanghai speed and Tesla speed'," the company said in a statement, highlighting the fervent support from the local government.
The 42 million yuan ($6.5 million) plant spread over 5,000 square meters is scheduled to make 10,000 supercharging poles every year. The plant will also undertake research and development functions, Tesla said.
More than 410 Tesla supercharging stations were built in China last year, according to company data. These include 180 stations hosting the faster V3 superchargers, which allow vehicles to cover up to 250 kilometers after being charged for 15 minutes.
Prior to the plant's construction, these superchargers were all imported from the US.
Tesla has been expanding aggressively in China in recent months, by selling the locally made Model Y compact crossover utility vehicle in January and began exporting China-made Model 3 sedans in October to Europe.
According to estimates from the China Association of Automobile Manufacturers, total EV sales in China reached 1.3 million units in 2020, up from 1.1 million units in 2019. Latest forecasts point to a potential surge of 30 percent to 40 percent for 2021.
Chinese EV makers are following suit in expanding their respective charging networks. EV startup NIO Inc said in December it has signed an agreement with State Grid EV Service, a unit of China's State-owned electricity distributor, to build 100 charging stations across China by the end of this year.
Xpeng Motors, another Chinese electric carmaker, has launched free-charging services for car owners in 30 cities in China to gain traction.
A study by consultancy Deloitte suggested that battery-operated electric vehicles will account for 90 percent of overall EV sales in China in 2030, with a sales volume of more than 17 million vehicles. Around 60 percent of premium battery-powered EV owners said a range of more than 400 kilometers can meet their daily needs.
Improved charging infrastructure was highlighted among key growth drivers, along with government subsidies and improved battery performance, said Zhou Lingkun, Deloitte China's automotive sector leader.
"Ongoing technological innovation will drive the creation and adoption of increasingly disruptive battery and charging technologies," he said. "For example, China and Japan are cooperating on a fast-charging solution to bring charging time down to 10 minutes or even shorter by 2020."
Beijing has announced the lofty goal of having one in five newly-sold cars in the country to be powered by non-fossil fuels by 2025.