History-maker Wang on track for more breakthroughs
Share - WeChat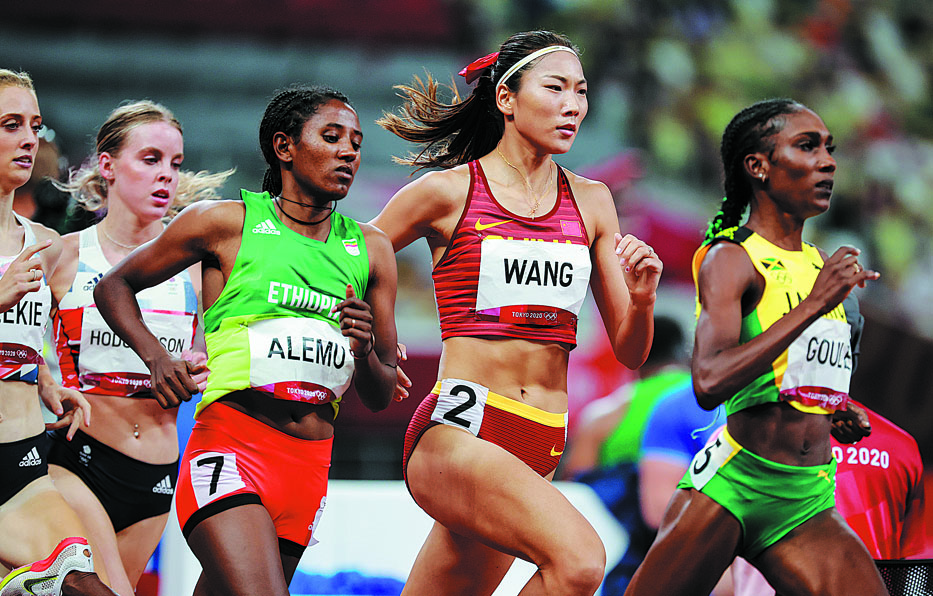 Wang Chunyu made history for China on Tuesday, but the ambitious 26-year-old still could not hide her disappointment at not grabbing a medal in Tokyo.
As the first Chinese woman to run in an Olympic 800-meter final, Wang thrilled fans back home by clocking a personal best 1:57.00 to finish a hugely respectable fifth in a race won by American Athing Mu (1:55.21) on Tuesday.
Afterward, however, a teary Wang told the TV cameras she couldn't help but feel that her historic run was an opportunity missed.
"Personally speaking, I really wanted to make the podium. It's a pity that I failed to win a medal. I had even prepared my Team China podium uniform," she said.
Seven of the eight finalists posted PBs in the final, with Wang admitting that the blistering pace took her somewhat by surprise.
"This was a highly competitive race, and I did not expect the winner to finish in that speed," Wang added. "Actually in the last 100 meters, I almost ran out of strength. But I thought, even if I have no strength, I still need to fight. What if I can still run faster than one or two of my rivals?
"To finish fifth in the final, I have already made history, which has proved I belong to this level. But ultimately I failed to stand on the podium, which showed there's still a gap between me and the top runners. After this, though, I'm more confident because I have competed at the world's highest level.
"And the gap can be closed by better and harder training. I believe in myself to one day beat them."
Wang's breakthrough certainly impressed the fans back home, with the hashtags "Wang Chunyu finished fifth in 800m final" and "Wang Chunyu qualified for the 800m final" viewed 360 million and 210 million times respectively on Weibo by Wednesday morning.
"From national champion to the Asian champion, and now Wang Chunyu has a fifth-place finish on the world's biggest stage. It only took her three years to achieve this feat," read a China Sports Daily commentary.
"In three short years, Wang kept making breakthroughs. And even now, Wang is still not satisfied with her achievement. Speaking of the future, Wang said that the regret in Tokyo will motivate her. Wang for sure will keep pushing her limits and target improvements at the coming world championships. We all believe one day she will stand on the podium at a major international event with a medal around her neck."
Just like China's Tokyo 2020 100m finalist Su Bingtian, Wang cited Liu Xiang, who won 110m hurdles gold at the 2004 Athens Games, as an inspiration.
"I always remember big brother Xiang said in 2004, 'Who said those with yellow skin are unable to make it into the top eight runners in the Olympics?' And today I feel I have achieved that," said Wang.
"And after making it to the final, I would at least be the eighth-ranked runner in the Olympic 800m, even if I walked to the finish line. Many people thought it would be impossible for me to achieve this and I had no hope. But I have proved that I can, and I have proved that Chinese distance running can go this far."
Thanks, coach
Wang credits American coach Randy Huntington as being key to her rapid development.
Huntington, who also works with sprint star Su in the Team China athletics squad, is not Wang's primary coach, but she says his input has helped her inject more pace into her performances.
"Many people misunderstand the 800m, as they believe speed is not the top priority in training," explained Wang. "But without good speed on the track, I was unable to beat anyone.
"When nobody believed I could do it, only Randy trusted me. He kept encouraging me. In his heart, he does not just believe that I can stand on the podium, he also thinks I can challenge anyone. And I fully trust him."
Wang revealed that, as per Huntington's advice, she used different tactics in the final, and blamed her inability to fully execute his instructions as the reason why she failed to pocket a medal.
"Randy watched every race of Athing Mu, and he wanted me to follow her closely and then switch lanes. I tried hard to follow her but I just didn't manage to do it to the end," said Wang.
"Maybe some people think the old man (Huntington) is overconfident. But I believe, as a coach, he knows his athletes. So I trust him to give me new training plans and tactics."
Born in 1995, Wang began serious running training as a fifth-grader, winning her first national title when she was just 16, and in 2018 grabbing gold over 800m at the Asian Games in Indonesia.
Her younger brother Wang Longyu trained with his sister when they were younger. He now works as a firefighter and has been proudly watching his sister's heroics in Tokyo on TV with his colleagues.
"I remember when I was her teammate, we usually would have very tough training each afternoon. Many of the boys were unable to cope with it, but my sister could finish all the plans that the coach gave her. She always trained harder than the others," said Wang Longyu.
"I'm so excited and proud of my sister, who has refreshed her personal best and made history for our country. All my sister's efforts throughout the years have finally paid off.
"In recent years, my sister has been preparing for the Olympics and it has been hard for us to meet. She has earned honor for the nation at the Olympics. As for me, as a firefighter, I will stick to my post and try my best to safeguard the public."