Team China's social climbers
Share - WeChat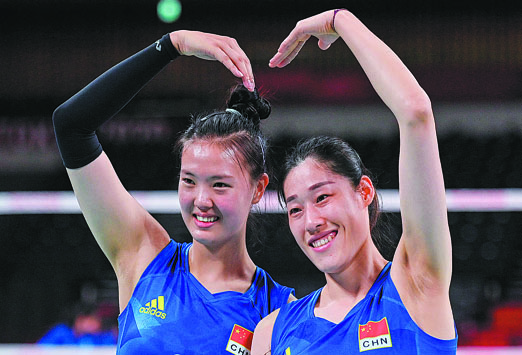 Often viewed as hardworking yet inarticulate in the past, China's gold-sweeping weightlifters in Tokyo have shattered stereotypes around their sport by revealing the lighthearted side of their lives to an intrigued public.
In response to her curious fans, women's +87kg gold medalist Li Wenwen last week posted a video on Weibo showing that she had removed from her room the infamous cardboard bed offered to athletes at the Olympic Village, and replaced it with a Japanese tatami-style mat to sleep on.
"Don't worry guys, I won't challenge the paper bed with my weight class as hard as some other athletes did. We (Li and the bed) are both safe," she said in the video.
Li's men's counterpart Lyu Xiaojun, who won the 81kg as the world's oldest Olympic champion in the category at 37, has also seen his popularity soar after a series of videos on his warm-up squat routine went viral on YouTube.
In one of the instructional videos, Lyu clamps a piece of paper in between his bulging back muscles and encourages viewers to challenge themselves with the workout. His Instagram account-"luxiaojunbarbell"-has attracted over 250,000 new followers in the space of a week during his stay in Tokyo.
"I enjoy weightlifting to challenge myself, and the feeling of vying with much younger opponents in the ring," said Lyu, who hoisted his coach into the air to celebrate his gold-medal triumph on Sunday.
"People all over the world call me 'Jun, the God,' and I want to say to them that 'you are right'."
With the Games taking place under strict COVID-19 restrictions, athletes' social media posts about the Olympic Village-often the subject of intrigue and gossip at past Games-are proving hugely popular on social media, especially considering the world's media have limited access to the facilities.
Through their own posts, the world's mightiest sportsmen and women have presented their goofy, bizarre and refreshingly normal selves without the varnish of scripted and edited television packages, helping fans relate to them.
In the wake of the retirements of a number of high-profile sports legends, including basketball icon Yao Ming, tennis Grand Slam champion Li Na and badminton great Lin Dan, China craves a new generation of sporting superstars.
Social media could help satisfy that demand, said Hong Jianping, a sports communication researcher at Beijing Sport University.
"The instant nature of social media has made it possible to generate stars by elevating their profiles overnight," Hong said.
"However, everything has to be built on a solid foundation-and that is their athletic performance.
"Fame on social media can come and go very quickly. The funny and fascinating tidbits can only add to their sporting achievements, otherwise the attention won't last long."