Tenacious Chen restores China's shuttling success
Share - WeChat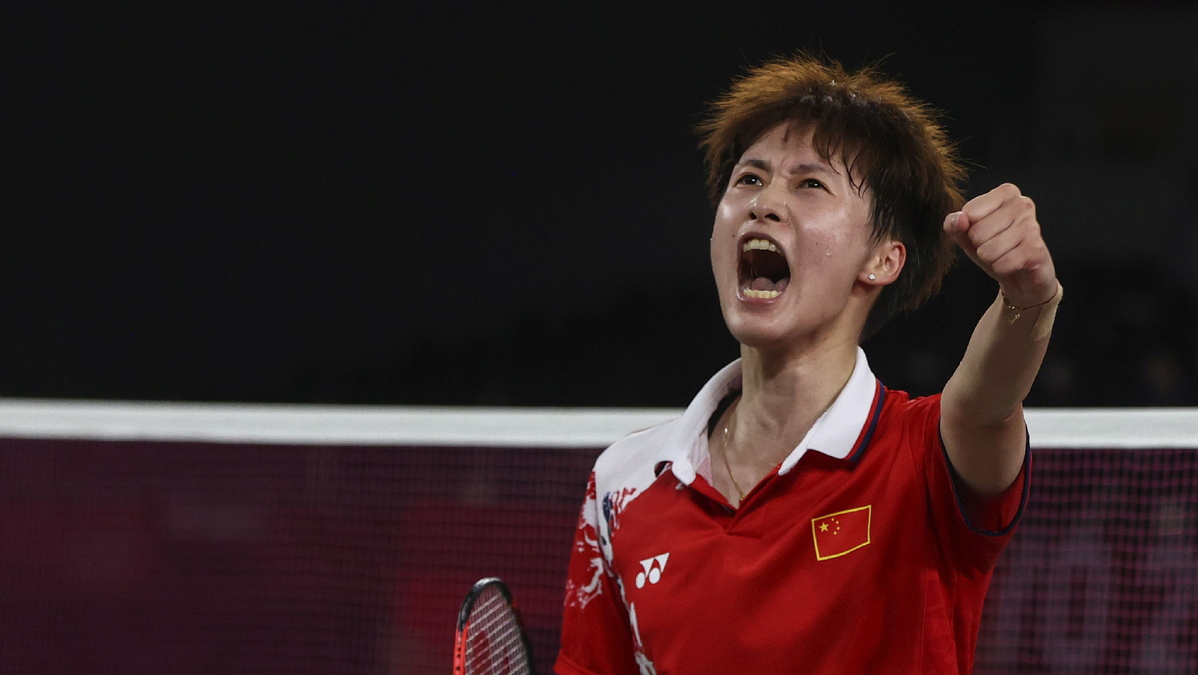 Chen Yufei reckons her "dream "Olympic badminton gold medal signals China's resurgence as a superpower in women's singles.
"It's like a dream to me, and it even feels unreal now. I have become an Olympic gold medalist," said Chen after defeating Chinese Taipei's world No 1 Tai Tzu-ying 2-1 in Sunday's final at the Tokyo Games.
Chen's gutsy triumph felt long overdue for fans, with China's previous Olympic gold in women's badminton coming nine years ago-for Li Xuerui at the London 2012 Games.
"I'm extremely happy to extend the honor. The Chinese women's badminton team has had problems since 2016. But today I stood on top of the podium, and this is recognition for China's women's team," said the 23-year-old, who had to fend off a spirited late fightback from Tai in the deciding game.
"It was unbelievable and I feel so happy. My head went blank when I scored the last point. Even when I lost the second game, I told myself not to give up and to keep believing. I will do my utmost to bring more honor to our team in women's singles."
Chen's victory was something of an upset in the badminton world, especially considering she had won just three of her previous 18 meetings with Tai.
"The match was actually really tough, so the result is quite surreal," Chen added. "I encountered many difficulties on the court, and on many occasions I didn't feel comfortable at all. But I simply kept trying.
"What I did well today is not to give up easily. Compared to my rival, my attack is not as good as hers. So I needed to do better in terms of defense. The consensus tends to be that, in big tournaments, those who have a better attack have the advantage. So I focused on my defense in my preparations."
The stunning triumph sent Chinese social media into overdrive on Sunday night, with related topics viewed a jaw-dropping billion times on Weibo by Monday morning as fans rushed to congratulate their hero.
"I'm very proud to see the growth of the younger generation of badminton players in the world's major events like the Olympics," Li Lingwei, Chinese badminton legend and International Olympic Committee member, told People's Daily.
"From Chen's performance in the final, we can see her aggressiveness and perseverance. In tough situations, she can still handle everything well with a calm mindset. She eventually prevailed thanks to her fierce competitiveness and mental strength.
"I hope, with the Olympic singles gold medal, Chen can now grow to become a leader and role model for Chinese women's badminton. She can lead the team and gain more experience to secure Team China's position as a world leader in the sport."
Bumpy ride
Chen's route to the top has been far from smooth. Joining the Zhejiang provincial team as an 8-year-old, she was selected to the national program six years later.
However, she initially struggled with the step up in class and was demoted back to the provincial setup.
Three months later, the tenacious teenager was back in the national squad, and after the Rio Olympics was entrusted as the team's core player, leading a new generation of young shuttlers.
More soul-searching followed at the 2018 Uber Cup, when Chen's failure to secure a medal in the singles competition prompted her to declare she was "not good enough to shoulder the responsibility for the national team".
However, 2019 proved to be a turning point for Chen, with the youngster winning seven golds in major competitions to rise to No 1 in the world rankings by the end of the year.
"Chen had not been considered a prodigy on the court, but she has been the one who kept trying and made breakthroughs," read a China Sports Daily commentary.
"Even though Chen, who made her Olympic debut in Tokyo, was China's top-seeded player, she gave all she had in each match, displaying strong mental fortitude throughout to make it to the final."
Due to the COVID-19 pandemic, Chen had not played any international tournaments for about 18 months in the build-up to the postponed Olympics. Instead, the Chinese players knuckled down to long days training behind closed doors.
"Since the start of the pandemic, our country has been offering us the best possible protection and support. I'm so proud to be Chinese. Due to the great support, we were able to receive quality training every day, and we have organized many simulations. That's why we are having great performances at the Olympics," said Chen.
She is acutely aware, however, that maintaining her momentum will not be easy.
"I just want to say, the second I stepped down from that podium, I started a new chapter of my career from zero," Chen told China Central Television. "It was truly a glorious moment when I stood on the podium, but I also realize there are many areas of my game I need to improve.
"I still have many shortcomings, and I need to take stock of those after the Olympics. I need to level up my strength comprehensively. It has been a very hard five years for Chinese women's singles players. I'm honored to now become the one who can shoulder the responsibility of leading them."