Domestic milk tea brands brew up accelerated sales
Share - WeChat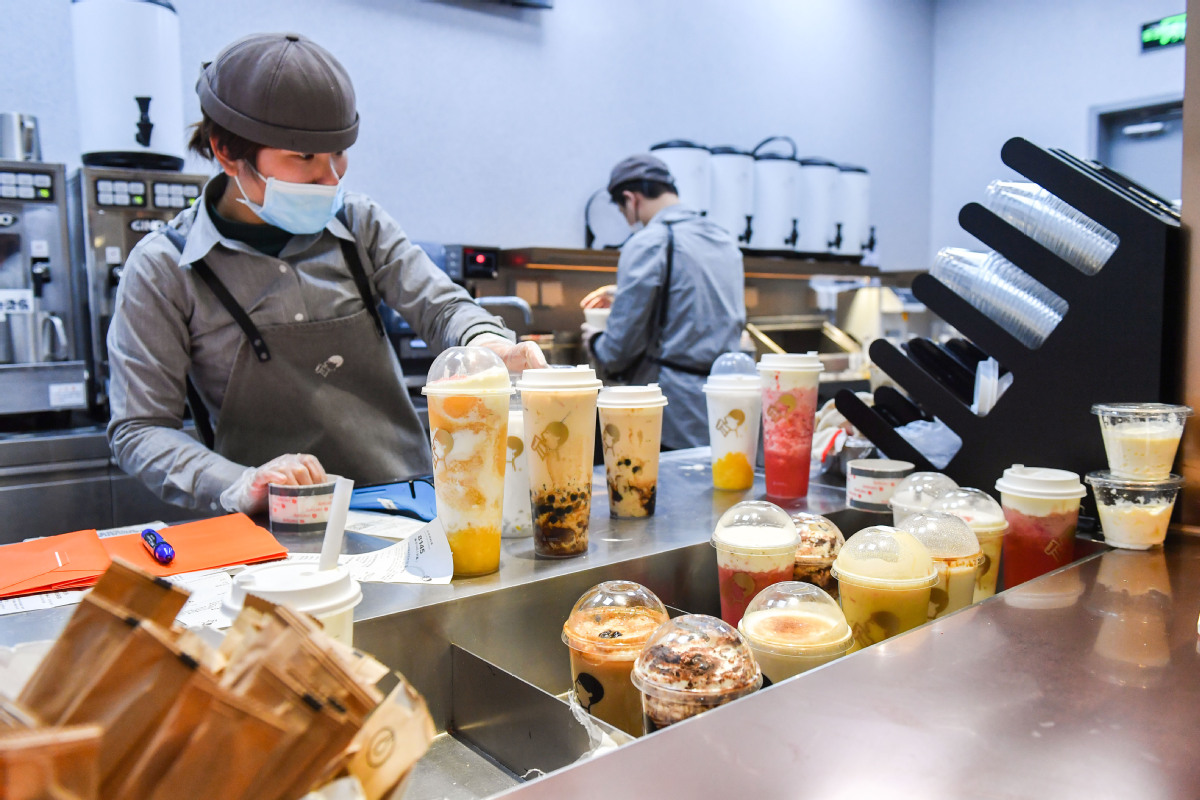 Investors are increasingly bullish on a new niche market in China-homegrown tea beverage brands.
Heytea, Lelecha and Nayuki are just some of the domestic tea chains grabbing headlines and getting attention in the capital markets.
Bubble tea chain Nayuki Holdings Ltd raised HK$5.09 billion ($656 million) after pricing its Hong Kong initial public offering near the top of its suggested range.
The top-of-the-range pricing values the bubble tea chain at about $4.38 billion, up from the $2 billion valuation after its previous funding round.
Prior to that, Qimingpian, a Beijing-based business data firm, recorded 14 fundraising deals in China's local beverage market. That's the same number as the country saw for all of 2019.
China's tea beverage market is projected to enjoy a 7.2 percent compounded annual growth rate (CAGR) to reach 764.5 billion yuan ($117.6 billion) by 2025, according to Ries China, a strategic consulting firm specializing in helping brands find unique positions amid fierce competition.
Among them, freshly-made tea is likely to be the segment enjoying the fastest growth, and is expected to surge 24.5 percent year-on-year from now to 2025 to reach a market value of 340 billion yuan by then, Ries said in its recent China's Tea Beverage Report 2021.
The consultancy identified at least seven major tea players that produce freshly-made bubble teas, or teas with cheese or fruit toppings, which have received multiple rounds of venture capital or private equity investment since their debuts.
An innovative tea beverage called naigai cha-or milk cap tea-has taken China's younger generation by storm. It is not rare to see people in long queues outside of Heytea stores across the country, just for a cup of tea that costs about 30 yuan.
For freshly-made tea operators, they are largely capitalizing on growth by changing young Chinese consumers' perceptions that tea is traditionally consumed by seniors, and thus providing more competition for established international beverage brands, said Xiao Yao, a senior analyst at Ries.
"Their use of natural ingredients, sourcing of fresh tea leaves and top-quality cheeses, as well as adopting natural sugar substitutes, fall in line with people's propensity for healthy beverages," Xiao said.
For instance, with 489 tea houses in 66 Chinese cities, Nayuki crafted a list of classic and seasonal tea drinks, comprising three major product categories in fruit teas, milk teas and pure teas, according to its prospectus, in a bid to attract what it called "a rising affluent urban population with a wider age group".
It has branched out outside of the Chinese mainland, extending its footprints to economies like Hong Kong and Tokyo, with each having one Nayuki teahouse.
In a similar vein, Heytea launched its first outlet in Singapore in November 2018, followed by another outlet in Hong Kong in January 2019. It also started online delivery services, in collaboration with Meituan Dianping, in May 2018.
Xiao said even current market leaders have a way to go before they carve out a unique brand image, since they have yet to establish a predominant position in the niche market like that enjoyed by Starbucks.
"Today, Starbucks has more than 5,000 stores in over 200 Chinese cities," said Xiao. "As the likes of Nayuki share pretty much similar customer profiles with Starbucks, the width and depth of Starbucks' new store openings can be a reference to Chinese peers."
For other subtypes of tea beverages, packaged tea beverage sales will remain relatively flat due to overlap across different brands, Xiao noted, while relatively smaller players like tea powders, tea bags and other drinks will enjoy an 11.3 percent CAGR through to 2025.