Freshippo using novel means to thrive in China
Share - WeChat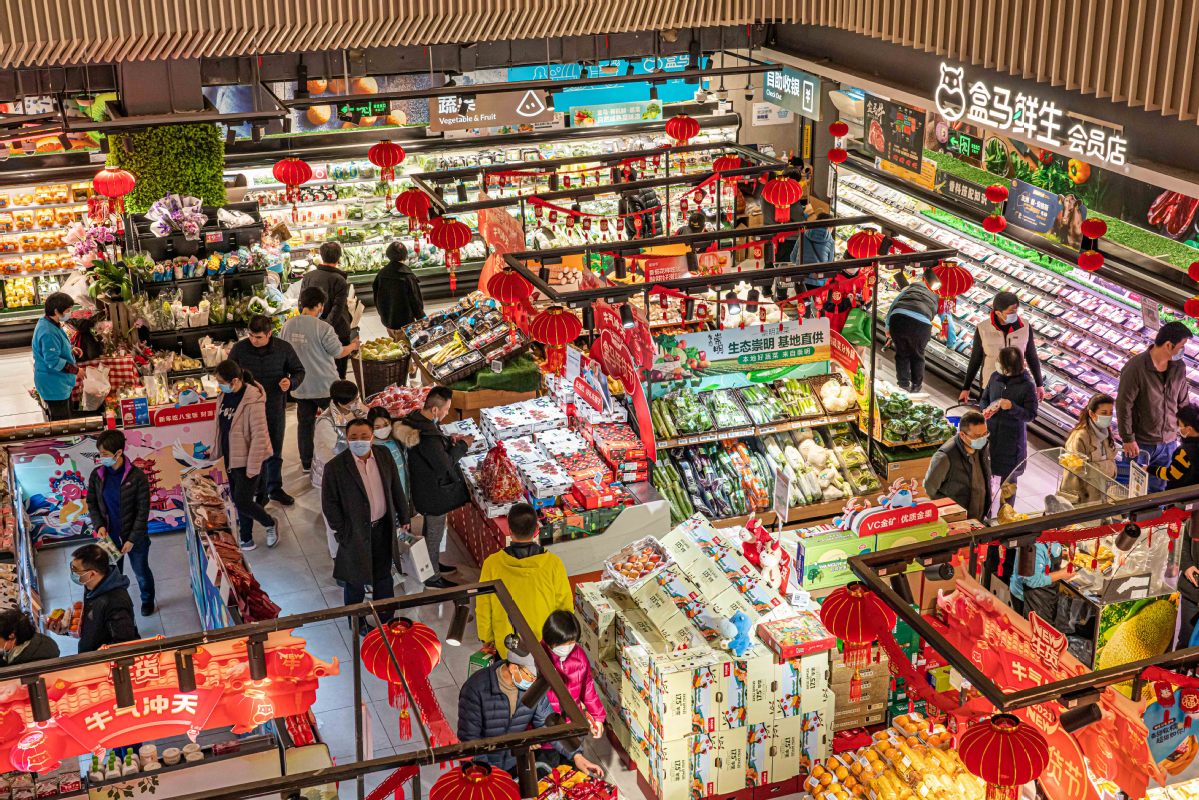 Freshippo, the omnichannel supermarket chain of Alibaba Group Holding Ltd, is planning to incubate 100 new food and beverage brands this year through an initiative called "Freshippo Xccelerator".
Leveraging the company's proprietary customer insights derived from consumption big data as shoppers purchase from its mobile app and 300 physical stores nationwide, the company aims to help merchants create and customize offerings that have a high propensity to "go viral", according to Hou Yi, president of Freshippo.
It is utilizing zero kickoff capital and no fee collaboration, and offers free marketing resources to promote emerging brands, Hou said at a news conference in Shanghai in late May.
"Today's China is seeing the tremendous rise of domestic fast-moving consumer goods, and we are working hard to ride this wave," Hou said.
Freshippo said it will focus on innovation collaboration with four types of brands: its existing key account brands, high-flying consumer brands with a critical mass of avid online followers, catering enterprises and time-honored local brands.
Hou said it aims to incubate 100 such brands per year, and "cooperation on the capital front is also likely", though he did not elaborate.
Freshippo is adept at coining crossover collaboration and making novel offerings a splash in the digital sphere. Just last month, the company came up with an iced, yellow rice wine-flavored crawfish, which is a summertime favorite among Chinese diners.
"We really want to bring old-time memories to local diners, as they get a bite of innovative dishes," said Chen Meijun, Freshippo Shanghai's manager for catering and"3R", which stands for the company's pledge to offer "Ready to cook, Ready to heat and Ready to eat" products.
Teaming up with local brewery Shanghai Jinfeng Wine, Freshippo is also using rice liquor as an ingredient to produce chocolate cakes, honey cakes and a traditional Chinese pastry.
Other successful cases include the blend of a traditional sticky rice pastry with internet celebrity milk tea brand Heytea, which quickly became a sought-after item since it debuted.
Customers' desire for novel culinary experiences is driving sales of imported food and snacks, according to Lu Xiao, Freshippo general merchandise deputy general manager. This has propelled the introduction and co-creation of innovative products like Russian biscuits and chili sauce from Rwanda.
Between 2020 and 2025, total spending on supermarket products in China is projected to grow to 12 trillion yuan ($1.88 trillion) from 9 trillion yuan, said IDG Capital.
Among these supermarkets, e-commerce penetration is likely to surge from 17 percent in 2020 to around 50 percent in five years, giving an extra edge for those offering seamless online-to-offline experiences, said Sun Yuhan, managing director of IDG Capital.
"Marketplaces offering differentiated, experience-driven products, and with clear target audience profiles in their minds, will gain a strong foothold," Sun said. "On the contrary, those with homogenized product portfolios occupying massive spaces are likely to lose their allure."