'Vinyl record' Xiao proves a smash hit
Share - WeChat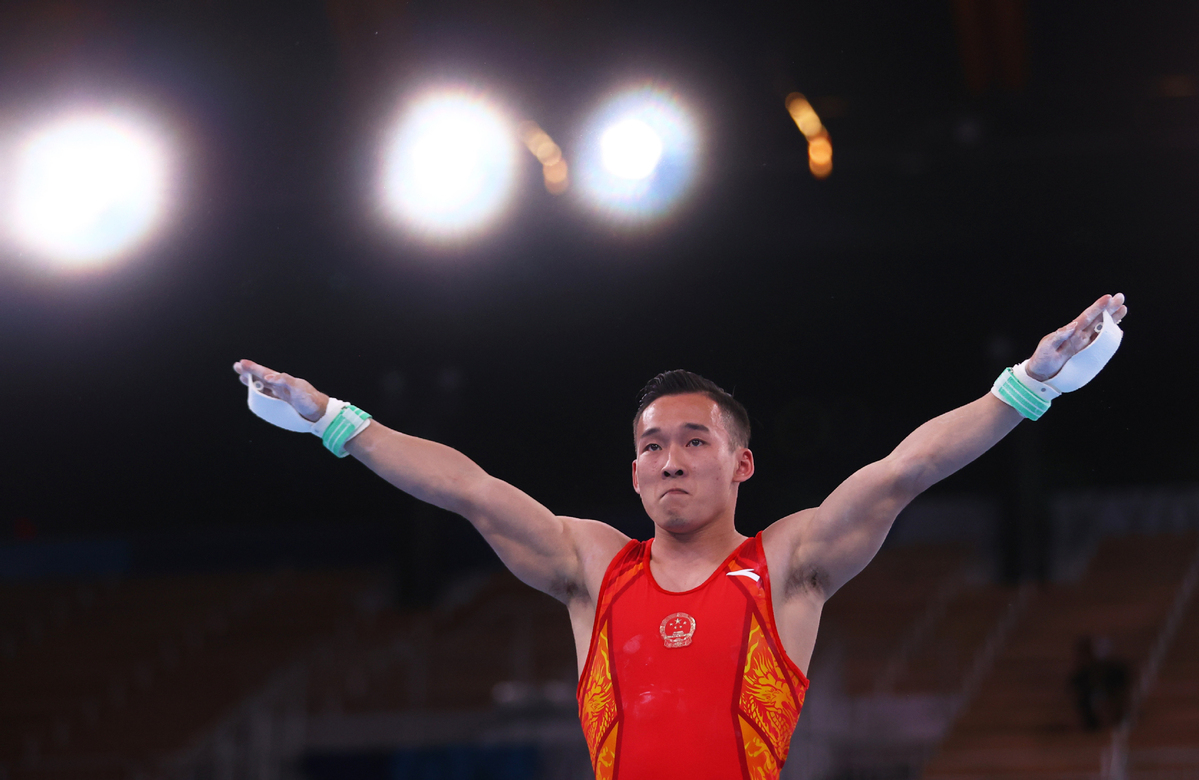 Quirky Beijinger entertaining on and off the gymnastics mat in search of so far elusive Olympic gold
TOKYO-Xiao Ruoteng reckons his career is like a vinyl record. As sporting analogies go, it definitely ranks among the more unusual you're ever likely to hear, but for those familiar with the eloquent Team China gymnast, it probably comes as no surprise.
"The vinyl record can't be played too many times, otherwise it will be scratched. I only play the record on the most important occasions for the audience," Xiao said in his broad Beijing accent.
The 25-year-old has struggled with shoulder injuries throughout his career, and in the buildup to the Tokyo Olympics was receiving cortisone shots to dull the pain.
On Monday he helped Team China win bronze in the team all-around competition, and on Wednesday was unlucky to wind up with silver in the individual final. But he is not giving up on his Tokyo gold-medal hunt yet.
"The most important occasion is coming. I will show the world the best of me," he added.
Prodigious talent
By his own admission, Xiao was something of a handful as a kid, but his restlessness was also an indication his future could lie in sports. "I felt that I was talented, and I liked rolling and tumbling at home without anybody teaching me," he recalled.
For his parents, gymnastics training was a good way of burning off his excess energy. "He was very thin," said Xiao's mom, Zhao Xiuli. "We had a friend in the sports school of the Dongcheng district. We wanted him to do more exercise there so that he could eat more and grow taller."
The 5-year-old Xiao took to gymnastics like a duck to water, and always looked forward to going to the gym. To him, the apparatuses were like toys.
Xiao was also talented in the pool. "The swimming coach liked me a lot," Xiao said. "Then our anxious gymnastics coach told my mom, 'Gymnastics is the best sport for him.'"
Indeed, Xiao seemed to be born to perform on the mat. Moves that others needed 10 attempts to master, he only needed to practice twice.
The daily grind of gymnastics training often wore on Xiao, he admits. "You have to do the same thing like 50 times a day," he said. "There were countless occasions when I felt as if I couldn't continue with it."
But as he persevered and progressed, people would ask the teenager about his dream, and he would always reply: "To become a world champion." However, he never seriously believed that he would one day stand on an Olympic podium.
'Biggest setback'
The first time Xiao felt that the Olympics were truly within his reach was in April 2016 during trials for the Rio Games-until an elbow injury sustained during a floor exercise put a spanner in the works.
He decided against surgery and continued to prepare for Rio with the help of a daily intake of painkillers. Three months later, though, he was still not in good enough shape to compete in Brazil.
"That was the biggest setback I have ever had," he told local media in Beijing. "The blow came not when I knew I was unable to go in the first place, but when, because of the injury, I was left behind at the last minute."
He even considered retiring from gymnastics.
"It was difficult for me to wait a year (to recover), and sometimes I thought about giving up. But, for my love of gymnastics and for all the people who helped me, I felt I owed them for their support, so I persisted," he said.
It took Xiao about half a year to lift himself out of his injury-induced rut. Coaches, teammates, friends and family helped him rediscover the joy he felt at the very beginning of his career.
In 2017, he staged a comeback to win individual all-around gold at the world championships in Montreal, Canada. Now he is enjoying an impressive Olympic debut, even if gold has so far eluded him.
'Like d'Artagnan'
Waiting for his flight to Tokyo at Beijing Capital International Airport, Xiao likened himself to the most famous character from the historical novel The Three Musketeers, writing in a Weibo post: "Riding on a thin horse and holding a rusted sword like d'Artagnan who was going to conquer all of Paris. That was the romantic dream for a man."
On Monday evening, China's men claimed the bronze medal in the team event with 261.894 points, 0.606 points behind the champion Russian Olympic Committee, and 0.503 points behind runner-up Japan.
"Our performances were not impeccable," a rueful Xiao said afterward.
In the individual all-around final, he topped the standings after three rotations thanks to impressive performances on the floor, vault and rings. He continued to lead after a solid parallel bars routine, but the 19-year-old Japanese Daiki Hashimoto finished with a superb 14.933 score in the horizontal bar, leaving Xiao with silver.
Many observers questioned the fairness of the judging in the final.
"It was such a pity," said 2008 Olympic champion Yang Wei on Weibo. "You (Xiao) are the best in our hearts."
Xiao shook hands to congratulate Hashimoto, but was clearly disappointed to have fallen short of gold.
"My feelings are complicated," he told Xinhua, admitting that he took painkilling pills before the competition. "I cherish this opportunity to come to Tokyo, and I am satisfied with my own performance."
He is currently preparing for the remaining individual Olympic events at Tokyo's Ariake Gymnastics Center, when all of China will be hoping that Xiao's "vinyl record" gets a few more spins on the turntable.
Xinhua