Chinese athletes shine in Olympics glory
Share - WeChat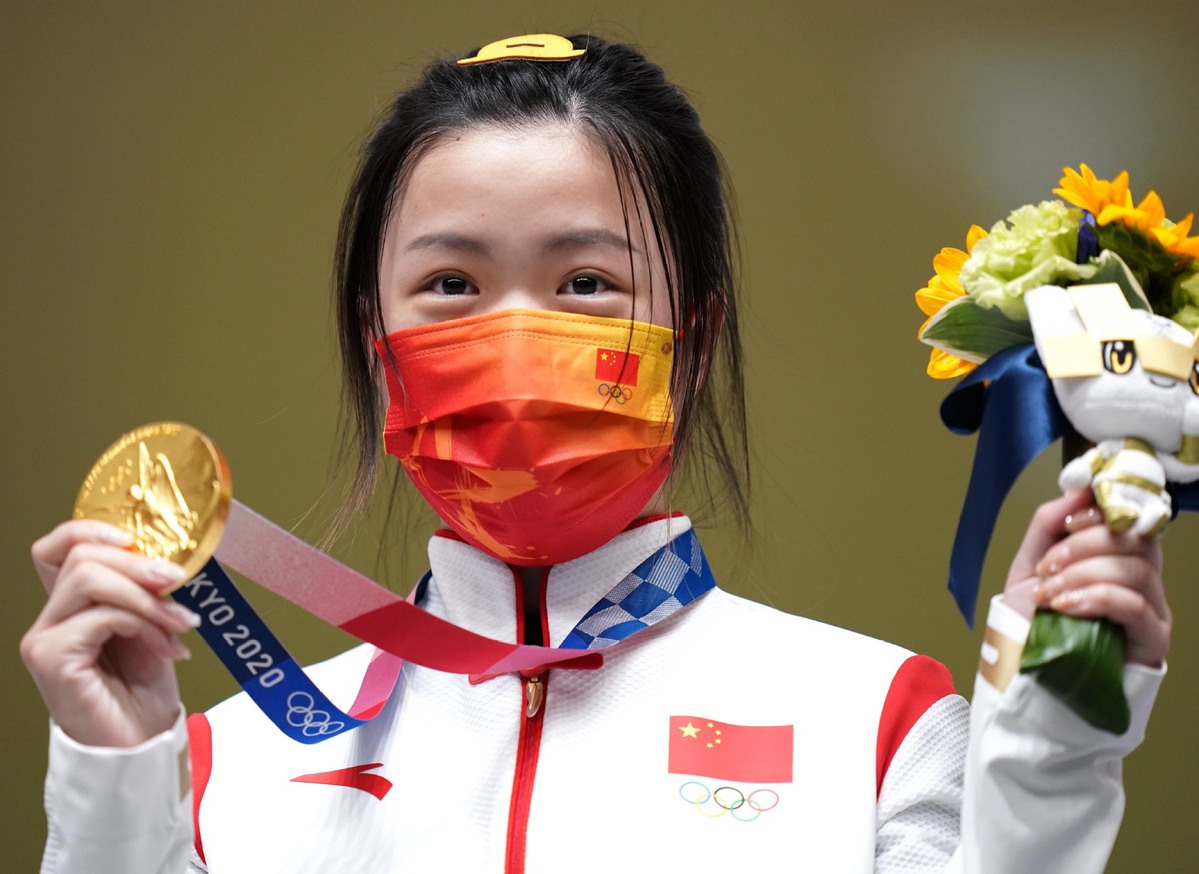 Olympic double gold medalist Yang Qian has become one of the most famous celebrities in China not only because she has won the first gold of the Tokyo Olympics, but also for her appearance.
The duck and carrot-shaped hairpins she wore during the competitions have become a hot commodity on ecommerce platforms. The duck hairband, which costs about three yuan (40 cents), has become a symbol of luck and capability for many buyers, who said on social media that wearing it may bring luck to them. The hashtag "tens of thousands of yellow duck hairpins sold in a half day" racked up more than hundred million views on Sina Weibo until Thursday.
Yang is an example of the Chinese athletes participating in the Olympics for the first time. Their energy and vigor are attracting much public attention. Netizens talk about their appearance, performance and personalities online. Although every Olympics can trigger a large amount of topics, this year's Games are special due to the pandemic. On Sina Weibo, topics of the Olympics have been viewed billions of times.
The Olympics, which face a tough time this year, are still a chance for athletes, especially those young talent to demonstrate their abilities and raise their stardom, which benefit the spread spirit of sports. During the Games, news and photos of athletes, who usually keep low-profile and attract less attention normally, start to appear frequently on social media. Unlike previous Games, netizens are eager to dig out the experience of "popular" athletes in this digital era. Even those who are not interested in sports begin to talk about their favorite athletes. For example, netizens are keen to comment on the experience and appearance of Yang, whose followers of her Sina Weibo account has risen from hundreds to millions after she won two gold medals.
In the rapidly developing world, the Games are trying to attract young people to participate in sport events by introducing sport climbing, surfing, skateboarding and 3x3 basketball to the Tokyo Olympics and adding breaking to the medal program for the 2024 Paris Summer Olympics.
However, people's enthusiasm for sports dissipate quickly after every Olympics, so in order to encourage the public, especially the young generation to participate in sports programs, the government must hold consistent promotion campaigns and boost the development of public fitness facilities. The best way to admire the sports stars and the spirit of sports should be doing more physical exercises rather than sitting in front of computers and commenting.
If you have a specific expertise, or would like to share your thought about our stories, then send us your writings at opinion@chinadaily.com.cn, and comment@chinadaily.com.cn.
Most Viewed in 24 Hours
China Views