Russian Olympic Committee team wins women's gymnastics team gold
Share - WeChat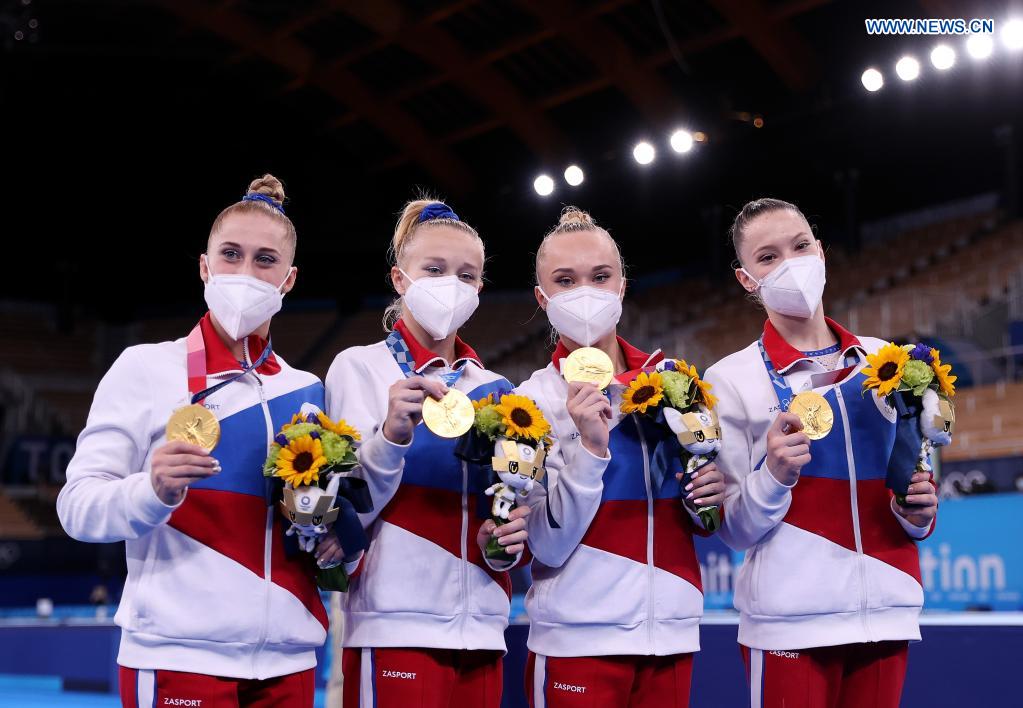 TOKYO - The Russian Olympic Committee (ROC) team won the women's gymnastics team title at the Tokyo Olympics here on Tuesday, upsetting two-time defending champions the USA who were without ace Simone Biles due to "a medical issue".
The ROC squad, composed of Liliia Akhaimova, Viktoriia Listunova, Angelina Melnikova, Vladislava Urazova, won gold with a total score of 169.528 points, adding to their men's team title.
The USA placed second 3.432 points behind, and Britain settled for bronze in 164.096 points. China ranked 7th with 161.196 points among the eight teams in the final.
The ROC team led the whole competition for the night, dominating in subdivisions of vault, uneven bars and floor exercise.
They started strong to score an unparalleled 43.799 points in vault, as Akhaimova took a high of 14.733 points.
The ROC squad continued to extend the advantage on uneven bars, trailed by the USA with 2.500 points behind. Although the ROC team suffered two falls in the balance beam by Urazova and Melnikova, they managed to finish a high total of 41.498 in floor exercise, securing a gold medal.
"We still can't believe it's happening. The impossible is possible now. Of course we are very happy," said Melnikova. "We worked extremely hard, we were basically in a closed training camp for a year and a half, working for this moment."
The 21-year-old was the last to compete on the field. She cried after finishing her floor routine. "I knew that it was depending on me and I was feeling overwhelming happiness and I knew I did it. I knew I had done my job," she said.
Biles sat out the competition after she stumbled and took a big step forward on landing in vault in rotation one, finishing her routine with only 13.766 points.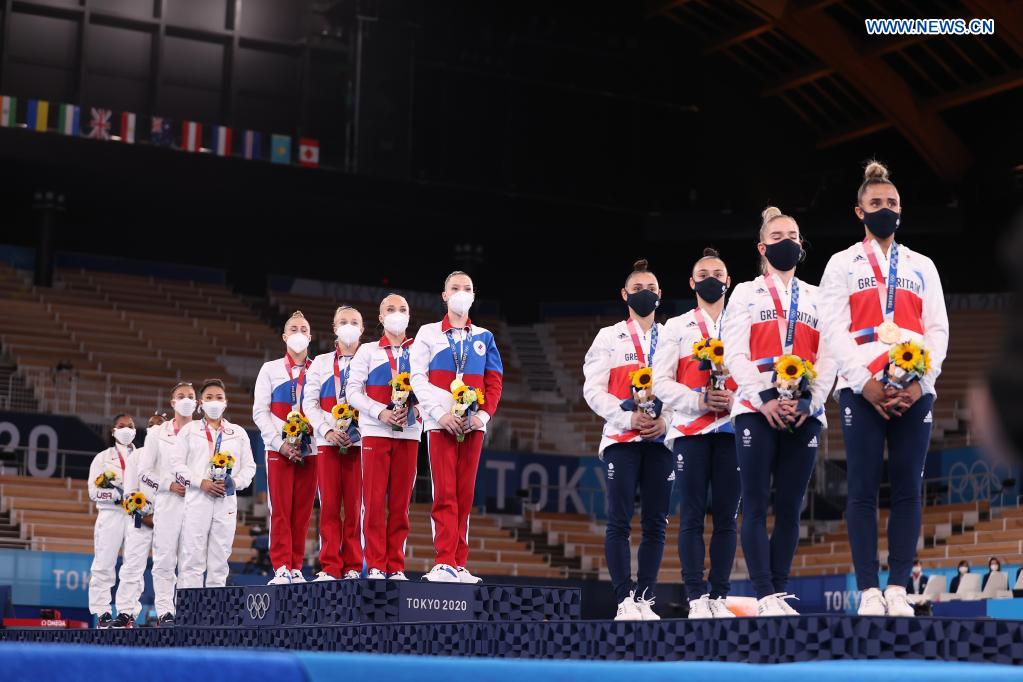 The USA squad managed to narrow their gap to a mere 0.8 point after balance beam, but due to a major error of falling out of bound by Jordan Chiles in floor exercise which cost them a 0.6 penalty, the USA gymnasts received the lowest team score in the subdivision among all competing teams, which denied them the chance for a gold.
"For me, I'm proud for how the girls stepped up and did what they had to do. I owe this to the girls, it has nothing to do with me. I am very proud of them," said Biles after the competition.
Biles said she told her teammates "you have done all the training, you can do this without me, and it will be just fine" when she withdrew from the rest of the competition.
Britain trailed at 2.000 points behind the USA to win a bronze, which is Britain's first Olympic medal in the women's team event in 93 years since winning a bronze in Amsterdam in 1928.
"It is a dream that we never thought was possible but it is and it happened. We just tried to enjoy the moment," said Briton Jessica Gadirova.