Cooperation essential for climate battle
Share - WeChat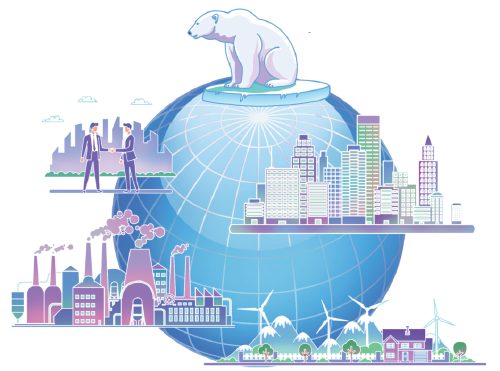 For Washington and Beijing, shared solution to crisis required, forum told
China and the United States would benefit from cooperation in tackling climate change, a forum has heard as reports aired at the gathering reinforced the need for the two biggest economies to coordinate their efforts.
"The convergence in technologies and challenges between the US and China is partly a result of the open flow of ideas and at some level, open trade," Fritz Kahrl, a senior adviser to the Regulatory Assistance Project, an energy group, said in the webinar on Tuesday evening. "But also, I think it's just the result of having a shared problem of climate change, and the fact that we have the shared problem and shared solution suggest that there should be a high value in cooperation."
Kahrl, who is also a research affiliate of the California-China Climate Institute, or CCCI, told the online forum that he found it interesting that the two nations share similar technology strategies to reduce emissions in the near and long term.
Both nations are increasing the use of electrical alternatives in place of traditional fossil-based technologies in the transportation and building sectors, according to two recent reports, which are a part of the CCCI's "Getting to Net Zero" research series.
Researchers found that out of all strategies for replacing fossil fuels, electricity has the biggest near-term potential to reduce China's carbon dioxide emissions due to available technology options for multiple sectors.
The building sector has the greatest potential for electrification. That is because of the availability of commercialized technologies that can be electric alternatives for heating, water heating and cooking, according to the CCCI's report devoted to China. Traditionally, China has relied on coal, liquefied petroleum gas and biomass for these needs.
In the transportation sector, the report's authors note that electric cars are expected to dominate new sales and account for as much as 14 percent of the car stock in China by 2025, followed by increased electrification of the auto, bus and trucking fleets through 2050.
The CCCI's report focused on the US found that electrification for buildings and on-road transportation helps to reduce emissions because electric heat pumps and vehicles are more efficient than conventional gas furnaces and internal combustion-engine vehicles.
The report, which compares the recent national and state-level deep decarbonization studies, also found that electric heat pumps and cars are already commercialized and are expected to be a cheaper alternative to other decarbonized fuel options.
Another dominant strategy identified by both nations is the rapid expansion of solar and wind as alternative renewable energy sources for generating electricity. This takeup can replace power generation sourced from coal and natural gas.
The reports indicate that clean electricity, such as wind and solar, requires a massive scale-up of renewable generation, in addition to some form of zero-carbon power such as geothermal power or hydrogen, to maintain a reliable, deeply decarbonized grid in the US.
In China, solar and wind power resources are seen as playing the most important role in decarbonizing the power sector, according to the report.
Reduction goals
"These studies allow us to get on the same page about what's possible, where we have greater and lesser uncertainties, where we need more research and development, where to focus policymaking in the near term, and how we can set milestones in individual sectors to measure progress against overall emission-reduction goals," Kahrl said.
He noted that there is a "federal impasse" on climate policy in the US, which means that most of the momentum for dealing with climate change resides at the state level.
But in China, the central government tasks provincial and municipal governments with policymaking to meet the country's carbon peaking and neutrality goals.
"Both of these realities mean that a significant amount of momentum for the next step on climate policy will be at the subnational level, so states, provinces and cities, rather than at a national level," Kahrl said.
Subnational exchanges will probably remain as "the most valuable form of collaboration between the US and China", Kahrl said. He urges both countries to make political space for subnational engagement and to develop an organizational infrastructure to make the partnerships more effective.
"This question of how the US and China can achieve deep reduction in emissions over the longer term, and what that implies for the kinds of change needed over the next decade, is really central to the story of how the world will address climate change," Kahrl said.
The CCCI reports, which were released on Monday, were based on a review of deep decarbonization pathways studies in both countries.