Toy retailer posts explosive sales, will go for IPO
Share - WeChat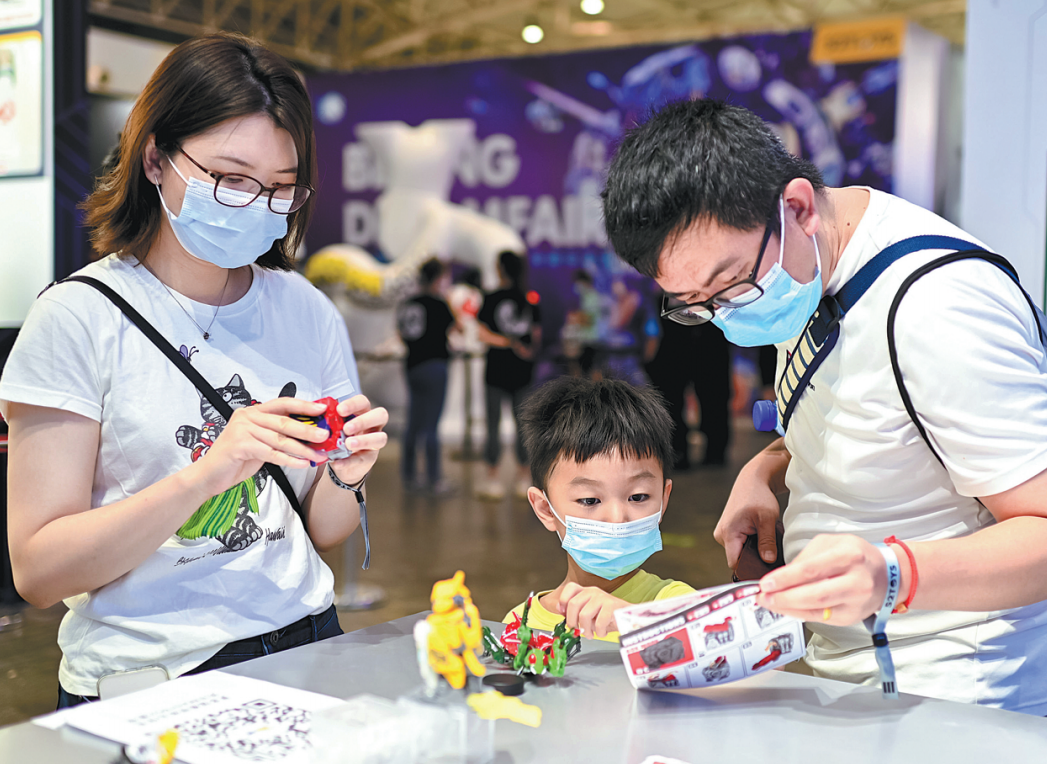 Chinese major collectible toy retailer 52Toys, said it plans to open 100 new stores in China by the end of next year and go public on the A-share market in the future, as it aims to make a wider foray into the booming trendy toy market in the country.
Founded in 2015, Beijing-based 52Toys-which sounds like "I love toys" if read in Chinese-said it has made a decision to list on the A-share market in the next few years. It has already received several rounds of funding from institutional investors so far.
The company also plans to open stores overseas when the COVID-19 pandemic is brought under better control globally, as the company sees huge demand and definite business growth opportunities.
Before the pandemic, 52Toys participated in various exhibitions in New York, San Diego, Los Angeles and Tokyo. Its toys were quite popular among foreign consumers, it said.
"Since 2018, our sales revenues started to double or triple over the previous year. Last year, the pandemic prompted more people to stay at home longer, and collectible toys has become one of the sectors that actually benefited from the pandemic and the stay-in lifestyle," said Chen Wei, president and CEO of 52Toys.
"We have seen enormous demand for collectible toys from Chinese consumers. Those who come from smaller cities and more remote areas in western China also showed considerable demand. Since young people consume the same kind of entertaining content online in this digital age, collectible toys will become pretty much equally popular in different types of cities," Chen said.
"Spiritual consumer goods like collectible toys will become increasingly indispensable with the consumption upgrade trend in China, as they can bring happiness to people," he said.
The collectible toy company now cooperates with more than 10,000 stores across the country and operates less than 10 outlets. It also operates official online stores on JD and Alibaba's e-commerce platform Tmall. It conducts weekly live-streaming sessions online and has attracted a large number of fans and potential consumers.
In addition, 52Toys said starting from the fourth quarter of this year, it plans to launch vending machines at shopping malls and transportation hubs nationwide. In the next two years, it will launch more than 1,000 vending machines, which will offer different types of collectible toys.
Compared with Hong Kong-listed pop toy brand Pop Mart, which mainly sells trendy toys packaged randomly in blind boxes, 52Toys offers toys in various categories such as building blocks, garage kits, sculptures and blind boxes containing cartoon figurines. Those toys carry price tags that range from tens of yuan to more than 10,000 yuan ($1,550) each.
Other major Chinese pop toy retailers such as Top Toy and Beijing Block 12 Culture Co Ltd have also witnessed booming business growth and are expanding their operations to leverage the significant demand from the market.
For 52Toys, a major part of toys it designed are based on iconic intellectual property of anime characters such as Tom and Jerry and characters of Walt Disney animations.
Another relatively smaller part of its IP is designed in-house or collaboratively, but sales performances of both categories have been similar. The retailer said it has more than 80 in-house designers and it also cooperates with other designers it found through different exhibitions and competitions.
The company said its main consumer group of trendy toys are those in their 20s, with a similar portion of male and female consumers, and the youngest consumers are primary grade school students.
"In my opinion, middle-aged and elderly consumers will also show interest in collectible toys ultimately, fueled by the constant development of the society and economy, just like some developed markets. I'm highly confident in the sector's growth potential in the next few years," Chen said.
This year, sales of the pop toy market in China are expected to reach 38.43 billion yuan, jumping 30 percent over last year, the fastest worldwide, said iiMedia Research, a Chinese consulting agency. By the end of last year, China had at least 800 companies involved in the pop toy related business, data from business information provider Tianyancha said.