A tale of the Irish woods exquisitely told
Share - WeChat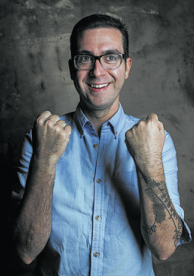 The animated feature Wolfwalkers, the fifth film produced by the Irish studio Cartoon Saloon that has gained an Oscar nomination, has wowed Chinese audiences with its bold imagination and exquisite hand-drawn paintings.
The film, which opened in domestic theaters on July 3, has met widespread critical acclaim, exemplified by obtaining 7.8 points out of 10 on the popular review aggregator Douban.
The new movie is a fantasy set in 17th-century Ireland. It is the final of director Tomm Moore's Irish folklore trilogy-the first was The Secret of Kells in 2009, and the second Song of the Sea in 2014.
Robyn Goodfellowe, the young daughter of a wolf hunter, travels with her father to Kilkenny, a city in the country's southeast as England is conquering Ireland. Under the command of England's Lord Protector, the city starts hunting down wolves, but things go awry when Robyn encounters a red-haired girl named Mebh who can transform into a wolf when she falls asleep.
Moore, who co-directs alongside his childhood friend Ross Stewart, says the film is inspired by local legends in Kilkenny, in which he grew up and where Cartoon Saloon studio is located.