Living with COVID-19
Share - WeChat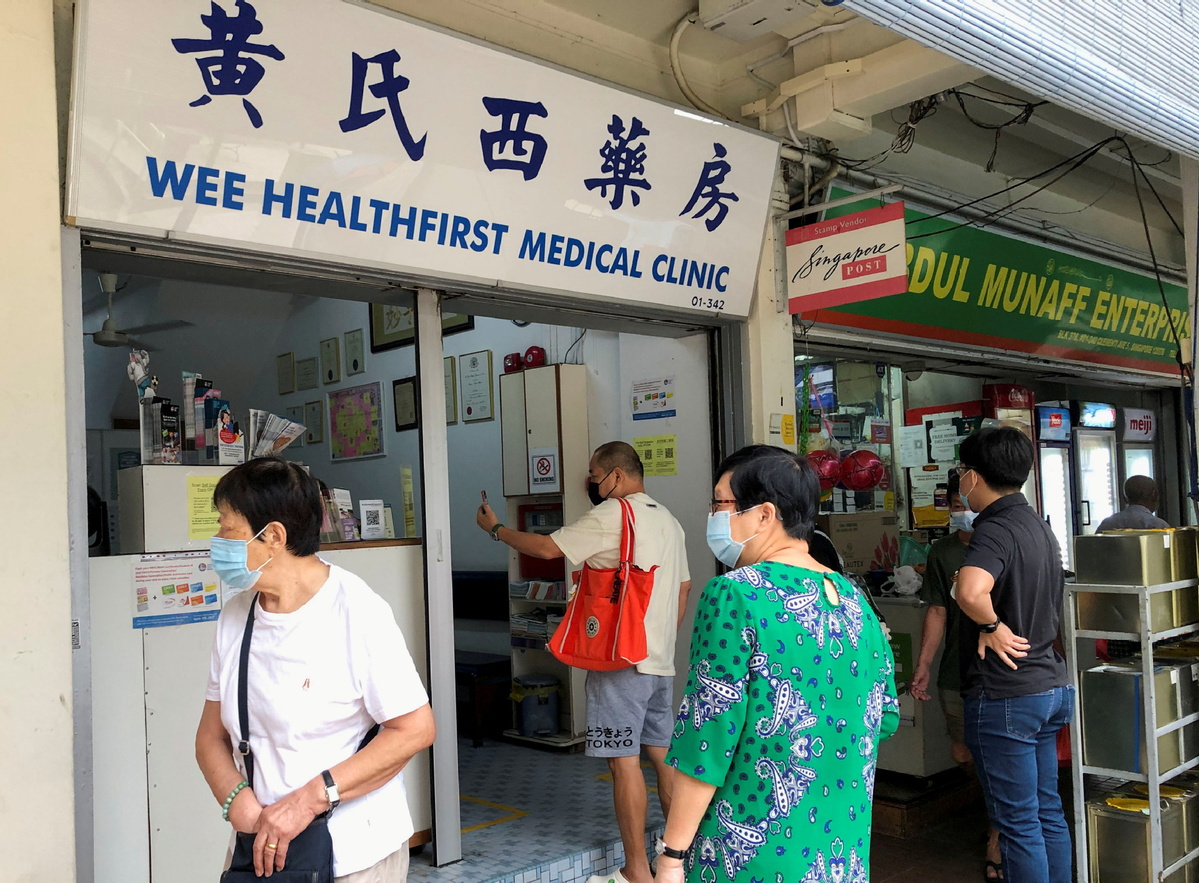 Singapore's approach in preparing citizens for endemic virus could show way forward to other nations
Singapore-based academician Siriwan Chutikamoltham is hoping that she will leave online teaching behind so that she can meet her students in class again. Siriwan, a senior lecturer in business at Nanyang Technological University, believes that physical interaction between the lecturer and students is the most effective learning method.
This is why she welcomed the Singapore government's plan, announced last month, to draw a roadmap of living with COVID-19.
The plan, according to the three co-chairmen of the government's task force on COVID-19, aims to prepare the city-state's population to treat the coronavirus as part of their daily lives, allowing them to live and work as usual without having to go into quarantines and lockdowns.
Minister for Trade and Industry Gan Kim Yong, Minister for Finance Lawrence Wong and Minister for Health Ong Ye Kung, who jointly head the task force, said the roadmap will involve mass vaccination, rolling out more antigen rapid test kits, continued practice of good personal hygiene and developing effective treatments of COVID-19.
Siriwan agrees with the Singapore government's assessment, adding that it might take some time to control the pandemic. In the meantime, the government can ease social distancing measures "so life can feel somewhat normal", she said.
"However, even when we do away with strict measures, I still like to see precautionary measures in place," she said. Siriwan said air-conditioning systems in buildings should ensure good ventilation and social distancing should remain a norm in any public gathering. Also, efforts must be made to ensure that self-test kits are more affordable so that people can test themselves before attending public events.
Analysts said Singapore's roadmap offers a template to other countries that seek a way forward amid the pandemic, especially at a time when the highly-transmissible Delta variant of the virus is becoming more prevalent, spiking the number of infections and prompting authorities to impose lockdown measures.
Governments are struggling to balance the demands of public health against the need to restart economies slowed by border closures and movement restrictions.
Prasad Shinde, senior client officer of Paris-based market research firm Ipsos, said the company's June survey in Southeast Asia has revealed that more people are willing to change their routine, staying more at home to adapt to the new normal. But most of them are also worried on how these measures are hurting their livelihood.
"They believe that job security is not a given in the time of COVID-19," Shinde said.
He said other countries may take a cue from Singapore's approach to COVID-19, which draws upon the possibility that the virus could become endemic. By living with COVID-19, communities can keep most businesses open but with safeguards in place.
"It has long been our view that we will have to live with COVID-19 for a long while, if not permanently," said Vijay Verghese, Hong Kong-based editor of online magazine Smart Travel Asia.
He said Singapore's approach is "sensible and pragmatic". But the key to living with COVID-19 is to have mass vaccination, protecting more people from deadlier variants.
"It is perhaps wise to start getting cities and countries back to normal life once vaccinations have reached a critical level — about 70 percent of the population. This would be a minimum threshold," Verghese said.
In a column published on June 24 in Singapore broadsheet The Straits Times, Trade and Industry Minister Gan, Finance Minister Wong and Health Minister Ong said that "it is possible to live normally" even with COVID-19. This means that COVID will "very likely become endemic."
"We can't eradicate it, but we can turn the pandemic into something much less threatening, like influenza, hand, foot and mouth disease, or chickenpox, and get on with our lives," the ministers said.
They cited how Singapore is gradually moving towards this direction through vaccination. Prime Minister Lee Hsien Loong said the government aims to have two-thirds of the roughly 5.8 million population fully vaccinated by the first week of August. The city-state, so far, is on track. As of July 9, over 2.3 million people have received their second dose and completed the full vaccination regimen.
Teo Yik Ying, dean of the Saw Swee Hock School of Public Health at the National University of Singapore, said Singapore's roadmap is just "one possible template" and that different countries will need to draft a plan that is best suited to their situation.
Teo said Singapore has many advantages that other countries do not have. He said it is easier to vaccinate almost everyone in the city-state as it has a small population. Singapore is also a high-income economy and has the resources for a mass inoculation program.
In contrast, developing countries may have a harder time getting sufficient amounts of vaccine for their citizens, Teo noted. Some countries are also dealing with people's distrust of vaccines, hampering the goal to achieve herd immunity.
Teo said the pandemic has changed the global health system. In a post-pandemic era, he sees health authorities increasingly focusing on stable and reliable supply of COVID-19 vaccines. This is because inoculations against the coronavirus might soon be included into regular immunization schedules such as vaccinations against mumps and rubella diphtheria.
Teo expects that more people will appreciate the importance of indoor ventilation and air quality and how this can help curb the spread of the virus. He is also hoping that more hospitals will develop the capacity to handle surges, capable of managing periodic outbreaks if and when COVID-19 becomes endemic.