China's foreign trade rises to record high
Share - WeChat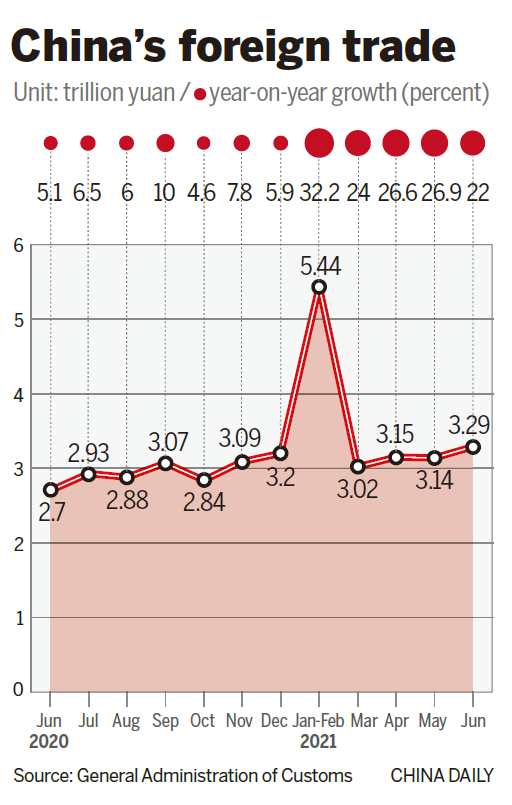 Li Xingqian, director of the foreign trade department at the Ministry of Commerce, said that the structure of China's foreign trade has been optimized and upgraded. For example, the contribution of processing trade is gradually increasing. China's high-tech firms from the private sector and foreign companies have all performed well so far this year.
The trade volume of China's private companies rose by 35.1 percent year-on-year to 8.64 trillion yuan in the first half of 2021, accounting for 47.8 percent of the nation's total exports and imports. The General Administration of Customs said that the foreign trade value of foreign-invested companies jumped by 19 percent to 6.61 trillion yuan during the six-month period.
"With a higher base, the growth rate of the country's foreign trade may slow down in the second half of this year, but it is still expected to maintain rapid growth for the whole year," said GAC spokesman Li Kuiwen.
The value of China's foreign trade rose nearly 27 percent in the second half of 2020, compared with the first half of last year.
Sang Baichuan, dean of the Institute of International Business at the Beijing-based University of International Business and Economics, said that to further spur the growth of foreign trade in the coming months, China has introduced a number of policy measures, such as enhancing international economic and trade cooperation, fostering the growth of the Belt and Road Initiative, and facilitating new forms and models of foreign trade to advance the high-quality growth of its export sector.
In terms of international market layout, he said the country has also started to guide companies to deepen trade ties with developed economies, actively expand trade with emerging markets such as those in Asia, Africa and Latin America, expand the scale of trade with neighboring countries, and stabilize their share of the international market.