AI, cloud, remote work all on the rise
Share - WeChat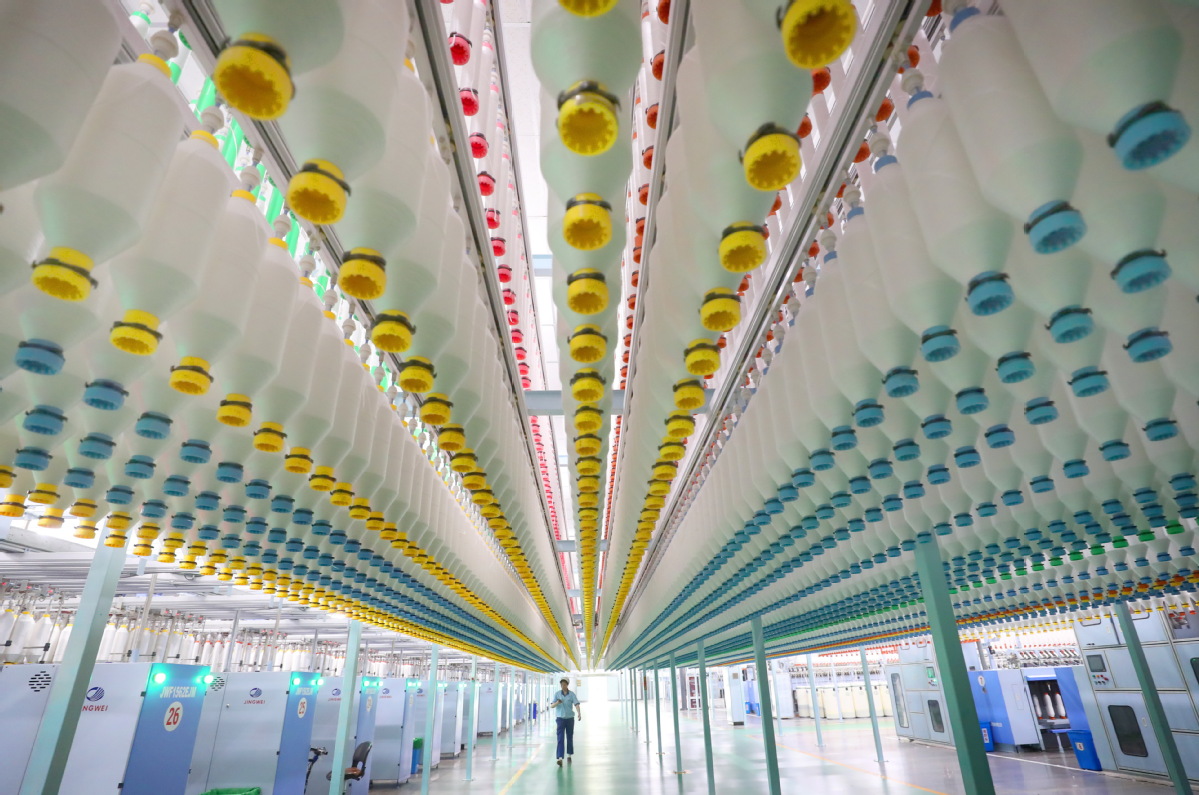 Report: Top strategic tech trends for 2021 internet of behaviors, total experience, hyper-automation
The rapid adoption of digital technologies such as remote working and cloud services has underpinned China's recovery from the COVID-19 outbreak, fueling a significant need to reach digital maturity across the nation, said industry experts and entrepreneurs.
And now China is entering a new stage of digital transformation where such cutting-edge technologies will be widely deployed and deeply integrated with more sectors in China, they said.
Owen Chen, research director at Gartner CIO Research, said the pandemic has sped up digital transformation of businesses in a wide range of industries, especially as stay-at-home orders and social distancing efforts prompted enterprises to adopt new ways of doing business and deploy new digital tools to communicate, cooperate and operate businesses.
"Powered by digital tools fueled by cutting-edge technologies such as big data, cloud computing and AI, enterprises are able to build a key competitive edge in terms of offerings, improved efficiency, reduced costs and being better able to cater to specific consumer needs," Chen said.
Looking to the 14th Five-Year Plan period (2021-25), Chen said CIOs seeking to lead through innovation to ensure success in China should engage with CEOs and other business stakeholders by injecting technological perspectives and helping discover innovative business opportunities.
"Digital business is seen as key in shifting to quality development, and a major focus area for innovation. Today, companies are required to accelerate digital business by building solid digital platforms as well as promoting digital products, intelligent production and operations and service agility," Chen added.
"Against that backdrop, chief information officers should discuss with business leaders and assess the impact of the plan on their own enterprises. CIOs should also provide insights to business leaders on how digital technologies can change ways of doing business."
Embracing the booming digital trend, Chen said enterprises need to make a big push to deeply integrate IT systems with operational technology systems, build key new business capabilities and invest more in data governance and data security.
Chen's views were echoed by Brian Burke, research vice-president at Gartner, who said the need for operational resiliency across enterprise functions has never been greater.
"CIOs are striving to adapt to changing conditions to compose future business. This requires organizational plasticity to form and reform dynamically," Burke said.
According to a report released by Gartner, as organizations journey from responding to the coronavirus crisis to driving growth, they must focus on three main areas: people centricity, location independence and resilient delivery.
"Taken together, these trends create a whole that is larger than its individual parts and focus on social and personal demand from anywhere to achieve optimal delivery," Burke added.
The report showed the top strategic technology trends for 2021 are internet of behaviors, total experience, privacy-enhancing computation, distributed cloud, anywhere operations, cybersecurity mesh, intelligent composable business, AI engineering and hyper-automation.
In light of the coronavirus disruption, China made considerable progress in terms of accelerating digital transformation on the back of building "new infrastructure"-a term that refers to new digital assets, technologies, related physical facilities and enabling installations like artificial intelligence, industrial internet, big data centers and industrial internet.
Data from company registry platform Qichacha showed China had a total of 139,200 cloud computing-related companies as of the end of May last year.
Beijing topped all other regions with the highest number-94,200 cloud computing-related enterprises-accounting for nearly 70 percent of the total number nationwide. Guangdong and Jiangsu provinces took second and third spots, hosting nearly 12,000 and 4,000 such companies, respectively.
Seeing the rising growth opportunities in the blossoming digital sector, China plans to have the digital economy-largely synonymous with digital upgrading and transformation of traditional industries-account for around 10 percent of the country's newly added economic output by 2025, according to the outline of the 14th Five-Year Plan.
US-based cloud computing company Nutanix reported an 18 percent customer growth year-on-year and a 19 percent partner growth year-on-year for the November-January period in its China business.
"China is a key market for Nutanix and we are committed to long-term development in China through disruptive innovation and partnerships to support China's digital economy," said Lily Ma, managing director of Nutanix in China. "Our customer base has grown consistently in China. This growth is all linked to the dynamic developments shaping China and the rapid digitalization and innovation that is underway here as businesses look to offer better services to their customers."
Ma said business in China continues to become more complex, leading people to demand greater simplicity, which, in turn, means a shift to an open, hybrid and multi-cloud environment.
A new report from Nutanix showed Chinese enterprises are accelerating their digitalization efforts in the aftermath of COVID-19 and actively shifting their IT systems to the cloud.
The Enterprise Cloud Index Report 2021 said 62 percent of Chinese respondents said they have increased their investment in hybrid cloud as a direct result of the pandemic, compared with 46 percent globally.
"Nutanix has long advocated accelerated digital transformation in China and the embracing of a multi-cloud environment. We are excited to see the government promoting that same philosophy with its so-called new infrastructure," Ma said. "The ease with which the cloud managed to accommodate massive demand during the pandemic, while remaining simple to operate and implement, highlighted its adaptability.
"For China, the challenge ahead is to ensure that we build on this value and design a new modern infrastructure that is built to maximize cloud interconnectedness and interoperability, not simply connectivity. China has taken the bold step to fully embrace the cloud and cloud infrastructure. It's up to all of us (market players) now, to ensure we optimize it for China and its businesses."