Nation looks to deeper waters for green power
Share - WeChat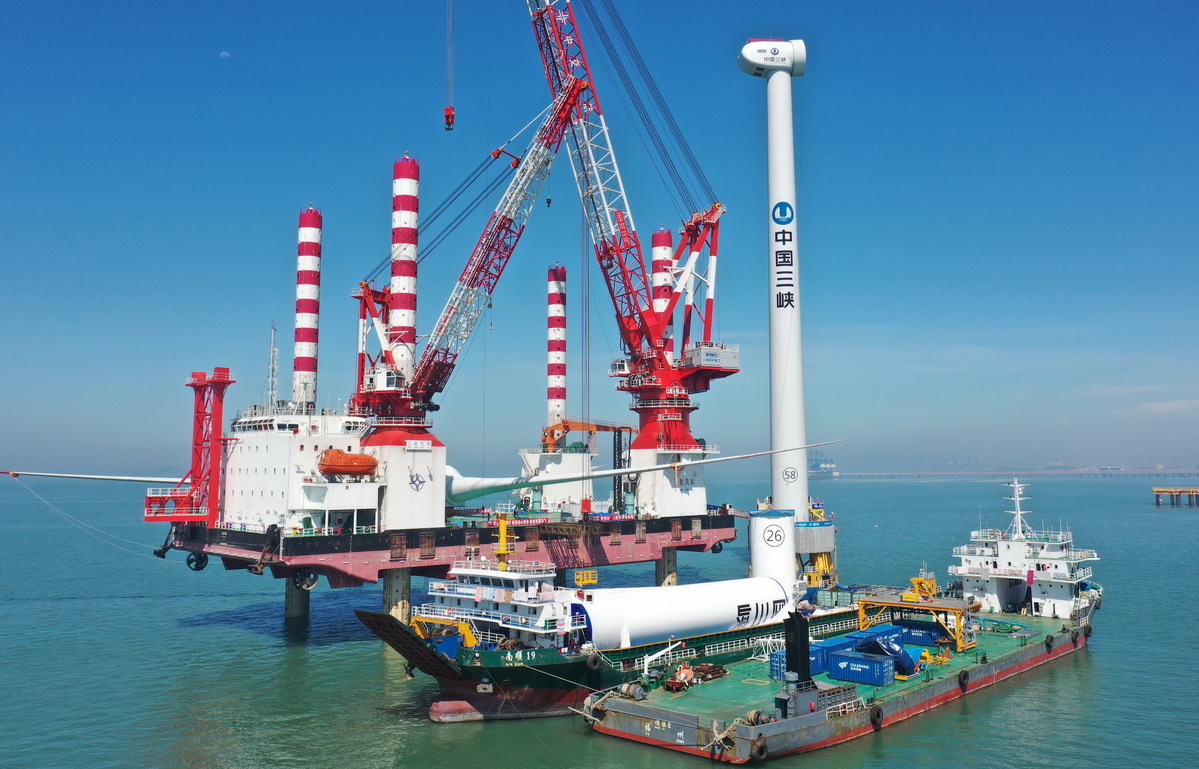 FUZHOU-China's push to reach carbon neutrality by 2060 has drawn increased attention to wind power as industry experts said moving wind farms to deeper waters could eliminate some challenges to offshore wind power and help expand the fleet of turbines.
A new plant operated by LM Wind Power, a Danish wind turbine blade manufacturer, is located in East China's Fujian province. The company is manufacturing 107-meter blades, which are among the longest blades worldwide, for the plant.
The blades are expected to roll off the production line this October and will add to the variety of Chinese-made wind turbine components available for wind farms at home and abroad.
The plant is located at the 66.7-hectare offshore wind power industrial park run by the Fujian division of the China Three Gorges Corporation, the developer of China's largest hydropower project which broke ground in 1994 in Central China's Hubei province.
Before LM came into the picture, domestic companies like Xinjiang Goldwind Science& Technology Co Ltd and Dongfang Electric Corp Ltd had settled in the industrial park and produced electrical generators, blades and other components.
The bay next to the industrial park houses 59 wind turbines with a total installed capacity of over 357.4 megawatts and annual electricity output of 1.4 billion kilowatt-hours.
Offshore wind farms of a similar size and scale are now prevalent in China's coastal provinces. The country's total installed capacity of offshore wind power was 9 gigawatts by the end of 2020, ranking second globally.
China's goals of peaking carbon emissions by 2030 and achieving carbon neutrality by 2060 demand greater reliance on clean energy sources like photovoltaic power and wind power, experts said. Offshore wind power is gaining particular traction as the technologies mature.
"Offshore wind power is ready for scale development in China, with the help of supportive policies and costs being driven down by an improving domestic industrial chain," Wang Zhongyao, vice-president of China Renewable Energy Engineering Institute, said at a clean energy summit in Zhangzhou, Fujian province, in June.
Official data showed China's new offshore wind capacity was 3.06 GW in 2020, approximately half the global total. However, costs remain too hefty and nearshore resources are too limited for offshore wind to become a more prominent contributor to China's energy structure.
Close to shore, wind farms face environmental red lines for the protection of mangroves, coral reefs, important estuaries, tidal flats, endangered species and fishery resources. Bird migration routes are void of wind turbines as mandated by the State Oceanic Administration.
The future of offshore wind farms, experts said, lies in waters farther into the ocean with depths of over 50 meters. These waters are over 70 kilometers off the coast.
Offshore wind power is expected to account for 10 percent of total power generation in 2050, and 70 percent of the technical potential is in deeper waters suited to wind farms floating on the ocean surface rather than digging down to the ocean bed, said Dolf Gielen, director of the International Renewable Energy Agency Innovation and Technology Centre.
Investments are already flowing in that direction. Zhangzhou is building a world-class offshore wind power industrial base in deeper waters. The total installed capacity of potential wind farms in waters near the city is as high as 50 GW.
"We invested another 10 billion yuan ($1.55 billion) in the production of hydrogen from seawater," said Jin Yunshan, senior vice-president of a Guangdong province-based clean energy firm.
Power generated from wind turbines in deeper waters can be used to produce hydrogen for nearby petrochemical enterprises and can help local communities pursue a zero-carbon economy, Jin added.
Xinhua