First Americans near the bottom of social hierarchy
Share - WeChat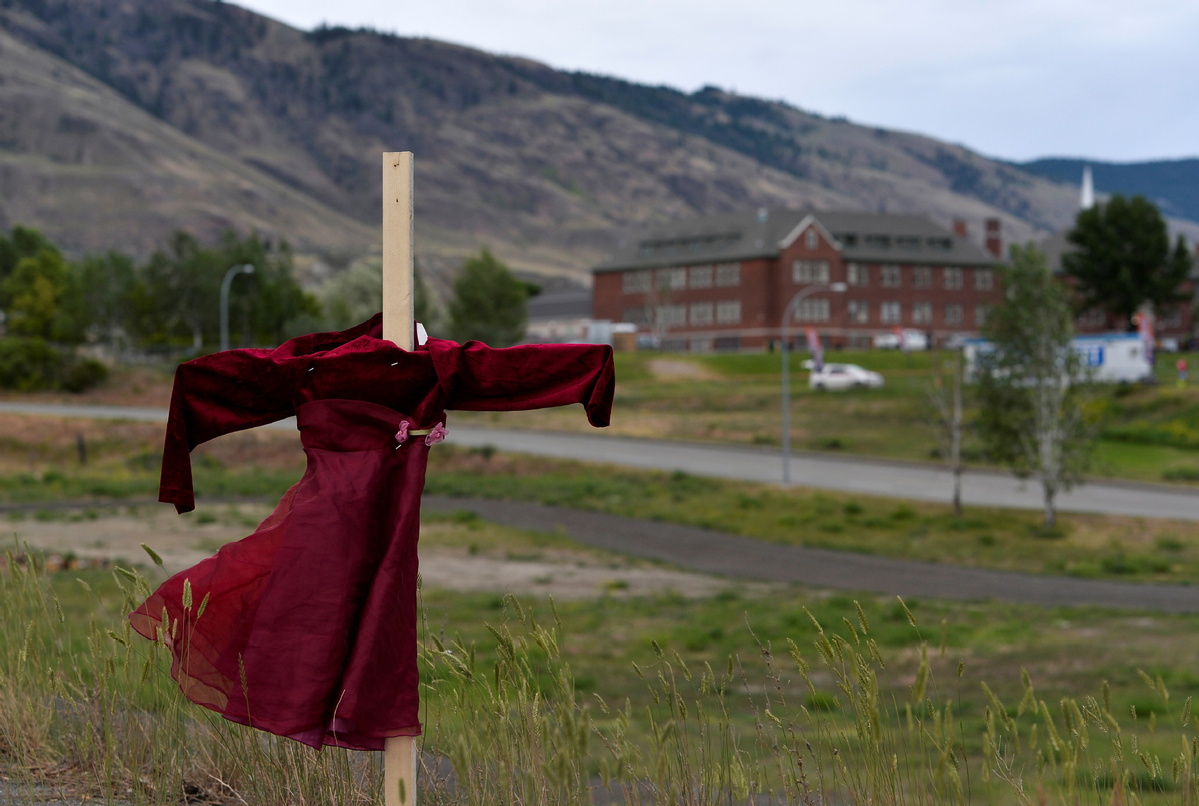 On the American soil where "all men are created equal", the American Indians have had too many sufferings to enumerate. There was the Trail of Tears, along which Cherokees were forced out of their homes to the then-barren West. There was a drop in the Native population by millions. And there was a generation of children taken forcibly from their mothers' arms and sent to boarding schools, where they were mandated to forget their past and their own culture.
If children are the future where hope rests, then the more than 350 boarding schools across the United States killed any expectations Indigenous families could have had on their sons and daughters. Former students of these schools said assimilation into the dominant White culture started with the creation of a new "self" with assigned English names, designated birthdays and set haircuts. What colonists described as "civilized" policies were in reality brutal control over young Native Americans.
Controlling the youngsters' identity to eliminate uncertainty
During the 19th century and into the 20th century, the boarding schools were run by the US government and Christian institutions. Under close watch of the school, the abducted children were required to speak only English instead of their native languages. And they were mandated to worship the Christian God regardless of their traditional tribal beliefs. Some children were separated for years in the schools, far away from their reservation land and couldn't reunite with their families until they became adults. After years of immersion in White culture, the young generation had their uniqueness — or "savageness" in White rulers' eyes — erased. And along with it, they could no longer tell, "Who am I".
Controlling the Indigenous social strata to serve White interests
Some people cite "good education" to argue for assimilation. In fact, the "education" was meant to brainwash the young Natives to resign themselves to fate. Boys were taught to do manual work and farming, while girls were trained to do domestic work. The children also were involuntarily leased out to White homes as menial labor during the summers rather than sent back home. Designed to serve White Americans, a generation of Indigenous people were fixed at the bottom of the social-economic ladder. They could hardly imagine, "What can I achieve", even if they ever had the chance.
Controlling the cost of demographic engineering
Believe it or not, cultural genocide made more economic sense than physical genocide, according to the calculation of White Americans. From 1882-1885, then-Interior Secretary Henry Teller argued it would cost $22 million to wage war against Indians over a 10-year period, but would cost less than a quarter of that amount to educate 30,000 children for a year. For the sake of saving, schools were operated at the bare minimum without adequate food and medical supplies for the children. Young deaths due to starvation and disease were common. The graves where hundreds of Indigenous students were buried without a cent of reparations made survivors wonder, "How much am I valued"?
The mass graves being unearthed in Canada may have nudged the United States to reflect on its own practice against the Native population. Led by its first Native secretary, Deb Haaland, the Department of the Interior launched an initiative to investigate and account for the schools' legacy. This is long overdue, and may not produce any satisfying result considering the country's track record of neglect and denial. The Obama administration and succeeding governments have not issued an apology even though Congress had passed a resolution in 2009 calling on the president to acknowledge the wrongs to bring healing to the country.
On July 4 an interview around Georgetown University found that young Americans take less pride in their country because they feel embarrassed by its racist history. They may be further dismayed to learn the little-known history of cultural genocide, during which Native Americans lucky enough to survive were and may still be treated like second or even third-class citizens. Enough talk already. To regain public confidence, the United States should honor its commitment to human rights protection, and ensure equality and liberty, which every citizen is entitled to.
The author is an observer of international affairs.