First indigenous governor-general pledges to heal Canada's wounds
Share - WeChat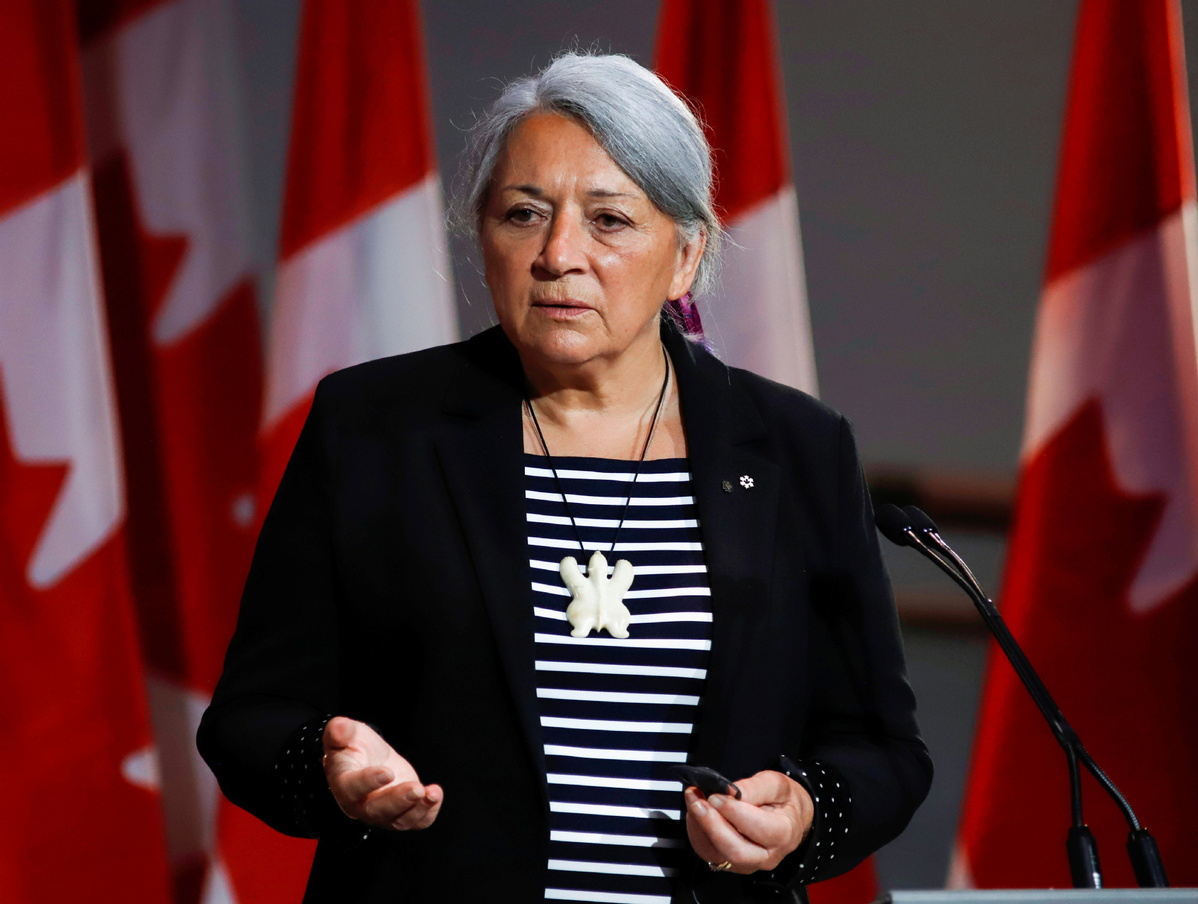 OTTAWA-The first indigenous Canadian to serve as governor-general on Tuesday addressed the public in her first language, Inuktitut, and promised to work toward healing the nation at what she described as an "especially reflective time".
Canadian Prime Minister Justin Trudeau announced the appointment of Mary Simon, a former ambassador, journalist and Inuit community activist, to the largely ceremonial post that serves as the representative in Canada of its head of state, Queen Elizabeth II of the United Kingdom.
"We are honored to have Ms Simon as Canada's first indigenous governor-general," Trudeau said. The queen's Twitter account said she had approved the appointment on the prime minister's recommendation.
Canada has been grappling with the legacy of its treatment of indigenous people, particularly in recent months. Since May, hundreds of unmarked graves of children have been discovered at former boarding schools, run for indigenous children forcibly separated from their families in what a Truth and Reconciliation Commission has called cultural genocide.
Until the 1990s, nearly 150,000 Indian, Inuit and Metis youngsters were forcibly enrolled in 139 boarding schools run by the Catholic church on behalf of the government. More than 4,000 students died of disease and neglect.
In recent weeks, more than a dozen churches across Canada have been burned, and statues of Queen Elizabeth II and Queen Victoria, who reigned over the country when the first boarding schools were opened in the late 1800s, were torn down by protesters.
Dynamic time
"My appointment comes at an especially reflective and dynamic time in our shared history," Simon told reporters. "I will work every day toward promoting healing and wellness across Canadian society."
After being introduced, she addressed the public first in Inuktitut, the Inuit language she spoke growing up in northern Quebec, adding she was deeply committed to improving her French, one of Canada's two official languages.
She was appointed five months after her predecessor, Julie Payette, quit the role amid allegations of workplace harassment.
The governor-general performs functions such as swearing in governments and formally signing legislation, but is also the commander-in-chief of the military and can summon or dissolve Parliament.
Simon, who was born in 1947, will serve a five-year term. She worked for the Canadian Broadcasting Corp in the 1970s, and served as Canada's ambassador to Denmark from 1999 to 2001 and ambassador for circumpolar affairs from 1994 to 2003.
She was also chair of the Inuit Circumpolar Council, a group representing Inuit from a number of countries, in the late 1980s and early 1990s, and president of the Inuit Tapiriit Kanatami, the country's main Inuit advocacy group, from 2006 to 2012.
On Tuesday, Trudeau visited the former Marieval Indian Residential School in Saskatchewan Province where the Cowessess First Nation announced last month that 751 unmarked graves were found using ground-penetrating radar mapping.
"It is shameful that here in Cowessess, and across the country, children died because of the harmful policy of residential schools," said Trudeau.
At a ceremony with tribal dancers, he also signed a first-of-its-kind deal that will see the Cowessess take back from federal welfare agencies jurisdiction over its children.
Agencies Via Xinhua