Primed for new growth
Share - WeChat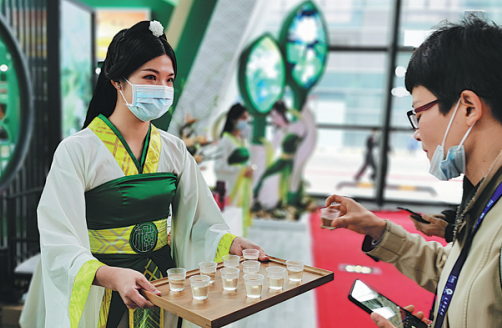 At the forefront
"The Chinese tea market continues to offer huge potential in markets like Southeast Asia and beyond," said Weng, whose enterprise has more than 300 employees and brings in 100 million yuan in sales each year.
"With the latest geographical listing, we'll focus on remaining at the forefront of the industry. We are investing in research and development and considering fast-growing, higher-yielding products like milk tea" that are popular among younger consumers.
Heng County Good Young is another major player set to leverage Hengxian's pole position. The company has an annual production capacity of about 6,000 tons, ranging from traditional dried teas to modern premix products.
Company spokesman Huang Rongjin said that while the group's focus is on the domestic market, Hengxian's EU-protected jasmine tea indication is still an important nod to the local industry.
"Our group has attained many global certifications and standards," Huang said. "The geographical indication will also be an advantage. We supply to international brands, and our clients will most certainly consider the latest listing as an affirmation of our product quality and practices."
The industry growth and optimism in Hengxian are also felt on the ground.
Jasmine pickers like Liang carry their bags of flower buds on scooters to a new collection center. Just two years ago, they had to exchange their daily pickings for cash on the roadside.
Li Kejin, deputy secretary of the county's Shijing village Party committee, said the collection center, which covers 2 hectares and can handle 150,000 kilograms of jasmine buds a day, is a collective effort that has brought significant improvements to the sector, including better distribution channels and traffic conditions.
"The workers can cash in their buds more efficiently," Li said. "We're also getting good returns from running the center, which can contribute to the development of the industry as a whole."
In Fuzhou, the geographical listing draws on a long tradition of jasmine tea production. The city was one of the tea trading hubs of China founded in the late Qing Dynasty (1644-1911), accounting for more than one-third of the country's total tea exports, with jasmine tea forming the bulk of the trade, according to industry records. The city registered nearly 1,000 enterprises involved in jasmine tea production by the late 1990s, according to local government figures.
Jasmine cultivation areas in Fuzhou grew to cover about 1,670 hectares by 2019, an increase of 16 percent year-on-year. The city recorded jasmine output of 11,000 tons in 2019, up 6.8 percent year-on-year, with output value at 380 million yuan, an increase of 5.8 percent year-on-year.
Amid the rapid diversification of products, processing area and brands, Fuzhou's jasmine tea sector has continued to achieve notable growth, riding on its "traditional handmade tea market position", according to the China Tea Marketing Association.