Seniors busy themselves with life in retirement
Share - WeChat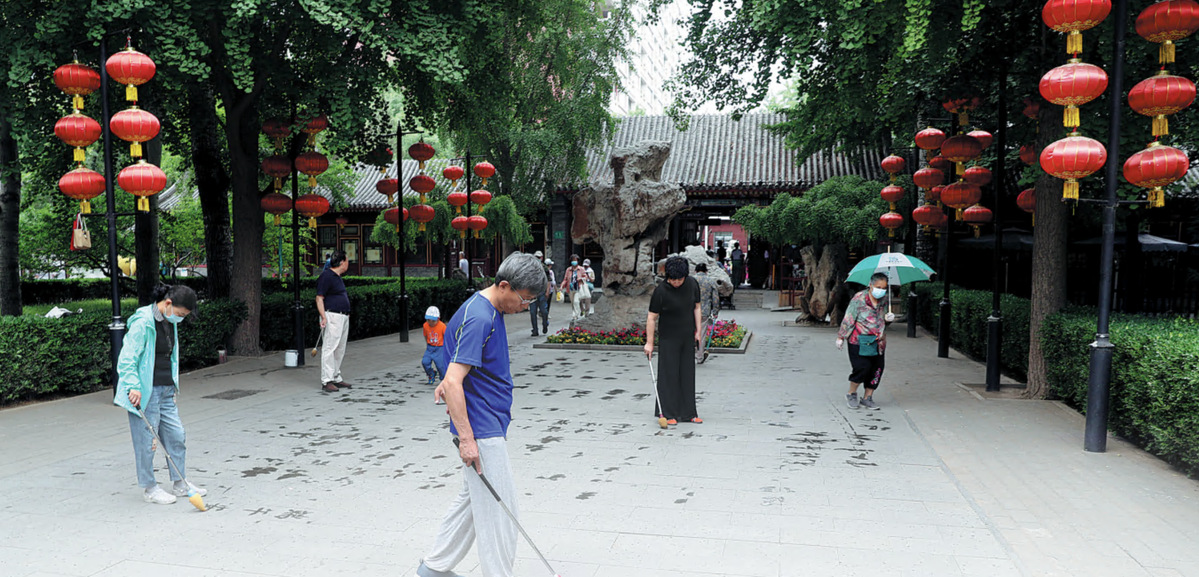 Many activities available when working days are over
Liu Feng, 65, a volunteer museum tour guide, pointed to the outline of a character used in Chinese calligraphy and asked a boy in school uniform, "It looks like a wash basin, doesn't it?"
She added: "It shows two hands holding a basin of water. The way the character looks explains its meaning. It's called guan, which means to wash-especially the hands."
The boy responded by nodding dutifully and jotting down comments in his notebook.
This scene played out on a recent afternoon at the Capital Museum in Beijing when Liu was telling visitors about Zi Zhong Jiang Pan, a water vessel from the Spring and Autumn Period (770-476 BC). The bronze vessel is engraved with figures that include a fish, a frog and a bird.
Liu also explained the etiquette involved in guests washing their hands before they attend a traditional Chinese banquet.
With the summer vacation approaching, Liu is extremely busy at the museum, where the latest exhibition she is involved with is titled Pursuing Eternity: Conservation of Museum Collections.
The display, which opened on May 18, features some 50 cultural relics from 23 museums and research institutes nationwide, including Terracotta Warrior figures, bronzeware, silk items and paintings.
"When I start a tour, there are just a few visitors, but by the end, there are more than 20 or even 30. People love to hear the stories behind these cultural relics, especially children, who are curious and eager to learn. I always try to use simple words and anecdotes to appeal to the children. When they find a tour interesting and rewarding, it fills me with joy," Liu said.
She has been a volunteer guide for more than three years and works at seven leading museums in Beijing, including the China Millennium Monument, the Capital Museum and the museum at Zhihua Temple, which was built during the Ming Dynasty (1368-1644). The vivid stories she tells are a valuable addition to the items on display.
Liu, who speaks English well and majored in economics at university, was a successful businesswoman before she retired 10 years ago. One of her favorite hobbies is visiting museums, which she said "not only brings me knowledge but also tranquility and relaxation after work".
After retiring, she decided to take her hobby further by becoming a museum tour guide.
In 2019, Liu applied for such a position at the Capital Museum, where she passed a written examination and face-to-face interview.
"Being a museum visitor and then a museum tour guide is a totally different experience. I am trained by curators, learn about the exhibitions and each item on display. After digesting all the information, I try to present stories which are fun and easy to understand," she said.
"Many television dramas feature the stories of imperial families, but have you noticed the clothes of the emperors and their wives? Do you know how those clothes were made, especially how the different colors were placed on them?" Liu asked visitors to the Capital Museum while guiding them around a display of colorful attire featuring imperial costumes from the Qing Dynasty (1644-1911).
"Many plants were used to dye clothing, such as berries, tea plants, along with onion skins. For thousands of years, Chinese people used plants to dye fabric and fibers, which is environmentally friendly," Liu said, pointing to dried plants exhibited beneath the colorful clothing.
She improvises when visitors ask her questions.
"I cannot simply tell the visitors information I've prepared. They often ask questions and it's important for me to prepare more information for them, not just knowledge based on one particular exhibition, but from history to current affairs, from astronomy to geography. I remind myself constantly that I'm telling stories to inform my audience. I am not a professor giving lectures."
Liu is part of the team of about 20 tour guides at the Capital Museum, whose average age is 58.
Yang Dandan, spokesman for the museum, said it started to recruit guides at the end of 2017, when the number of visitors rose significantly. Among the 800 or so applicants, two-thirds of them were seniors who had retired. In 2018, the first tour guide team was formed, with 16 senior members working as volunteers.