Wind, solar prepare for post-subsidy era
Share - WeChat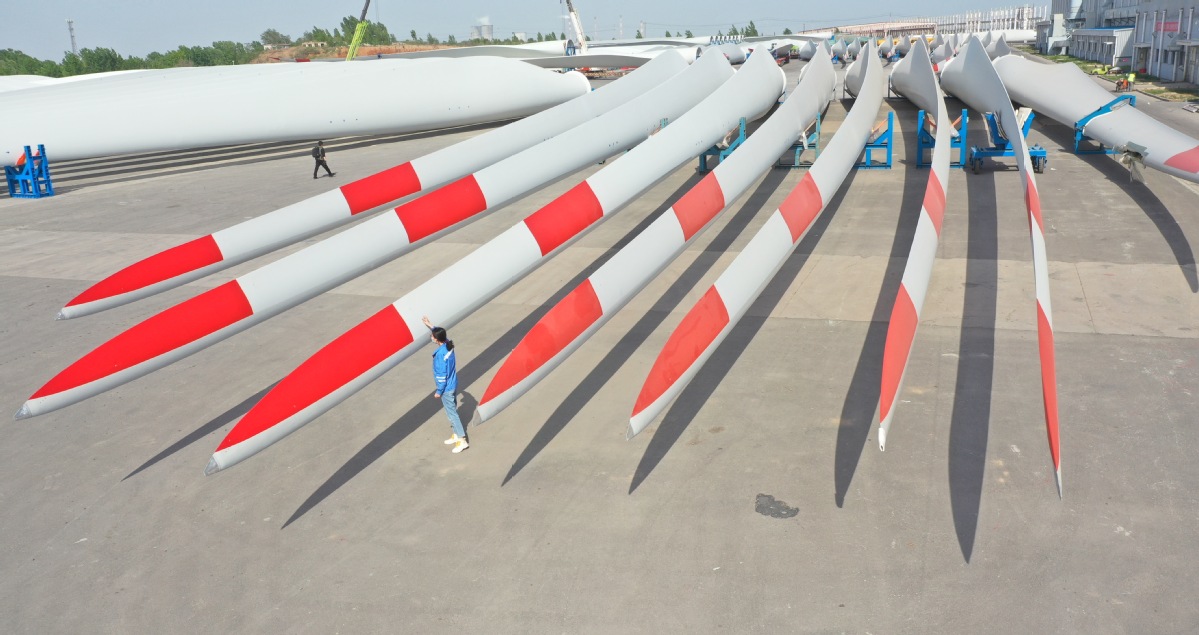 New policies seen benefiting, strengthening renewables industry over long term
China is ready for subsidy-free renewables after years of technological advances and cost reductions, as the government has been leveraging its range of policies in a careful balancing act to both reduce the subsidy burden while maintaining a fairly stable market, analysts said.
China will remove subsidies for new centralized photovoltaic stations, distributed photovoltaic projects and onshore wind power projects from the central government budget in 2021 and work toward grid parity, the National Development and Reform Commission announced in mid-June.
Effective Aug 1, the policies aim to promote the efficient use of resources and high-quality development of new energy industries and ensure that wind and solar projects receive relatively good returns. Meanwhile, investments can be directed in a more effective way, the country's top economic planner said.
The policies will benefit the solar and wind industries over the long run in a healthy way.
Luan Dong, China renewables analyst at Bloomberg New Energy Finance, said the government's scrapping of subsidies for wind and solar projects this year is within expectations, as costs for onshore wind and solar projects have been rapidly decreasing in recent years, paving the way for electricity derived from solar and wind to be sold to the grid at the same price as coal-fired power.
"Beginning with the turn of the decade, government subsidies resulted in significant cost reductions for wind and solar plays, and we estimate generating costs for those technologies declined by 60 percent and 80 percent, respectively, since 2014 in China," Luan said.
"Now they are close, if not below, the cost of new coal-fired power in most regions."
However, most of China's coal matrix has already been built, so its current operating costs may still be lower, and competition among generation technologies in China is not purely based on costs, he added.
"By and large, we believe new wind and solar projects can be viable without subsidies and State-owned developers will play a major role in driving market growth," Luan said.
But he said two questions remain. Will policymakers keep mandating price cuts in regulated tariffs for new projects? And will the volume of discounted liberalized power sales increase?
The commission's new policy also follows a drastic fall in manufacturing costs for solar and wind facilities amid booming renewable capacity in China.
The commission also encourages local governments to roll out policies to support the sustainable and healthy development of renewable energy industries, and electricity prices for the newly approved offshore wind and solar power projects will be decided by the pricing authorities of provincial-level regions where said facilities are located, starting this year, it said.
The 21st Century Business Herald estimates that under current benchmark prices for coal-fired power generation, onshore wind and solar projects can achieve internal return rates of 8 percent to 9 percent.
The government's moves are also being well received among solar companies in China. Leon Chuang, global marketing director at solar module manufacturer Risen Energy, said the advance of solar technology and cost reductions have further facilitated grid parity of clean energy and pushed forward rapid development of the sector.
Qian Jing, vice-president of module maker JinkoSolar, said the policies mark the era wherein wind and solar power finally enter the subsidy-free age.
The policies could ensure that newly built wind power and photovoltaic projects can achieve reasonable profits, while directing investment in an efficient way, Qian said.
Grid parity can also allow solar companies to compete on a level playing field and let the market select winners and weed out inefficient players, she added.
Qian said she believes that a subsidy-free era will bring about policy innovation, improved business models and enhanced financial products, thus resulting in a new power system with renewable energy as a principal player.
Yang Liyou, general manager of Jinergy, said grid parity within solar power generation means the country's solar industry has entered a market-oriented era from a policy-oriented one, while renewable energy can also play a vital role in the country's pledge to achieve carbon neutrality by 2060.
Shu Yinbiao, chairman of China Huaneng Group Co Ltd, said the photovoltaic industry, which is expected to play a key role in the rapid development of renewable energy during the 14th Five-Year-Plan period (2021-25), is ready to embrace the era of grid parity.
Subsidies for onshore wind and solar power projects date back to 2009, when subsidy incentives drove rapid development of the country's new energy installed capacity.
However, the generous subsidies previously allocated over the past few years weighed on central government finances and led to an increasing subsidy gap. Starting in 2016, China began withdrawing subsidies for solar and onshore wind projects, thus preparing the renewable energy sector for a subsidy-free era.
The government has since been working on a renewable energy subsidy formula and power price structure.