Sharing opportunities and growth
Share - WeChat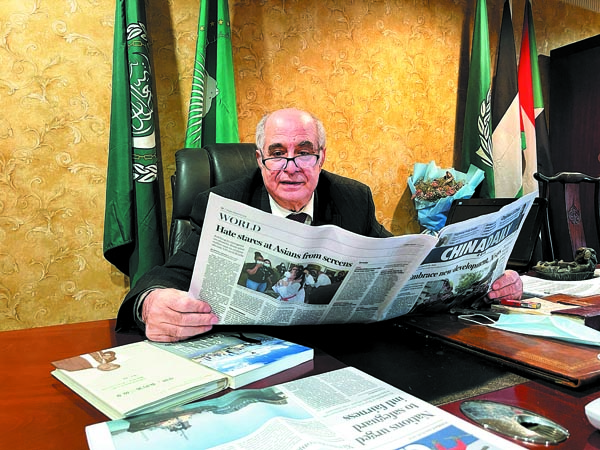 China's historic CPC-led development set to help other countries amid greater globalization, veteran diplomat and scholar says, reports Alexis Hooi.
Having been in China for the past half century, veteran Arab diplomat and scholar Moustapha Saphariny says he has had an invaluable "front-row seat" to the country's unprecedented achievements and development.
"China has developed from a relatively backward country to the second-largest economy in the world," says Saphariny, 72, a former Palestinian ambassador to China and director of the Arab Information Center in Beijing. "From the 1960s and 1970s, when Chinese people used tickets and coupons to obtain basic necessities like clothes and food, to today's digital shopping and e-commerce.
"I've witnessed the development of China from a relatively closed country into an important force indispensable for global peace and stability, and an important pillar of global economic growth."
Saphariny arrived in China in 1969 under a special work-study arrangement, and started learning Chinese and studied history at Peking University in the early 1970s, subsequently attaining a doctorate in international politics.
Amid the centennial celebrations of the Communist Party of China this year, Saphariny points to what he considers to be three major stages in the country's impressive development under CPC leadership.
The first stage marks how the country "stood up" to achieve liberation and independence.
"After years of heroic struggle, the Chinese people finally overthrew the rule of imperialism, feudalism and bureaucratic capitalism," he says.
"China's achievements included adopting an independent foreign policy of peace, the 1955 Bandung Conference of Asian and African states marking a turning point in diplomatic relations that broke the isolation imposed by imperialism and its Western allies on China, and the restoration of its legitimate seat in the United Nations in 1971," he says.
Most Popular