Furniture future
Share - WeChat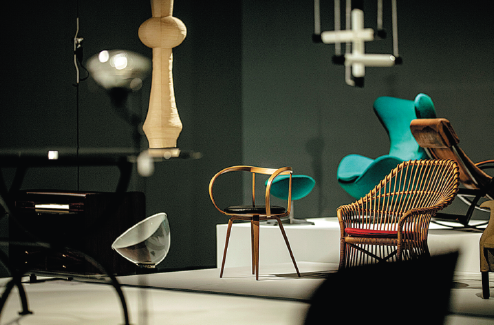 Exhibition showcases how industrial design has significantly changed lifestyles over a century, Lin Qi reports.
In the final scenes from Charlie Chaplin's satire The Great Dictator, he delivers a speech to the assembled crowd in the make-believe country of Tomania.
"More than machinery, we need humanity," goes a quote from Chaplin's speech in the film. Today, this same quote is being displayed at Design Utopia 1880-1980, an exhibition at the Tsinghua University Art Museum. The exhibition, until Aug 25, captures the critical development of design as an independent discipline and industry over a century.
The use of Chaplin's quote reveals the idea underpinning this display of 158 modern designs; that design gives people access to the benefits of industrial production and helps them to envision a creative and sustainable future, as well as serving human interests in a much more diverse way.
The designs on show, which are mostly furniture pieces, are from the Biagetti-Koenig Collection managed by Musei Italiani in Italy, presenting the evolution of Italian and international designs in industrial production.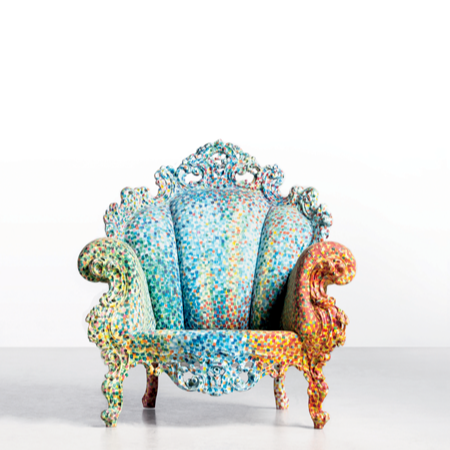 In a video address at the exhibition's opening, curator Alessandro Guerriero says he has read through the exhibition catalog many times, and he feels that the exhibition is like "a long river" that includes a series of classic designs which were made in, and traveled to, different countries.
Guerriero says the exhibition is also like "a big, rich palette of tones", and every piece on show provides inspiration and suggestions for the future.
He adds that people would find that the exhibits provide graphical guidelines to art history, and a reflection of how philosophical hypotheses become facts at the exhibition.
Every exhibit is unique and the exhibition shows how different materials interact with technology, ideas and theories, so visitors will be amazed as they examine every piece of work on display.
Lu Xiaobo, dean of the Academy of Arts and Design at Tsinghua University, says several works on show are classic examples of what design students will learn in textbooks, and also show how artists and designers utilized new materials at the time to create a world of modernity. He also says the works introduced novel aesthetic values into people's daily lives by turning homes, workplaces and public venues into galleries to showcase different styles and innovative ideas.
Most Popular