Maersk set to introduce more containers, offer air, rail options
Share - WeChat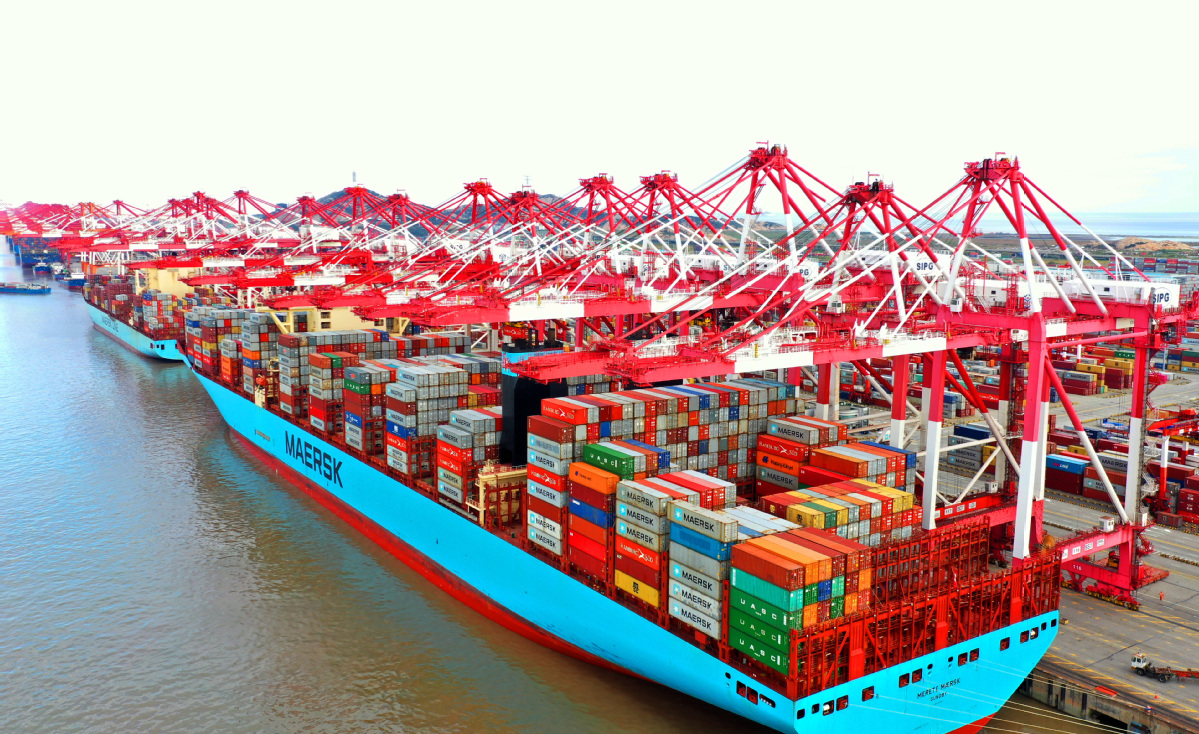 Shipping giant's move to mitigate equipment shortage in global market
A.P. Moller-Maersk, the Danish shipping and logistics giant, will introduce more 40-foot shipping containers into its fleet this summer to mitigate an equipment shortage in the market, besides continuing to offer alternative integrated solutions, such as air charters and intercontinental freight train services between China and the rest of the world.
There is a shortage of shipping containers because those shipped to developed markets could not be emptied in time due to the novel coronavirus outbreak and have not been returned.
"Since the second half of 2020, strong demand from the United States and Europe has been coupled with significant operational challenges such as bottlenecks, lack of capacity and equipment shortages in global supply chains. We still don't know when the world can be normalized, on the heels of COVID-19, but we expect months of abnormal conditions," said Vincent Clerc, CEO of Ocean and Logistics at A.P. Moller-Maersk.
He said Maersk foresees significant shortages of 40-foot and 45-foot high-cube containers for China to export its products in.
Ditlev Blicher, managing director of Maersk Asia-Pacific, said the company will continue to buy or lease dry freight containers this summer to meet the shortage. The disruptions, such as congestion in Los Angeles, network disruptions in Australia and COVID-19 flare-ups in some Asian countries, are only going to extend such demand spikes, Blicher said.
The increased demand for airfreight is linked to the disruptions on the ocean front.
"As long as there are supply chain disruptions and lower capacity, the demand for airfreight will remain high," Blicher said.
However, transport by air has also seen problems in the past six months, as a large number of passenger aircraft are still being taken out of rotation. The shortage of airfreight capacity is expected to last for the rest of the year.
"Helping customers to build a more resilient supply chain thus becomes crucial," Blicher said.
"With the COVID-19 posing huge challenges for ocean and air transportation, intercontinental rail transport between China and Europe is emerging as an alternative. Maersk operated 210 block trains in 2020 to cater to the needs."
Maersk also launched a new block train service from Shandong province to Poland and Germany this month.
Even though the supply and demand imbalance and bottlenecks still linger, the company saw its earnings before interest, taxes, depreciation and amortization surge to $4 billion in the first quarter, compared with $1.5 billion during the same period last year.
"With the easing of the epidemic in Europe and the US and the continuous introduction of consumption stimulus plans, global demand has picked up, and the demand for shipping logistics has gradually increased. However, the recovery cycle of shipping capacity has not been realized as quickly," said Wang Guowen, director of the center for logistics and supply chain management at the Shenzhen-based China Development Institute think tank.
While many containers are stuck in developed markets, "in developing countries, such as India and Malaysia, many crew members were unable to board ships because of the pandemic. The shipping capacity still cannot enter the state of full-load operation. The capacity shortage has not been alleviated, and the freight rate has risen," Wang said.
Because of fresh cases and pandemic prevention and control measures in place in parts of South China's Guangdong province, Yantian Port in Shenzhen recently faced berthing delays. China's major container shipping port is expected to resume full capacity by the end of this month, said Chen Biao, board secretary of Shenzhen Yantian Port, to ThePaper.cn, a Shanghai-based online media outlet.