Growing overseas orders of domestic firms keep stevedores busy at ports
Share - WeChat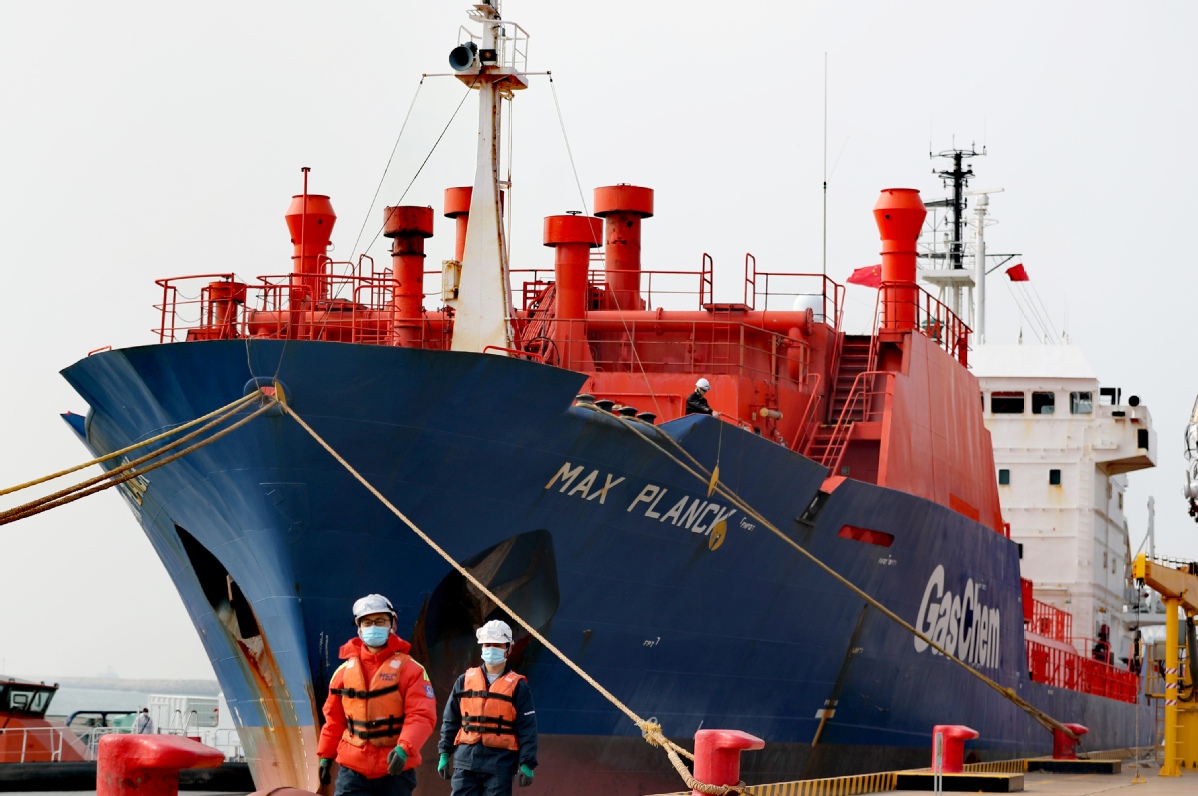 In the Chuanshan port zone at Ningbo-Zhoushan Port, Zhejiang province, thousands of ocean shipping containers are waiting to head out to sea as demand for goods remains high at home and abroad.
"Our employees have been busy, and haven't had much time to relax over the past two months, even during the Spring Festival holiday," said Chen Sheng, a deputy director with Ningbo-Zhoushan Port Group, adding that the company also added two international shipping routes-including one with service to Sakhalin Oblast in Russia-this year to reach more destinations worldwide.
With a total of 262 container shipping routes, throughput at Ningbo-Zhoushan Port surged 52.4 percent on a yearly basis to 2.35 million twenty-foot equivalent units in February, reaching a historic high, the company said, and its need for empty containers is high.
Similar to Ningbo-Zhoushan Port Group's move to boost its supply of shipping containers through import channels and support domestic trade through sea-rail transport and cooperation with airlines, all major domestic ports-such as in Shenzhen, Guangdong province; Xiamen, Fujian province, and Tianjin-have been doing the same to ensure smooth running of the world's supply chain and meet massive domestic demand.
Shanghai Port has already set a goal of reaching container throughput volume of 44 million TEUs this year to maintain its position as the world's largest container port by capacity.
Ports in Shandong province, such as Qingdao, Weihai and Rizhao, handled more than 115 million metric tons of cargo in February, up 12.1 percent on a year-on-year basis, while container throughput at its ports hit 2.22 million TEUs, surging 13.8 percent on a yearly basis, according to Shandong Port Group Co Ltd.
The heavy workload at Chinese ports reflects the country's ability to achieve growth in foreign trade, and manage to restore export orders while stimulating domestic demand, leading to a rebound in imports, said Lin Jiantian, director-general at the department of commodity inspection at the General Administration of Customs.
Many Chinese firms' growing orders from abroad have also kept their workers, logistics service providers, material suppliers and Customs officials busy this year, and this trend will create more confidence in the prospects of export growth and economic recovery for the rest of the year, said Sang Baichuan, an economics professor at the University of International Business and Economics in Beijing.
Even though the COVID-19 pandemic has disrupted global investment and industrial chains, China was able to register better-than-expected foreign trade performance since June last year. It was able to produce and export supplies to other countries after its strict and effective prevention and control measures over the disease were effective, said Chen Bin, executive vice-president of the China Machinery Industry Federation in Beijing.
The country's foreign trade soared 32.2 percent on a yearly basis to 5.44 trillion yuan ($837.3 billion) in the first two months of the year, said the GAC.