China viewed as key driver for recovery
Share - WeChat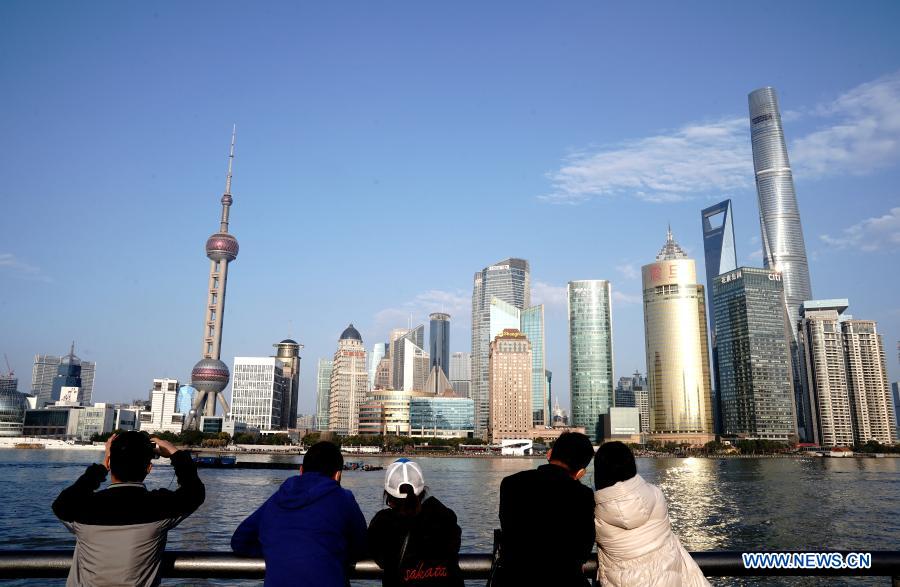 With US, it will underpin rebound from virus amid rosier outlook, experts say
China, along with advanced economies led by the United States, will be the backbone of the world's recovery from the pandemic as the global economic outlook is expected to improve quicker than previously forecast, experts say.
Euromonitor International, a London-based market research company, earlier in June upgraded its global economic growth forecast to 5.8 percent for this year, an upward revision of 0.5 percentage point from its projection in the first quarter of 2021, citing China and the US as the two major driving forces.
Christopher Bovis, a professor of international business law at the University of Hull, said: "The post-pandemic recovery will be driven by the US and China, and their respective economies will fuel demand and supply respectively."
He said he believes China will be a major part of the global plan for post-pandemic recovery. "Its staggering economic growth during the first quarter of 2021 is a demonstration of globalization post-pandemic as the blueprint to recovery."
China's economy grew by an unprecedented 18.3 percent year-on-year in the first quarter of this year, compared with expansion of 6.5 percent year-on-year in the fourth quarter of last year, according to the country's National Bureau of Statistics.
Chris Rudd, deputy vice-chancellor and head of the Singapore campus of Australia's James Cook University, said: "China's decisive response to COVID-19 enabled it to enter economic recovery even as advanced economies continued to nose-dive and we look enviously at the levels of normality which its citizens enjoy."
The Euromonitor International report adjusted China's real GDP growth to 8.6 percent in 2021, compared with 8 percent in its January projection.
Mario Cavolo, a senior fellow at the Center for China and Globalization, a think tank in Beijing, said: "China will be on track or even better (with its actual growth)."
He argues that the Western world seems to be "incapable of understanding how steady and stable the domestic market is here in China, from household consumption all the way up the scale to the highest levels of industry, where its largest companies are exercising discipline and foresight".
He added: "My view of China has always been among the most bullish and I have yet to be wrong."
The findings from Euromonitor International economists suggested high vaccination rates in rich countries are likely to lead to a strong recovery, supported by rising consumer confidence, fiscal stimulus and high accumulated savings.
The report added that the strong recovery outlook for advanced economies is mainly driven by the US, due to its relatively fast vaccine rollout and the strong fiscal stimulus measures.
Policy response
Gulnur Muradoglu, professor of finance at Queen Mary University of London, said: "The speed of recovery from the COVID-19 crisis depends on the policy response from governments to vaccination rates.
"If governments respond to increasing vaccination by removing shutdowns faster than expected, then the growth rates can be higher. If policy response is slow to increasing vaccination rates with concerns about variants of the virus, then I would expect economic recovery to be slower."
Muradoglu said rebounds following economic crises normally come with faster growth rates, but whether the whole world is likely to start stepping out of the pandemic in the second half of this year remains a question.
Bovis said: "Rich countries are likely to experience a faster rebound because they will reach herd immunity first. In addition, the timing of achieving herd immunity from COVID-19 and the proportion of population vaccinated will be also factors that will play a key role in shaping the forecast demand from advanced economies."
While the prospect of a potentially quicker recovery is uplifting, some experts say the immediate economic readings after the pandemic should be viewed with caution.
David Miles, professor of financial economics at Imperial College Business School, said: "The short-term high growth in many developed economies (this year) is a partial bounce-back from very depressed activity. It is a short-term bounce that tells us little about next and beyond. It also tells us little about the longer-term harm done by the pandemic."
Rudd pointed out that increased investment combined with the recovery of consumption in many regions will certainly drive their greater economic success, but detailed forecasting remains a matter of conjecture at a time when uncertainty remains the only predictable guarantee.