Putting his life on the line
Share - WeChat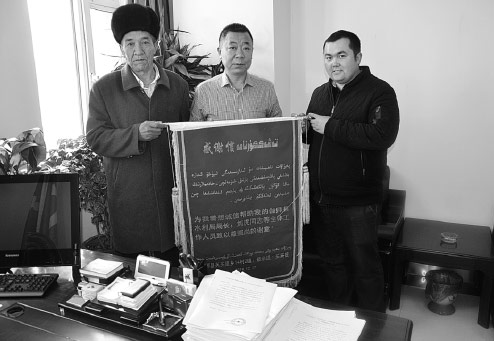 Selflessly putting his own health issues aside, role model official Liu Hu ensured pipelines providing remote communities with access to clean, running water were completed, report Xu Weiwei in Hong Kong and Mao Weihua in Urumqi.
"Lung cancer!"
In May 2017, the grim diagnosis from a doctor stunned Liu Hu, who was only 43 at the time. Fear, disappointment and bewilderment-a range of emotions overpowered his mind. Then, he calmed down and chose to live up to his sense of mission.
As the chief official responsible for water related projects in Jiashi county in the Xinjiang Uygur autonomous region, he was soon telling himself to carry on with his duties despite adversity, disease or disaster.
Quietly, he received chemotherapy at a hospital in Kashgar, regularly took medicine, and seemingly recovered quickly so as to keep his work going.
Whether it was the summer heat or winter chill, he kept visiting villagers, inspecting hill sites and pipes, holding discussions with colleagues, researchers and the local elders, searching for proper solutions to the area's drinking water related problems.
Liu has served as director of the water resources bureau in Jiashi since November 2016. In local Uygur language, the word Jiashi means "beautiful place".
Yet, the land of beauty sandwiched between ice-covered mountains and the Taklimakan Desert, the largest in China, has been plagued by "bitter water" for centuries. With a precipitation of tens of millimeters during most years, its underground water and scarce water in streams and ground channels have been constantly contaminated with other elements, mainly due to earthquakes.
The water became reddish and turbid after one earthquake, says a Uygur elder named Keram Sayim in Ayaklang village. A plastic barrel in his kitchen has long been used to store water for sediment to settle first. Then the water is left in sunshine for hours, boiled later and steeped in tea to reduce the bitterness.
Without healthy water, local people suffered and few tourists visited despite the area's well-known attractions, says Kurax Kawul from Ayaklang.
Having healthy and safe water has been a prime dream for the 470,000 local people in the otherwise pleasant landscape.
Ever since he took office, Liu has made it his mission to bring "sweet and clean" drinking water to all in the county, curb water related illnesses and lift the locals out of poverty in line with the national goal to eliminate absolute poverty by 2020.
Most Popular