Nuclear hero devoted life to helping country
Share - WeChat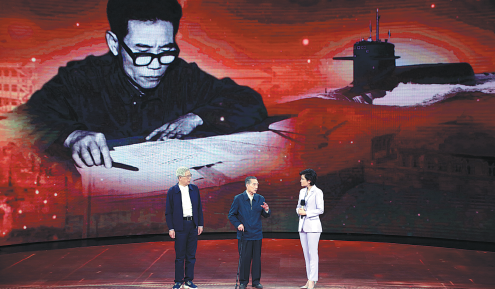 Nuclear expert Peng Shilu once said that he only did two things in his entire life: one was to build nuclear submarines, and the other to build nuclear power plants.
This declaration may sound bold, but considering the work he did, it is more of an understatement. Despite being one of the founding members of China's nuclear power industry, Peng described himself as playing a tiny role in the grand scheme.
In fact, he held leading positions in most of China's early nuclear power projects, from the first-generation nuclear submarines to the establishment of Dayawan and Qinshan nuclear power stations.
Peng, who was an academician at the Chinese Academy of Engineering, passed away in Beijing on March 22 at the age of 96. The Publicity Department of the Communist Party of China Central Committee recently conferred the title "Role Model of the Times" on Peng for his contributions.
Peng was born in 1925 into a family of heroes. Both of his parents, Peng Pai and Cai Suping, devoted themselves to the Communist revolutionary cause and sacrificed their lives.
Peng Shilu lost his mother at the age of 3 and his father at 4. The Kuomintang forces sought to arrest him, but the locals, out of gratitude to his father, took him in and hid him from village to village.
Despite that, he was still imprisoned at only 8 years old. A village woman, who took him in as a member of her family, was also arrested but refused to confirm that he was Peng Pai's son even under torture. After he was released, he joined in the War of Resistance Against Japanese Aggression (1931-45), and went to the revolutionary base area of Yan'an, Shaanxi province, in 1940.
"My difficult childhood experiences honed my character of being unafraid of hardship. I am eternally grateful to the people and no matter how hard I try, I feel I cannot repay the benevolence they bestowed upon me," Peng once said in a recollection.
After the founding of the People's Republic of China in 1949, Peng was selected to study chemical machinery in the Soviet Union. In 1956, when he was about to graduate, he faced a turning point in his life.
Most Popular