Yellow River civilization
Share - WeChat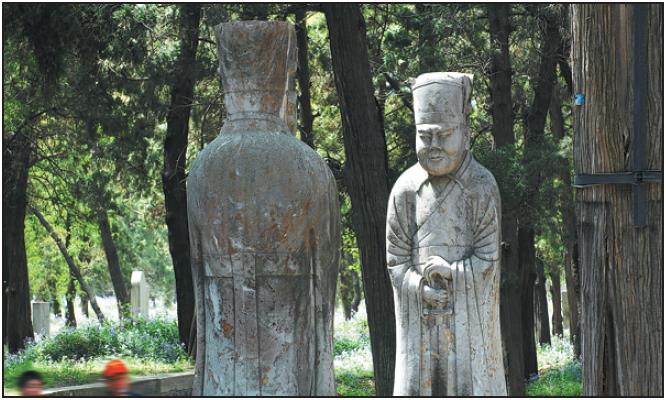 Natural relics
Grotto temples are an important part of China's cultural relics and pearls in the long river of civilization. They integrate architecture, sculpture, frescoes, calligraphy and other artworks.
・ Mogao Caves
This is a shrine of Buddhist art treasures in Dunhuang, Northwest China's Gansu province. It was first constructed in 366 AD and preserves 492 caves that house about 45,000 square meters of murals and more than 2,000 painted sculptures. Visitors can view one of the oldest and most vivid scenes of cultural exchanges along the Silk Road.
・ Tianti Mountain Grottoes
Located in Wuwei in Gansu province, it was built in Northern Liang of the Eastern Jin Dynasty (317-420) and has a history of more than 1,600 years. The mountain peaks are tall and rugged, and the bumpy path resembles a hanging ladder on the mountain. Its relics were relocated in the 1950s to make way for local reservoir construction. Most of the relocated relics, including frescos and colored statues, were brought back to the mountain in 2006.
・ Yungang Grottoes
The grottoes feature 252 caves and 51,000 statues in Datong, Shanxi province, and they represent outstanding achievements of Buddhist cave art in the 5th and 6th centuries. Visitors can appreciate the strict unity in layout and design of the artworks. The statues in the caves and niches are in good condition, with the eaves of wooden pavilions in the caves and related historical remains maintained like when they were first constructed.
・ Longmen Grottoes
The grottoes in Luoyang, Henan province, are home to more than 2,300 caves and niches carved into steep limestone cliffs over a 1-kilometer stretch. The grottoes and niches have an impressive collection of Chinese art from the late Northern Wei (386-534) to Tang dynasties. They include about 110,000 Buddhist stone statues, more than 60 stupas and 2,800 inscriptions carved on steles.
There still remains more fascinating elements in the Yellow River Basin waiting to be explored. Tourists can follow the traces of the Chinese ancients, appreciate the wisdom of the past through important water conservancy and hydropower engineering projects, and see great changes that have occurred over the years.