Handicrafts and performance skills help boost incomes
Share - WeChat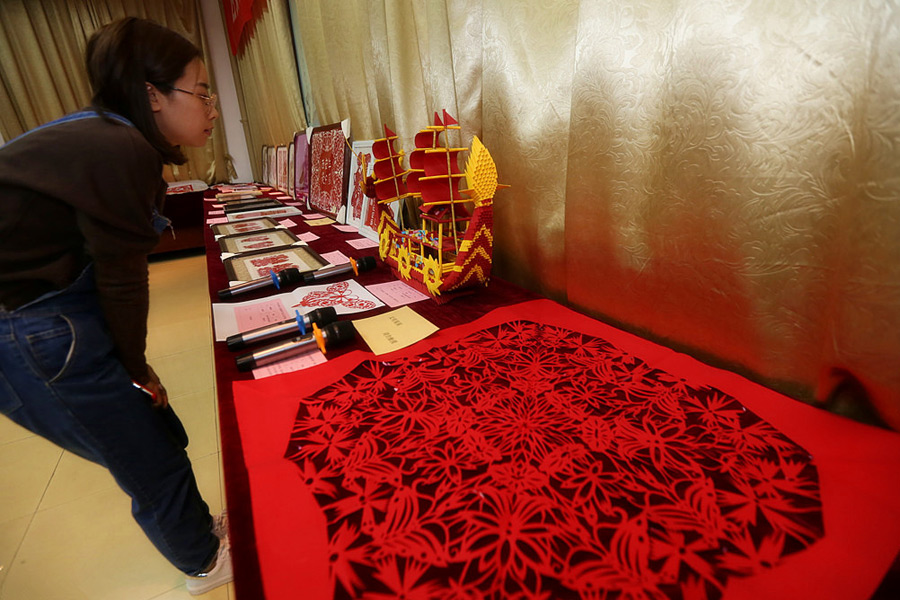 Paper-cutting classes
Yu Zeling, 55, a master of traditional paper-cutting craft, is also a volunteer teacher at the government's free training sessions.
"Skill comes from practice. When the 15 days of training come to an end, those who really like paper-cutting will practice on their own, and they often come to my home to ask me questions," she said.
One of her students is a talented 18-year-old woman with hearing and speaking impairments. As the woman comes from a low-income family, Yu has taught her free of charge for two years.
"The local government offers a cash bonus if you win a prize in a paper-cutting contest, either at city or provincial level. Such an incentive is a great encouragement for those learning the art," she said.
The Women's Handicraft Association in Ansai also offers free training in skills such as paper-cutting, embroidery and painting. After being trained, people from impoverished families can find jobs at a cooperative owned by the association's members.
Chen Lianlian, the association's 37-year-old president, is adept at paper-cutting. She noted that many women like to learn the skill, which is easier to master than some other handicrafts.
Those who are good with their hands can make simple paper-cuts for customers after about a month's training, earning an average monthly wage of about 1,000 to 2,000 yuan based on the quantity and quality of their work.
Customers come from all over the country and the paper-cuts are used on special occasions or sold to tourists as souvenirs.
To recruit people with talent, Chen often contacts those who have already received training to ask if they wish to improve their skills at the association's workshops and gain a better opportunity to secure a job.
She said many impoverished students are 40-something women with a low level of education and no special skills, but some even become their family's major breadwinner.
"You don't have to keep office hours. You can do the work at home, any time you like. It's a good part-time job to earn more for one's family. It's also convenient for those who have to look after children or the elderly," she said.
"However, it's a tedious job and not very profitable, and you have to sit still for hours. For the good of one's health, especially one's eyesight, it's better to only do it part time."
She said the national training policy has greatly promoted China's intangible cultural heritage, including paper-cutting.
She hoped that more professionals will soon be available to train paper-cutting tutors and better spread the art form across the country.