Winter sports market scales new heights
Share - WeChat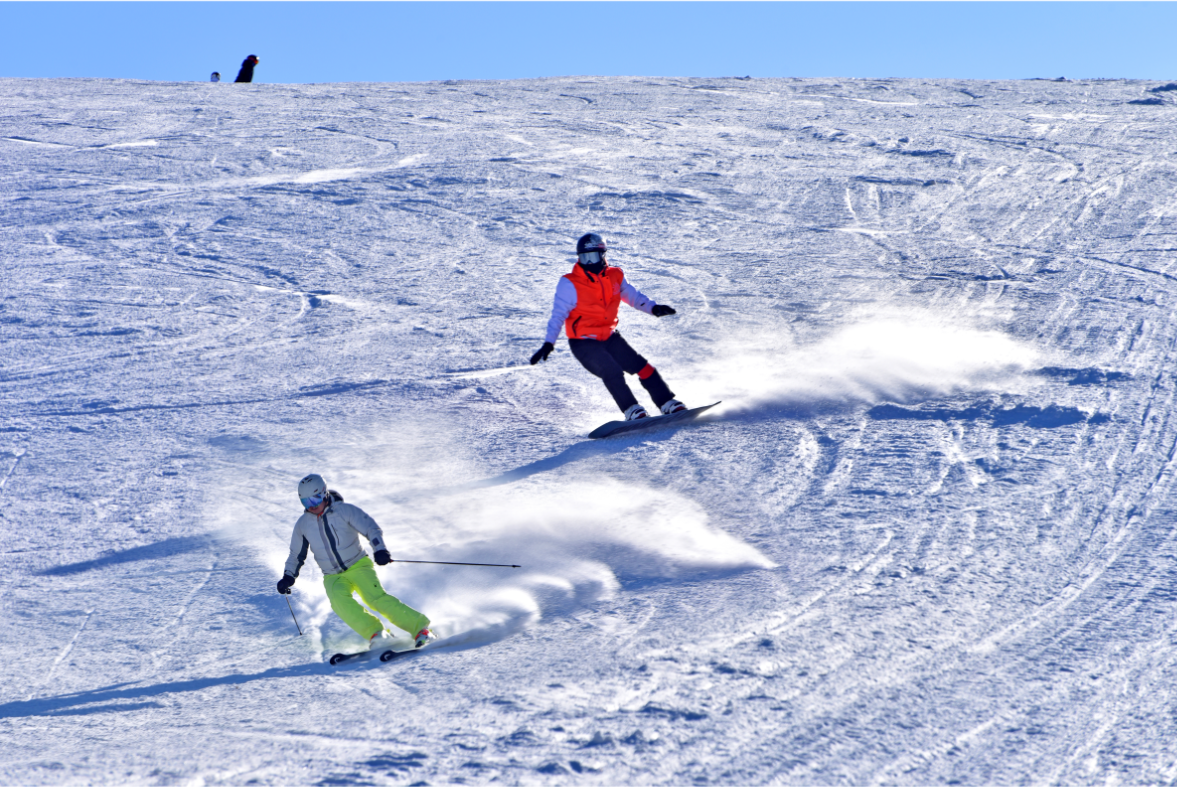 Grabbing snowboards or skis to experience the excitement of the slopes has become one of the most fashionable ways for Chinese urbanites to spend their holidays.
Thanks to the arrival of 2022 Beijing Winter Olympics and huge government support, China's ice and snow industry has shown great potential in recent years, with participation rates and investment projected to continue rising.
According to chinanews.com, Zhangjiakou, the co-host city of Beijing Winter Games in Hebei province, now boasts nine ski resorts with 177 ski runs of different levels totaling 164 kilometers in length. The city is also home to 19 skating venues, meeting demand for both professional and grassroots activities.
Zhangjiakou is home to 83 ice and snow industry projects, including 48 winter sports equipment research and development projects, 21 ice and snow service projects, and five winter sports talent education programs. The city has invested over 33.5 billion yuan ($5 billion) in those projects, which feature cooperation with nine countries, including the United States, France, Italy and Sweden.
The booming tourism industry in Zhangjiakou also bears testimony to the popularity of winter sports in China. Despite the effect of the COVID-19 pandemic, ice and snow tourism still attracted 6.5 million visitor entries in 2020.
The city has also been investing in nurturing more ice and snow talents. Over a dozen colleges in Zhangjiakou now offer over 20 majors related to the ice and snow industry. And to encourage more people to participate in winter sports, Zhangjiakou has hosted 285 ice and snow competitions and activities of all levels since last year, attracting over 5 million visitor entries.
"China is encouraging 300 million people to participate in winter sports, and the winter sports industry will for sure welcome this impressive development," Liu Zonglin, the founder of sports equipment manufacturer Zhangjiakou Apgomago, told Xinhua.
"As the co-host city of the Beijing Winter Olympics, Zhangjiakou needs to have its own ice and snow sportswear brand. Now we have over 100 workers in a 5,000-square-meter factory, with 200 pieces of professional equipment and several production lines."
Song Aisheng, a deputy director of Zhangjiakou commerce bureau, told Xinhua that to maximize new opportunities in the sector, the city has been facilitating the development of several industrial parks. The city is building an industrial chain comprised of ice and snow equipment manufacturing, winter sports, ice and snow tourism and talent education.
Many more Chinese cities-even in the southern half of the country-are investing heavily in winter sports and the ice and snow industry.
Guangzhou Daily reported that Guangdong province now boasts 20 indoor skating venues totaling 20,000 sq m in area and two indoor ski resorts totaling 100,000 sq m by the end of 2020. The province has also been actively arranging different levels of winter sports activities and introducing winter sports to schools.
According to a China sports market report published at the China Sports Development Forum in May in Beijing, for the past five years, the total number of standard skating venues in China jumped from 157 to 388, and the number of ski resorts has reached 770 from 568.
From 2019 to 2020, about 150 million people across China participated in winter sports. And according to the 2021 China Ice and Snow Tourism Development Report, published by the China Tourism Academy in early January, China's winter sports attractions are expected to draw 230 million visits in 2021, with revenue totaling over 390 billion yuan.
"China boasts a population of 1.4 billion and the future of winter sports in the country is very promising," said Zhang Hong, the winner of China's first-ever speed skating Olympic gold medal in 2014, at the China Sports Development Forum in Beijing.
"For speed skating and winter sports in general, the 2022 Beijing Winter Olympics will not be an end. On the contrary, it will be another start for the Chinese winter sports industry. Through the Beijing Winter Games, more people in China will get to know more about winter sports, which will attract more people to work in the sector, and we will witness the emergence of more Chinese gold medalists at future Winter Olympics."