Old art form for new audience
Share - WeChat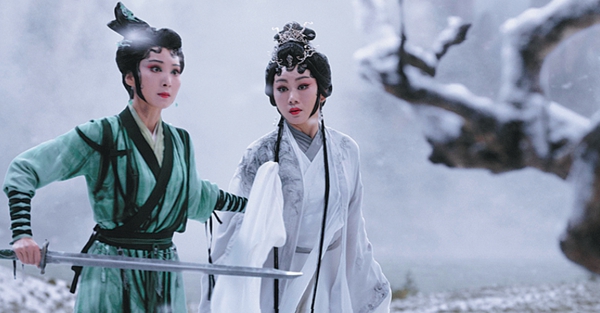 Romantic drama comes to life in a visually stunning film showcasing Cantonese Opera, Xu Fan reports.
Two beautiful women in white and green dresses walk across an arched stone bridge over a pond, where colorful carp swim under lotus leaves. The scene, which looks like a Chinese ink painting, opens White Snake, the mainland's first Cantonese Opera film shot with the techniques of 4K, surround sound and high definition.
Based on The Legend of White Snake, one of China's most renowned folklore romances, the film retells the love story between a white snake spirit and a handsome young man.
Originating from a myth in the Tang Dynasty (618-907), The Legend of White Snake was reshaped as a tragic romance in Ming Dynasty (1368-1644) writer Feng Menglong's collection Jingshi Tongyan (Stories to Caution the World), spawning various remakes, ranging from novels to operas and TV series later.
Keeping the main plotline of the original tale, the film follows two snake spirits-shape-shifted to the two beautiful women from the opening scene, named Bai Suzhen and Xiaoqing-stumbling upon a young man, named Xu Xian, who had rescued a white snake hundreds of years ago in his previous incarnation.
The film is set in the picturesque city of Hangzhou in East China's Zhejiang province. The white snake spirit and the man fall in love and get married but soon face their top "enemy", Monk Fahai, who believes a spirit should not marry a human and forces them to split.
Most Popular