Centrally administered SOEs step up reforms
Share - WeChat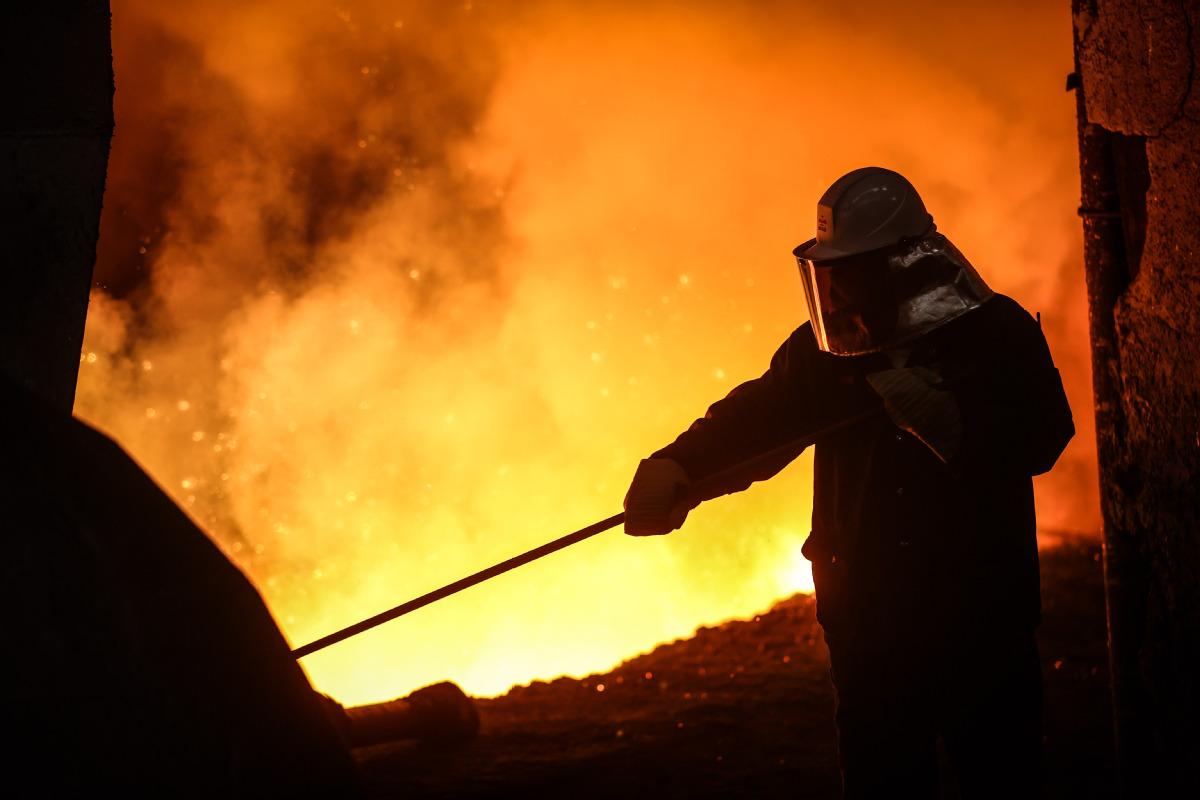 Efforts aimed at bringing in more types of investors to State-owned enterprises
With China aiming to achieve more than 70 percent of its goals in the three-year action plan (2020-22) designed for its State-owned enterprises by the end of this year, centrally administered SOEs in the country's northeastern region have moved substantially to accelerate mixed-ownership reform and make significant breakthroughs in key business areas.
Eager to further compete with steelmakers from the private sector, Liaoning province-based China Ansteel Group Corp Ltd, or Ansteel, finished mixed-ownership reform of nine of its subsidiaries, including its engineering technology company and mining design institutes in 2020, introducing high-quality social capital and boosting innovation to enhance earnings and innovation strength.
The three-year action plan is designed to implement measures outlined by the 19th National Congress of the Communist Party of China in late 2017 to push SOEs to adapt themselves to market-oriented and law-based rules and norms in the new era as soon as possible and assume greater responsibility in an open and innovative environment, according to information released by the State-owned Assets Supervision and Administration Commission of the State Council-the country's Cabinet.
The reform includes bringing in multiple types of investors to central SOEs, exploring flexible and market-based salary systems and selling shares to SOE employees. It has already made substantial moves in electricity, oil, natural gas, railway, civil aviation, telecommunications and military industries.
"Ansteel has implemented a variety of medium and long-term incentives such as equity and dividend incentives along with follow-up project investment to build a corporate community formed by the company's key staff and corporate interests," said Wang Yidong, the group's vice-president.
Angang Steel Co Ltd, a Shenzhen-listed company and a subsidiary of Ansteel, to date has implemented an equity incentive plan for 175 managers and core staff, while a total of 30 key employees from the group's mining and construction company have invested 13.36 million yuan ($2.1 million) in equity stakes. The group has taken a series of measures to ensure that all kinds of talent with unique skills are entitled to enjoy such incentives.
Thanks to mixed-ownership reform, technology breakthroughs and efforts to relieve the obligation of undertaking social programs, Ansteel saw its profit hit a record 13.4 billion yuan in 2020. Its profit amounted to 10.8 billion yuan in the first four months of this year, about 16 times higher than the same period last year.
To support high-quality growth of China's manufacturing sector, the northeastern SOE, backed by two national level laboratories, research and development institutes, has provided high-quality steel for the country's high-speed trains, F-class ultrahigh strength steel for offshore engineering platforms, high-end steel products for nuclear equipment, automotive products and steel used in the Hong Kong-Zhuhai-Macao Bridge and other big-ticket projects.
Zhang Zhenrong, a board director at Heilongjiang province-based China First Heavy Industries Co, or CFHI, said the number of companies with diversified equity currently accounts for 62.3 percent by number of households, and 93.56 percent by total assets within the group, after carrying out comprehensive evaluation and systematic reform in its subsidiaries.
As the fourth batch SOEs to conduct the mixed-ownership reform, CFHI's agricultural machinery company successfully introduced three investors with a total investment of 42 million yuan, and established an employee shareholding platform with 2.51 million yuan.
With nearly seven decades of growth, CFHI has supplied more than 5 million metric tons of machinery and developed over 421 new products and more than 475 industrial technologies.
The group's products have been equipped to supply China's nuclear power, automobile, nonferrous metal, iron and steel companies, coal production bases and other business sectors. These moves have strongly supported the construction of national defense and the overall economy while elevating the integral level of heavy machinery manufacturing industries in China.
As China aims to accelerate measures to enhance its strategic scientific and technological capability with growing spending on innovation in the coming years, Liu Mingzhong, CFHI's chairman, suggested the government build an innovation center of manufacturing technology for large casting and forging during the country's 14th Five-Year Plan period (2021-25).
To better ensure the operation of the global supply chain amid the disruption caused by the COVID-19 pandemic, it is vital for China to carry out basic technological research, intermediate testing, engineering applications and industrial incubation in integrated innovative platforms in order to produce advanced industrial parts and materials, Liu said.
Apart from northeastern SOEs' accelerated efforts to push mixed-ownership reform, Jilin-province based CRRC Changchun Railway Vehicles Co Ltd, a subsidiary of China Railway Rolling Stock Corp-the country's largest rolling stock manufacturer by production volume-announced that it delivered double-decker passenger trains for the phase II purchase project for Sydney, Australia in March this year.
The shipment comprises eight cars-four locomotives and four freight carriages-and has a maximum operating speed of 130 kilometers per hour.
Adopting Australian standards while integrating the most advanced international standards, Wang Feng, CRRC Changchun's president, said it took the Chinese company 18 months to deliver the first train to the proprietor after signing the contract, which set a record in delivery speed for the Sydney project.
"Even though we were affected by the pandemic last year, the project team worked hard to overcome multiple adverse factors, including personnel quarantines and disrupted material supply," Wang said.
The government will improve the market-oriented operational mechanism and promote contractual management systems for executives at all levels of SOEs this year, said Hao Peng, chairman of SASAC.
Hao was speaking at a meeting regarding the interim progress of the three-year action plan in Changchun, Jilin province on Friday.
Hao said that the government will continue to support the nation's corporate giants to actively and orderly offer incentives to core talent in key positions, as well as explore ways of providing medium and long-term incentives for employees with outstanding performance records.
As the government called for renewed efforts last June to optimize the structure of the State-owned economy to make it more competitive, innovative, influential and more able to withstand risks, Hao stressed that works related to State-owned assets and SOEs should be conducted against the backdrop of the country's new growth paradigm from 2021 to 2025.
China's SOEs received a total of 197.1 billion yuan of social capital through equity transfers in 2020, an increase of 13.4 percent from 2019, according to data released by the Chinese State-owned Property Exchanges Association in late May.
The country has been optimizing the capital structure of SOEs via mixed-ownership reform, introducing private investors as stakeholders of firms to enhance operational efficiency.
A total of 5,523 equity transfer projects for SOE mixed-ownership reform were carried out from 2016 to 2020, with the transaction value totaling 1.05 trillion yuan, data from the Beijing-based association showed.
"Facilitated by these moves, China will not only be able to promote the next level of integration of the innovation chain and industrial chain, but also speed up the improvement of systems and mechanisms that are conducive to the high-quality development of its real economy, especially in the manufacturing sector," said Liang Jun, president of the Guangdong Association of State-owned Capital.
He said it is also practical for the government to promote professional integration between central SOEs, especially those with homogenized businesses and overcapacity.
Approved by the State Council, Sinochem Holdings Corp Ltd was officially established in Beijing in early May via the restructuring of the former Sinochem Group Co Ltd and China National Chemical Corp Ltd-or ChemChina-two central SOEs from the chemical sector.
Supported by more than 220,000 employees, including over 90,000 people in overseas markets, Sinochem Holdings is able to operate in eight business sectors covering life, environmental and material sciences, basic chemicals, rubber and tires, machinery and equipment as well as industrial finance.
China currently has 97 central SOEs, down from 106 in 2015. They saw their net profit grow by 220 percent on a yearly basis to 415.29 billion yuan in the first quarter, while their total operating revenue surged by 30.1 percent on a yearly basis to 7.8 trillion yuan, said SASAC.