TCM sees Sino-European joint cooperation against COVID-19 pandemic
Share - WeChat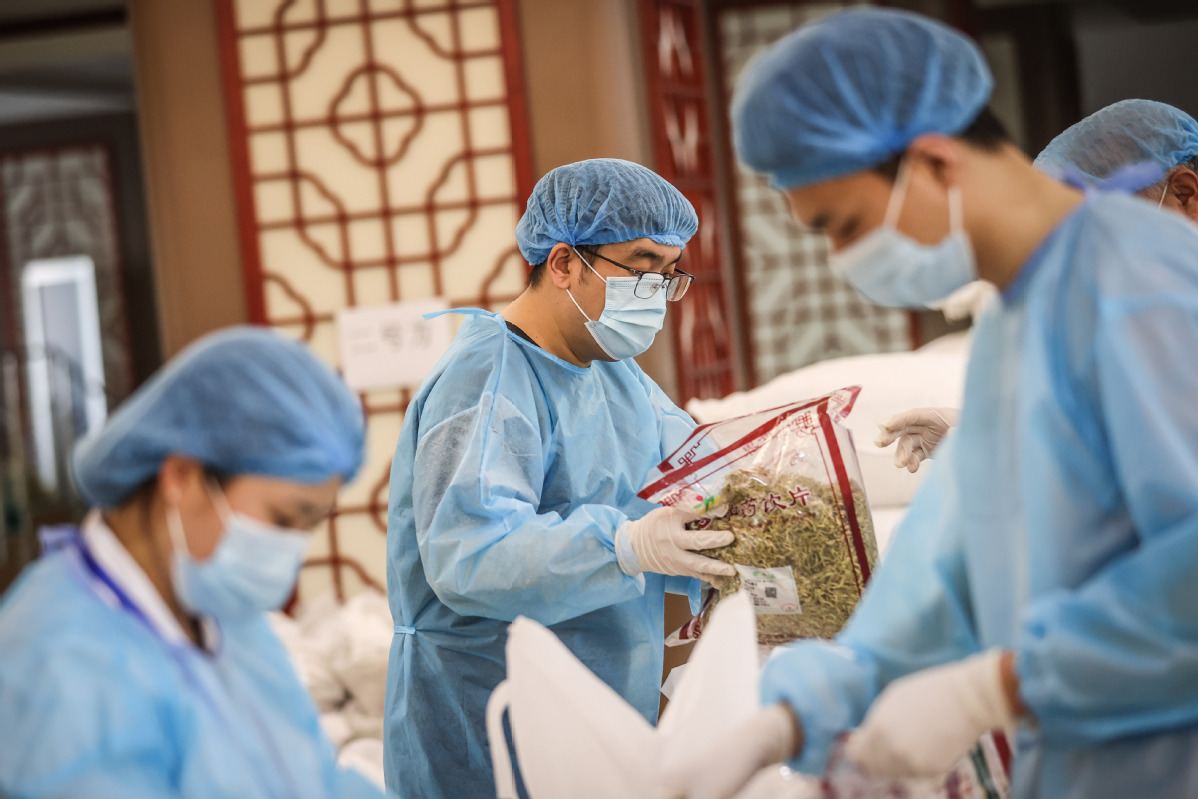 LISBON-Since the start of the COVID-19 pandemic in Europe, doctors and practitioners of traditional Chinese medicine across the region have been working shoulder to shoulder with front-line healthcare workers for the common goal of eliminating the novel coronavirus.
After Portugal confirmed its first COVID-19 case in March last year, Yan Chunming, a TCM practitioner in the country and director of the Sino-Portuguese TCM Center, began regular live broadcasts on social media in both Portuguese and English, thus sounding the alarm to the public, raising awareness of the contagion, sharing his knowledge and recommending preventive measures.
On March 13, 2020, in one of his live video streams-which attracted more than 5,000 viewers-Yan urged Lisbon to close all the country's schools. The government did so that very day.
Like Yan, more than 100 TCM practitioners from many European countries initiated a voluntary movement early on in the pandemic to provide free consultation services to Chinese in Europe and to local communities in need. Many of them tapped their resources to get TCM medicines from China.
"The Confucius Institute was quick to respond," said Zhou Miao, president of the Confucius Institute at the University of Coimbra in Portugal, which has offered TCM as a selective course for medical and pharmaceutical science students since 2017.
"In April 2020, our partner, Zhejiang Chinese Medical University, donated a large shipment of pharmaceuticals, including herbal tea bags and concentrated herbal granules. This was heartily welcomed by the Chinese community in Portugal and by our local partners," Zhou said.
"We translated the Chinese diagnosis and treatment protocols for COVID-19 patients into Portuguese, and we also created an online platform to offer free TCM consultations to the local community," she told Xinhua News Agency.
During the critical period of the first wave of the pandemic, hospitals across Europe soon became overwhelmed with serious cases of COVID-19. Mild symptom cases were mostly treated at home. For them, TCM offered a viable option.
Chen Zhen, who has been practicing TCM for more than 20 years in Hungary, said that TCM can help prevent mild COVID-19 cases from becoming more severe.
"Over the year, the members of our team have treated 5,000 to 6,000 patients with mild COVID-19 symptoms, and none of them deteriorated into severe cases," Chen said.
In Poland, Yuan Jingshan said that TCM and acupuncture, one of its key components, have proved highly effective in the prevention and treatment of the coronavirus.
"For those who test positive and stay at home with mild symptoms, such as fever, cough, diarrhea and loss of taste, we also offer delivery services for traditional Chinese medicines to their homes," said Lu Mei, founder of the Zhongkang China Health Clinic in Lisbon.
Most of the people who recovered from COVID-19 have been reportedly suffering from many aftereffects. TCM can help speed up recovery and rehabilitation, Lu said.
"Some of our patients have already tested positive for COVID-19, while others are just afraid of being infected. In general, all of our patients tend to be very nervous. As a doctor, with my professional knowledge and clinical experience, my role is to offer comfort and soothe them," she said.
Yuan Jingshan has treated several patients with post-COVID symptoms, such as profuse sweating, fatigue or loss of appetite. Using acupuncture, the patients quickly found relief from such symptoms, which often persist for months if left untreated.
"One of my recent patients was a hospital laboratory researcher and was hospitalized twice with COVID-19. When she was discharged from the hospital in April, she came to me supported by her husband, because she was not strong enough to walk or talk. After two treatments, she regained vitality and came on her own power without any problem," Yuan recalled.
Traditional Chinese health exercises, such as tai chi and qigong, along with massage therapy, are known to be highly effective in alleviating post-confinement anxiety and fatigue.
"I do qigong exercises every day. After getting up and before going to bed, it's necessary. That is a secret course my doctor recommended to me," 52-year-old Bulgarian Mitko Stankov told Xinhua.
Early on in the pandemic, Yan in Portugal made every effort to obtain the latest version of the TCM treatment plan from China. He then forwarded it to several major hospitals in the country via e-mail, and shared it on his social media pages.
"I tried my best to set up a bridge between the doctors in China and Portugal and to eventually save lives. I feel very satisfied and encouraged," he said.
In Malta, 38-year-old physician Jiang Yawen, leader of the six-member 16th Chinese Medical Team there, has been providing TCM treatment to the local community since last October.
"We treat around 500 people a month on average, 60 of whom are new patients," Jiang said.