ITTF announces full Olympic roster
Share - WeChat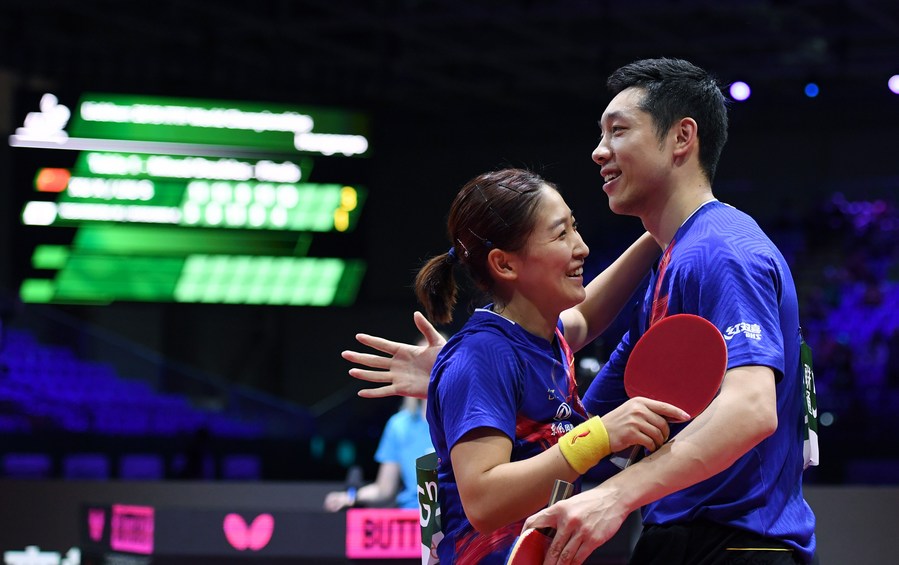 BEIJING - Table tennis's world governing body ITTF on Monday revealed the full list of qualified athletes for the men's and women's singles and mixed doubles competitions at next month's Olympic Games.
The announcement completes the full roster for the sport's Olympic competitions, with the teams' list having been confirmed last month.
According to Monday's release, a total of 65 men and 70 women will participate in the singles competition, while 16 mixed doubles pairs will take to the courts for the first time.
World No 1 Fan Zhendong and No 3 male paddler Ma Long will represent the all-time leading Chinese team in the men's singles, and Chen Meng and Sun Yingsha, ranked the first and third respectively in the world, will feature in the women's singles.
Reigning world champions Xu Xin and Liu Shiwen will make up China's mixed doubles pair as the event makes its debut at this year's Olympics in a single-elimination knockout format, with each national Olympic committee (NOC) allowed to feature one pair.
China has won 28 out of a total of 32 gold medals on offer since table tennis became an official Olympic medal sport at Seoul in 1988.
Other Olympians in the singles event includes former world No 1 Vladimir Samsonov of Belarus, who will be the fifth athlete to play in his seventh Olympic Games, following Croatia's Zoran Primorac, Jorgen Persson of Sweden, Belgium's Jean-Michel Saive and Segun Toriola of Nigeria.
"I've always wanted to win an Olympic medal. It hasn't happened yet but maybe this also gives me the motivation to continue. If you want to achieve something, you have to work hard. There's no other way," said the 45-year-old Belarusian.
57-year-old Ni Xia Lian of Luxembourg will become the oldest Olympian table tennis player at the Tokyo Games. The 1983 world championships team and mixed doubles gold medalist is competing in her fourth Olympic Games, with her best results coming at Beijing in 2008 and in 2016 at Rio de Janeiro, where she reached the third round.
Syria's Hend Zaza is set to become the youngest table tennis athlete in Olympic history. The 12-year-old qualified for the Tokyo Games after winning the West Asia Olympic qualification tournament in Jordan last year.
Other notable entrants include Germany's Dimitrij Ovtcharov, a winner of one silver and three bronze Olympic medals, and Quadri Aruna of Nigeria, who became the first African to make the quarterfinals at Rio in 2016.
The Tokyo Olympic Games table tennis competition takes place at the Tokyo Metropolitan Gymnasium from 24 July to 6 August.