E-commerce enlivens bucolic biz
Share - WeChat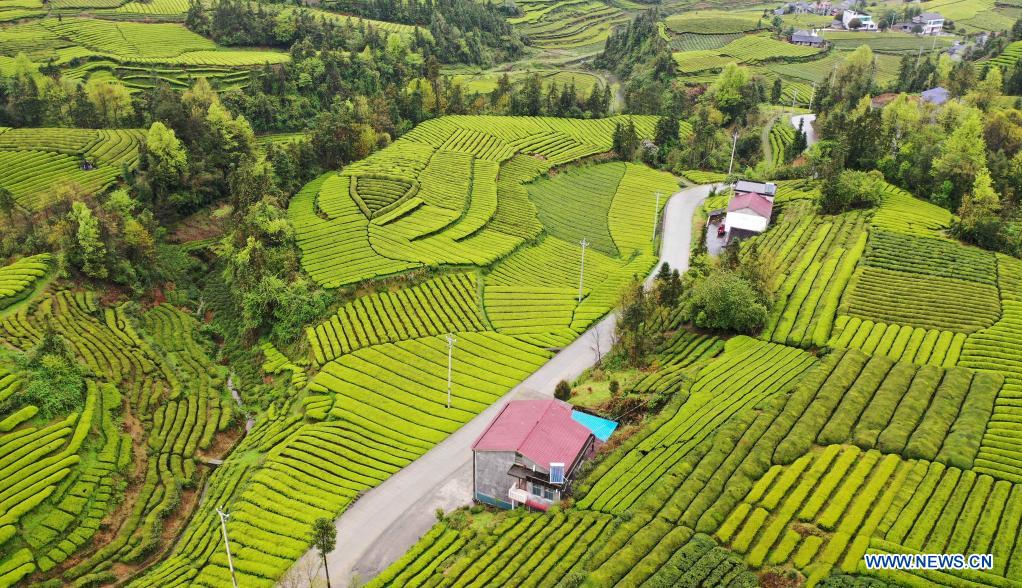 Zhou Hongying, 49, a villager, never expected that she would become popular among some online shoppers in China. Using livestreaming, she sells handmade shoes, bags and locally grown agricultural products on well-known e-commerce platforms.
On average, a typical livestream session of hers attracts audiences of nearly 10,000 potential e-shoppers. During the show, she demonstrates stitching soles for shoes made of cloth, an ancestral skill she has come to master. "Now, I've another job-to teach female villagers to sell products through livestreaming on e-commerce platforms," said Zhou.
Her livestreaming studio resembles an art gallery with ethnic styles. It is located in the village of Yantouwan in Macheng city, Hubei province. Two separate rooms are full of webcast equipment. Zhou's two female colleagues sell chrysanthemum tea, the bestselling product among local specialities. In 2020, products worth more than 5 million yuan ($782,364) were sold online from here.
Yang Zuozhu, Party secretary of Yantouwan village, called this gallery "a home of internet celebrities".Through online sales platforms, local internet "celebrities" not only help sell local agricultural products but also products that have sold well in other places. E-commerce and farming have become two key sources of livelihood. Online sales generate the largest chunk of income for local villagers, he said.
Yang showed some infrastructure set up in the village to promote the so-called internet economy, including a training school for webcast hosts, a courier firm, and an outdoor park that serves as a set where ads are shot and also doubles up as a site for tours.
To support infrastructure construction and promote e-commerce, the local government of Macheng city has continuously injected fiscal funds. Local authorities saw this new business model as a driver of consumption and economic growth, which earlier helped in poverty alleviation.
According to Bao Bin, head of the local finance department of Macheng city, nearly 830 million yuan of fiscal funds will be integrated and coordinated this year to consolidate and expand progress in poverty alleviation with rural revitalization. Part of the funds, totaling 130 million yuan, will be used to develop rural specialty industries.
It is in line with the provincial-level government's work plan for this year to promote the rural revitalization strategy in Central China's Hubei province. From this year to 2025, the finance department of Hubei increased its budget by 500 million yuan per year to support major enterprises in technology development, agricultural production, key equipment purchases and cold chain logistics, said Jin Weifeng, an official from the provincial finance department.
The local government will also integrate 500 million yuan per year for subsidizing major enterprises' bank loans, Jin said.
About 20 kilometers away from Yantouwan village is a base of chrysanthemum. Some edible varieties of this flower are used as tea, snacks and to make traditional Chinese medicine. Many of the products sold by Zhou online are from factories around this flower-growing base.
The chrysanthemum industry has become a pillar of Huangtugang town's economy in Macheng. The government has allocated 80 million yuan to build four new greenhouses, an exhibition, a factory making chrysanthemum byproducts and a seedling workshop, according to local officials.
The chrysanthemum industry has changed from traditional extensive planting to the integration and demonstration development pattern that integrates chrysanthemum scientific research, standardized planting, intensive processing, cultural display and horticultural health preservation, they said.
This specialty industry can provide more than 2,000 households, which have been lifted out of poverty, with an average annual income of more than 10,000 yuan, and the output of the whole industry chain in the town exceeds 300 million yuan, local officials said.
"To promote rural revitalization, we cannot stick to all the old models of poverty alleviation. Instead, we need to innovate new measures and consolidate the results. Key obligations of the finance departments include raising funds and supervising the usage of funds, to ensure that the money is injected into the right areas," said Hu Qingchao, deputy head of the finance department of Macheng city.
The municipal-level government in Macheng arranged 120 million yuan to support large-scale industrial development projects in counties. "We took flexible management methods. If the projects are not profitable, we will recall the funds and reallocate them to other priority areas," Hu said.