Art puts Fuliang back in the picture
Share - WeChat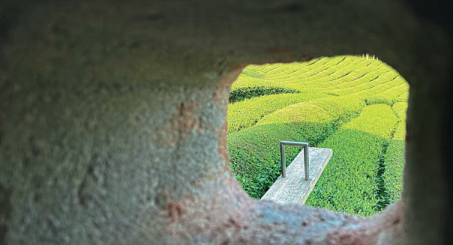 "If you fill the fallen scraps back in, you are supposed to get the flat wall back like nothing happened," says Xiang. "The idea is to preserve and show everything-the trace of the past time, and the memory of these two houses."
The work is part of the old house, part of the time, and they tell the viewer who walks into the house a little bit about it; they exist in another form in the memory of the village.
Wu Jian'an, who once introduced his work as one of the representatives of Chinese artist at the 57th Venice Biennale in 2017, brought art pieces involving efforts of residents to the event.
Since 2016, after Wu completed a public art project named Free the Monkey King for the Metropolitan Museum of Art in New York, he began to create a series of work themed 500 Brushstrokes.
Wu invited natives to choose the size and type of brushes, color or ink, dry or wet, and leave traces on the rice paper freely. Then he cut out the collected brushstrokes and assembled them together on a blank paper. The random brushstrokes are like the subconscious projected onto the rice paper, revealing the creators' character and style.
Wu claims that no single one of the strokes is boring, and together they form dramatic tension on the paper, showing fresh vitality of Fuliang. "People here are more introverted, as their brushstrokes are narrow and clear," he says.
Shen Lieyi is a 52-year-old sculptor from Hangzhou city, Zhejiang province. He presented his way of integrating natural and daily elements into the material, space and concept of sculpture arts through his work-a bamboo woven nest.