Mount Emei's highest peak in Sichuan reopens after 15-year closure
Share - WeChat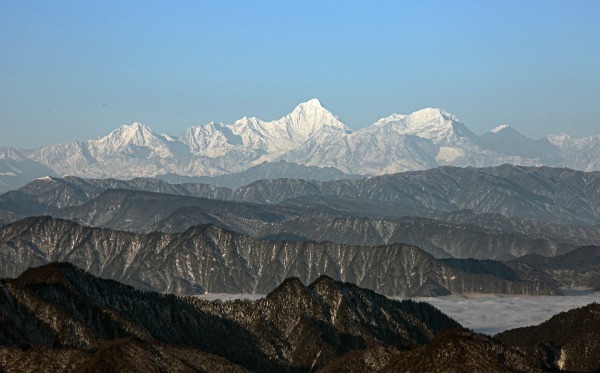 Mount Emei, a UNESCO World Heritage site in Southwest China's Sichuan province, has reopened its highest peak, Wanfo Summit, after a 15-year closure.
Standing at an altitude of 3,099 meters, the summit, also known as the Summit of 1,000 Buddhas, is 20 meters higher than the famous Golden Summit, the second highest tip of Emei.
Wanfo Summit has been welcoming the public back since May 27. Visitors are not allowed to hike from the foot of the mountain to its top, but instead can take cable cars to the Golden Summit and then walk about three kilometers to the peak.
Wanfo Summit is home to Wanfo Temple, a 21-meter-tall structure dating back to the late Qing Dynasty (1644-1911) and sitting on top of Daguangming Mountain in the scenic area.
Daily visitor numbers are currently capped at 2,000 and visiting hours are between 7 a.m. and 2 p.m. Because of the high altitude and the relatively long trek, the summit is temporarily closed to seniors aged 60 and above.
"The reopening of Wanfo Summit will connect the Golden Summit, Qianfo Summit and Wanfo Summit routes," said Yao Bin, director of the culture and tourism department with the management committee of Mt. Emei scenic area.
"It will help improve the quality and expand the capacity of Golden Summit tours, and provide tourists with a new scenic spot as well as new sightseeing route," Yao added.
The scenic area suspended tours to Wanfo Summit in 2006 as the area's ropeway system underwent maintenance. The aerial cable to the highest peak is still not available, but others on site are running.
Home to 26 Buddhist temples of the Ming (1368-1644) and Qing dynasties, Mt. Emei is one of the Four Sacred Mountains of Buddhism in China, along with Mt, Wutai in North China's Shanxi province, Mt. Jiuhua in Central China's Anhui province, and Mt. Putuo in the eastern province of Zhejiang.
The highest of China's "Four Sacred Buddhist Mountains," Mount Emei draws hundreds of thousands of tourists every year.
The scenic area welcomed over 121,100 visitors during this year's May Day holiday (May 1 to 5), according to the local government.