Classical dress on the rise notably with Gen Z
Share - WeChat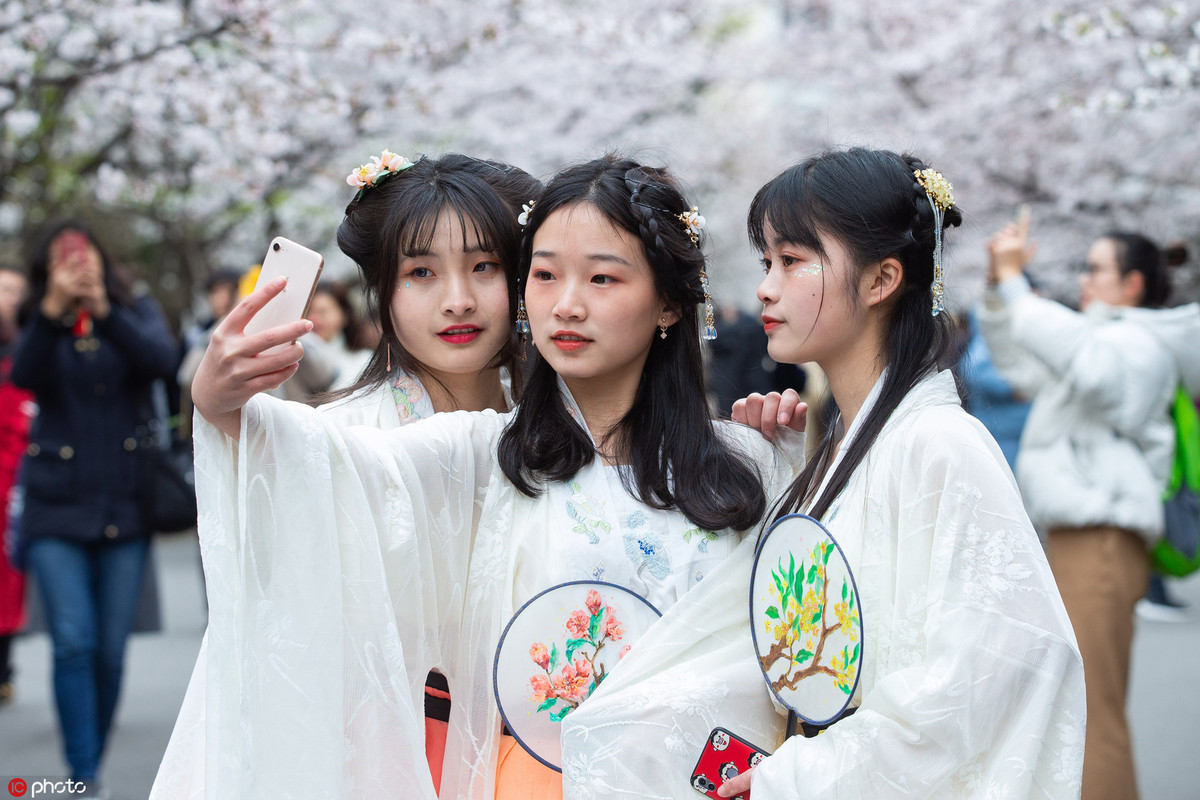 China's hanfu market has been attracting big investment in recent years, as the sector finds increasing favor with young consumers.
Hanfu, the traditional clothing worn by the Han ethnicity for thousands of years, is growing in popularity as Chinese people become more confident about their national culture. This is causing capital to flow into the hanfu sector.
In April, Shanghai-based hanfu manufacturing enterprise Shisanyu completed a financing round of over 100 million yuan ($15.72 million). Investors included Shanghai-based private equity firm Loyal Valley Capital, Shanghai-based video-sharing platform Bilibili, and Hong Kong-listed pop toy brand Pop Mart. The company completed its initial financing in October 2020.
The company said that with the investment, it plans to continue to promote traditional Chinese culture and expand the product chain.
Likewise, Chengdu-based hanfu brand CNWear and Hangzhou-based hanfu retail platform Dozen Sunshine, received investments in September and November, respectively.
Dozen Sunshine said that the investment will be used to establish new physical stores and expand its supply chain.
An increasing number of hanfu enthusiasts are driving the investment surge. A recent report from Guangzhou-based consultancy iiMedia Research said China's hanfu-related industry maintained rapid growth last year, with the number of hanfu fans rising by over 70 percent on an annualized basis between 2017 and 2020.
Among surveyed hanfu consumers, 40.5 percent purchased hanfu products because they were fascinated by the cultural origins, 36.9 percent of consumers purchased them because of the appearance of the clothing, while 33.6 percent hoped to carry forward traditional Chinese culture, said the report.
With the rapidly expanding market, industry players are actively looking to diversify their product portfolios by making inroads in areas such as hanfu experience houses, integrating daily wear with hanfu elements and hanfu-themed animations, comics and games.
For example, Shisanyu teamed up with Tencent's popular smartphone-based video game King of Glory, NetEase's role-playing game Justice Online and Chinese TV drama Serenade of Peaceful Joy, and launched co-branded hanfu. It also inked a deal with West Lake scenic spot officials in Hangzhou, Zhejiang province, and established a brick-and-mortar experience hall.
"In recent years, the hanfu sector has evolved into a greater one. Hanfu-related industries include activities like wearing hanfu, hanfu cosmetics, hanfu picture taking and traditional Chinese etiquette training. The hanfu-related scenarios have extended to shopping malls, scenic spots, hotels and wedding ceremonies," Tian Tian, founder of a hanfu media platform, said during an interview with Economic View, a new media platform of China News Service.
Speaking of hanfu-related fields worthy of investments, Dai Xiantian, a researcher at research institute Beijing Ideas, said: "Great investment opportunities lie in the hanfu manufacturing and selling sector."
In recent years, many such enterprises emerged, and several of which had their annual sales revenue surpass 100 million yuan, and they gained strong brand recognition.
Successfully listed enterprises exist in categories such as casual wear, sportswear, women's attire and business menswear, and the same could happen in the hanfu sector, said experts.
In addition, Dai said that hanfu-themed expos, hanfu-related online information sharing platforms, as well as hanfu-themed weddings and scenic spots may also be wise investment options.