Millennia-old clothing back in vogue
Share - WeChat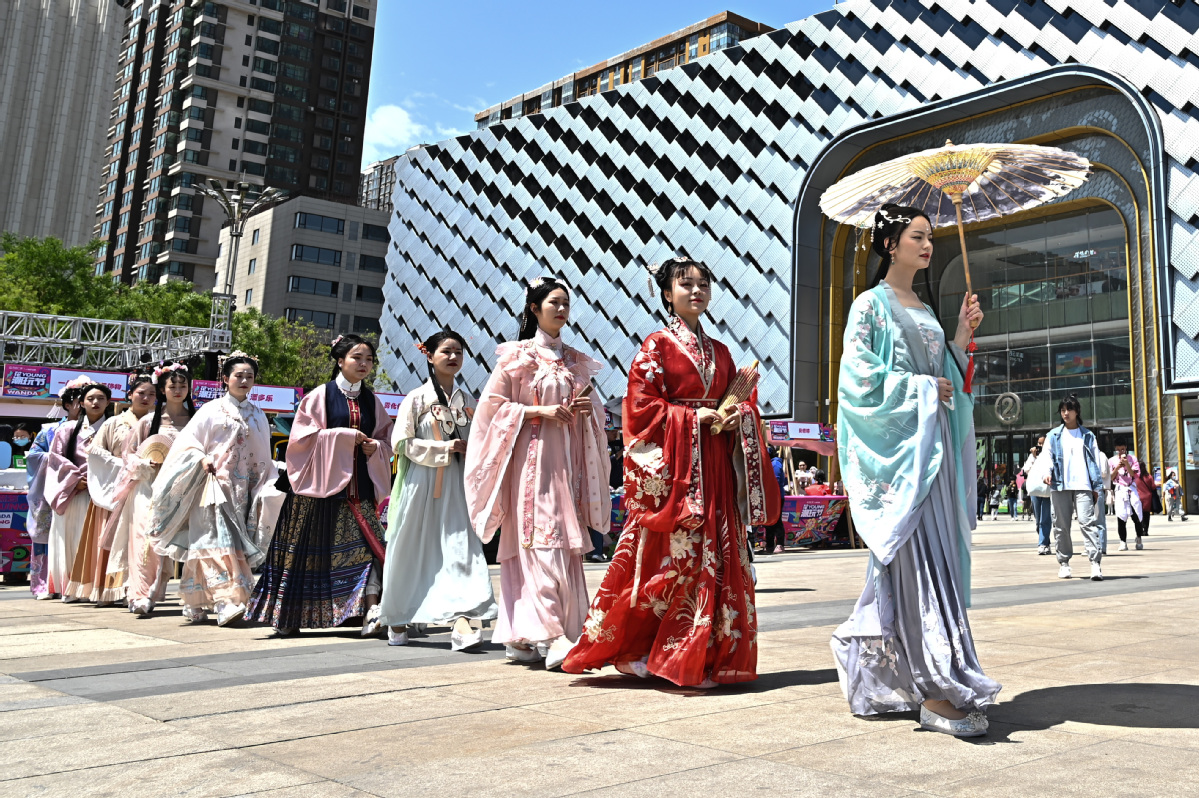 Young customers driving demand for textile-based products used for thousands of years
Internet-savvy young people, or Generation Z consumers, who often share their hobbies with others, are driving the popularity of traditional Chinese garments like hanfu.
Much of that interest can also be traced back to the country's impressive economic growth and growing international presence in the last few years. With China becoming more self-confident in recent years, people are once again expressing interest in traditional dresses and garments, which in turn has given a new lease of life to hanfu-related businesses.
Zhang Yi, chief analyst at iiMedia Research, said during an interview with online fashion media Vogue Business that from a niche hobby to a fashionable trend, the popularization of hanfu is being driven by young customers.
Research firm CBNData estimates that in recent years, hanfu consumers are becoming increasingly younger on average, with the post-1990 and post-1995 generations contributing to an increasing amount of expenditure.
A report jointly released by Shanghai-based business media Yicai and T-mall showed that in 2019, post-1995 female consumers were the main consumption group of hanfu, accounting for around 80 percent of total consumers.
"The young generation's buying power is rising and hanfu is gradually becoming mass-market fashion as it is more a carrier of traditional culture than mere clothing," Zhang said.
He added that popular shows featuring Chinese costume dramas also accelerated the development of hanfu-related businesses. In addition, key opinion leaders' recreation of movie characters wearing hanfu also drew in millions of online audience members.
Typically when one talks of traditional Chinese clothing, the first word that comes up is qipao. Some people even call it "the China Dress". However, if one is faithful to history, hanfu is more worthy of the title. As opposed to qipao, which has only been around for three hundred years or so, hanfu has been around for some three millennia.
Hanfu gets its name from the Chinese people themselves, most of whom are members of the Han ethnic group. Meanwhile, fu means clothing. Therefore, hanfu designates the traditional clothing worn by the Han ethnic group between the Huang Di or the Yellow Emperor era and late Ming (1368-1644) and early Qing (1644-1911) dynasties.
According to data from people.cn, Chinese hanfu consumers surpassed 2 million in 2018, triple the 2017 levels. A recent report from Guangzhou-based consultancy iiMedia Research estimated that by the end of this year, the number of people using hanfu products in China will reach 6.89 million, with total sales expected to reach 10.16 billion yuan ($1.6 billion).
Currently, there are more than 3,000 hanfu-related enterprises in China, among which over 60 percent were registered in the past five years, said business information provider Tianyancha.
According to Tianyancha, in 2019, newly registered hanfu-related enterprises stood at over 1,000, while last year, the figure surpassed 800. From Jan 1 to May 13, there were 300 newly added hanfu-related companies in China.
Wan Yue, a post-1980s mother of two, became a hanfu enthusiast back in 2009. As someone belonging to the Han ethnic group, she said that she has always been eager to wear clothing that is representative of her community.
"Seeing people around me dressing up in their traditional garments, I have also often wished to find a dress that depicts the culture of my ethnic group," she said.
In 2009, Wan joined a hanfu fan club. Apart from merely buying the garments, she began to learn about the culture and history behind the clothing.
Each suit has its own cultural and historic background, and is designed for certain occasions, she said.
Wan's husband is also a hanfu enthusiast, and they hosted their wedding ceremony wearing grand gowns-the highest-standard of hanfu. Instead of wearing Western wedding dresses and suits, the couple thought it would be better to celebrate the special moment of their life wearing costumes of their own culture.
Today, the hanfu-loving couple have a daughter and a son. The family chooses to wear a whole set of hanfu suits during traditional Chinese holidays, such as Spring Festival. They also mix and match hanfu with common outfits during daily life.
"Me, my husband and my daughter and son all have our own hanfu suits, altogether adding up to 50 to 60 sets. The price of each set ranges from 200 yuan to 5,000 yuan. I also purchase handbags, headdresses and earrings to match the suits," Wan said.
Wang Tata, a post-1990 office clerk in Shanghai, became a hanfu fan since junior high school. In college, she joined a hanfu club, where she and other members shared information about affordable hanfu stores, and organized outings wearing hanfu.
When Wang graduated and started to make money on her own, she traveled at least once a month, often wearing hanfu.
"I've worn hanfu in the Tengger Desert in northwestern China, at the beach in Pingtan, Fujian province, in the Great Tang All Day Mall in Xi'an, Shaanxi province, as well as in the Forbidden City in Beijing. Wherever the scenery matches, I wear hanfu," she said.
When asked about the money she spends on hanfu, Wang said the average price of a hanfu suit she purchases is usually hundreds of yuan. However, she noted that the market price varies, and some high-quality hanfu suits are priced at over 10,000 yuan.
Guangzhou-based customized hanfu manufacturer Minghuatang is known as the "Hermes of hanfu".A hand-woven golden threaded tissue sells for 7,800 yuan, while a whole set of hanfu decorated with lotus and phoenix is priced at 9,600 yuan.
Industry insiders said that in contrast to Western tailored modern clothing, hanfu has higher requirements for raw materials, workmanship and tailoring. Certain manufacturing procedures such as embroidery can only be completed manually, and purely manual production means longer working times and higher costs, contributing to the high prices.
Apart from the high-end market segment, inexpensive hanfu products are also popular. Data from Alibaba's Taobao platform showed that hanfu priced between 100 yuan and 300 yuan took up over 60 percent of sales, while products over 500 yuan accounted for roughly 30 percent of sales.
Jiang Hui, founder of e-commerce platform Maoke123.com, said that hanfu is a one-in-a-million product with "five highs"-high per customer transactions, high gross profit margins, high repurchase rates, high friend-sell rates and high growth rates-and enterprises should grasp business opportunities and tap into the market.
"Hanfu enterprises should integrate online and offline channels to build a complete sales system. They should also work on brand operation to enhance business scale and influence," said Huang Zhengneng, founder of Hangzhou-based fashion brand Xyzstar.
Some emerging business opportunities should also be recognized. For example, hanfu showrooms that enable consumers to experience hanfu and enjoy their afternoon tea time, hanfu rental stores and children's hanfu all enjoy great business potential, said Wang Yiting, an analyst at Vogue Business.