Lacing up for an exciting future
Share - WeChat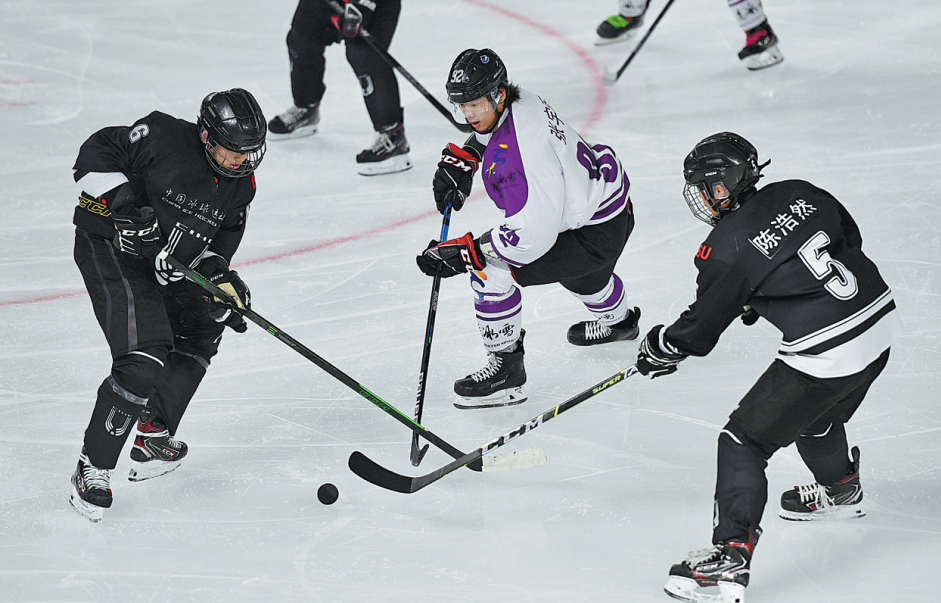 Chinese kids get their skates on as grassroots ice hockey gains traction in major cities
Despite the daunting challenges that await the host teams at the Beijing 2022 Winter Olympics, ice hockey's broadening appeal nationwide suggests the sport can look forward to a strong long-term future in China.
Increased exposure for hockey in the build-up to the Games and its growing popularity with middleclass families has seen the sport expand beyond its traditional strongholds in the cold northeastern provinces.
The ongoing men's national championship is bearing witness to the shift in development, with teams representing Beijing outplaying northeastern opponents at the nine-team tournament, staged in the capital's Yanqing district from May 25 to June 1.
Players and coaches at the tournament were all in agreement that a player development path funded by youngsters' families, as opposed to the traditional State-run system prevalent in the Northeast, has been key to hockey's grassroots explosion in major cities.
"The competitiveness of the young roster of our team speaks a lot for ice hockey's growing participation rates at junior level in Beijing since the city won the Olympic bid," Yang Youke, manager of Team Beijing, said after a 7-0 victory over Jiamusi, a perennial hockey power from Heilongjiang province.
"The home Olympics will definitely help promote the sport in a big way, but with or without the Games, the sport will still flourish with more and more children picking up hockey sticks as a serious hobby supported by their families."
As the talent pool in the State-run system shrinks, with funding allocated to other events deemed to have better Olympic medal chances, interest in junior hockey programs has been soaring across major metropolises, such as Beijing, Shanghai and Chongqing.
The sport's perceived value in toughening up kids, both physically and mentally, is proving particularly appealing to affluent urban families.
The fact that three teams-Shanghai, Chongqing and Macao-from the country's much-warmer southern region, and two college squads from Beijing are competing at this year's national championship underlined the sport's widening talent net in China, boosted by the development of ice sports facilities leading up to Beijing 2022.
With national team players skipping the championship to focus on their Olympic preparations at a camp in Shenyang, Liaoning province, multiple cities have sent youth squads to the Yanqing tournament.
The increasing number of official youth competitions organized by local hockey associations, coupled with quality training at commercial rinks, are paying dividends, said Beijing forward Lyu Zhiyi.
"Because of the Olympics, we've had more schools open to hockey-specific PE programs and more competitions to play at junior level," Lyu, a 16-year-old student from Beijing National Day School, said after scoring two goals and laying on three assists in his team's win over Jiamusi.
"The enthusiasm for the sport is impressive and the system is working well for more student athletes like me to get involved."
According to the Beijing Ice Hockey Association, the city's 2020-21 minor-league season has seen over 3,000 students representing 213 teams from 24 clubs sign up for 890 games over a 16-week period.
Having played hockey consistently since he was 4 years old, Lyu now envisions following in the footsteps of his senior counterparts, such as China's first NHL draftee Song Andong, to continue pursuing his hockey dream in North America's collegiate system.
Introduced to hockey in his native Beijing, Song, who was drafted by the NHL's New York Islanders in 2015, now plays on Cornell University's division-one program in the National Collegiate Athletic Association and has been listed in China's national team camp for Beijing 2022.
Song's family-backed success story has inspired a generation of junior enthusiasts to dream big way beyond 2022.
Among that next generation is a team of high-school students representing Shanghai at the championship, providing further proof of hockey's rising popularity in South China, a region targeted by the country's winter sports governing body as a potential new market for indoor ice events.
"The sport is really taking root on campuses in Shanghai as our players are mostly from ordinary schools," said Shanghai's head coach Ma Xiaojun, a former Chinese women's national team player.
"It's a very valuable test for our student players for them to balance their academic study and ice hockey pursuits. Hopefully, we can have a stronger student athlete team at next year's championship and go for a better result."
Automatically qualified as the host, China's 32nd-ranked men's team and 19th-placed women's squad are expected to struggle to avoid blowout defeats at the home Olympics, despite the efforts of the Chinese Ice Hockey Association and partner club Kunlun Red Star to draft naturalized North American athletes with Chinese heritage.
With the Winter Games set to open on Feb 4 next year, the CIHA has all but conceded not much more can be done to significantly improve the national teams, and has instead set its sights on building a stronger foundation for the future via domestic competitions, from junior to adult level.