Next gen turns up heat on Olympians
Share - WeChat Team China's star paddlers pushed to their limits by young guns at Tokyo tuneups
Bidding for a fourth successive clean sweep in the Olympics table tennis tournament, China's all-conquering paddlers have been given a stern test of their medal credentials at recent simulation events for the Tokyo Games.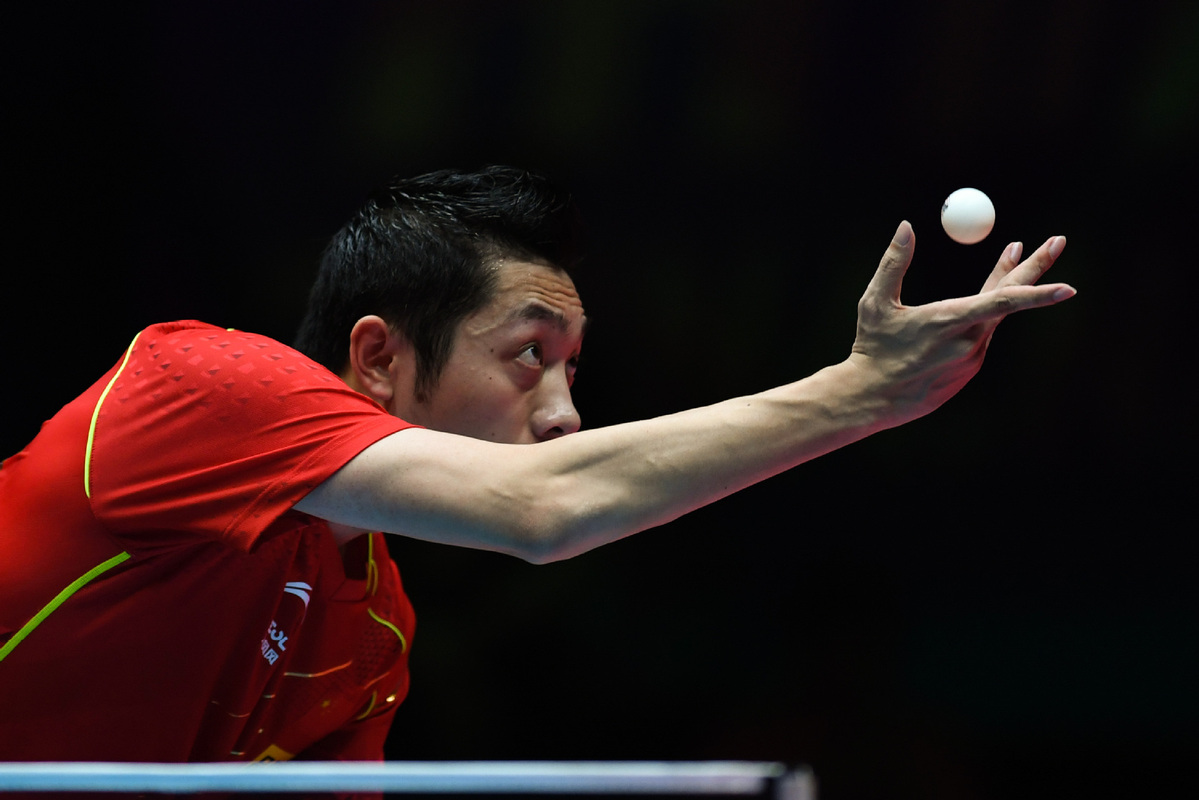 With a new generation of players showcasing their fearless all-out attacking game, the squad's experienced Olympians were last week pushed to their limits in Nanyang, Henan province.
Wang Manyu delivered the biggest upset of all, defeating world No 1 Chen Meng 4-2 in the women's singles final.
The 22-year-old Wang is a reserve member of the Olympic squad after failing to make the grade at an internal competition. She admitted Sunday's outcome shocked even herself.
"It's really surprising for me. I never expected to win here. So I think that's why I had to maintain a good mentality throughout the tournament," said Wang, the world No 4 who last claimed a title at the 2019 Qatar Open.
"I kept calm and focused today. My management of matches has improved and I can improvise better. We are evenly matched, so making the right decisions in critical moments was crucial.
"I know I'm only a substitute and may not have a chance to actually debut on the Olympic stage, but I should be well-prepared, just like the Olympians. That's why I'm now playing a humble game and focusing on every detail."
In another Olympic simulation event in May in Xinxiang, Henan province, 24-year-old Zhou Qihao stunned world No 1 Fan Zhendong in the final to win the men's singles title.
"I have showed 120 percent of my strength. I never expected I could have such a great performance. Despite winning this time, I should not just relax in the future," said Zhou at the time.
"Winning over the likes of Fan Zhendong and Ma Long is a dream for all table tennis players. The title is recognition for myself and I hope to have more memorable victories in the future."
Team China announced its Olympic squad in May. Grand Slam winner Ma Long leads the men's team, along with the top-ranked Fan and doubles specialist Xu Xin.
The women's team features world No 1 Chen, third-ranked Sun Yingsha, and reigning singles world champion Liu Shiwen.
Chinese Table Tennis Association (CTTA) president Liu Guoliang said he was glad the first-choice Olympians didn't have it all their own way in Nanyang.
"I'm actually quite satisfied with the results and process of the tournament here," Liu, a Grand Slam winner himself during his glittering playing career, told Xinhua.
"It's not uncommon in the all-time leading Chinese team that an established paddler needs to play at 110 percent of his or her normal level against an up-and-coming talent. And with the Olympics having been delayed for a year due to the pandemic, it has given the younger generation time to grow stronger.
"In my opinion, it's a good thing to spot errors or weaknesses from the Olympians shortly before the big event starts. It helps us better arrange the subsequent training and make more specific plans in preparation for the Games.
"Also, we are just happy that the younger players have been strong enough to challenge the current top-ranked stars. I believe they'll be ready for the next Olympic cycle as soon as possible."
Speaking of Team China's targets in Tokyo, Liu said the squad is confident of taking three out of the five gold medals on offer, with an eye on a fourth successive clean sweep.
He declined to specify those three events, but requested that the Olympic squad be afforded the time and space to tune up in their own way.
In an earlier interview, Liu welcomed the emergence of China's fearless next generation.
"Some young players play really aggressively and are very promising. We hope to offer them platforms through these (Olympic simulation) matches," Liu told thepaper.cn.
"The Olympic squads only have three male and three female players. With the two substitutes, that makes just eight in total. So we have been thinking how to motivate more players. Everyone has his or her current position and they are all fighting for a better future.
"I hope the Olympic squad faces the toughest challenges possible, so they can identify their weaknesses and solve them in the remaining days.
"Without doubt, we are the strongest team in the world, but we still have problems which need to be pinpointed through matches."
China has collected 28 out of 32 gold medals on offer since the sport debuted at the Olympics in 1988, including three straight clean sweeps since the 2008 Games.