Once-dwindling freshwater lake on grassland regains vitality
Share - WeChat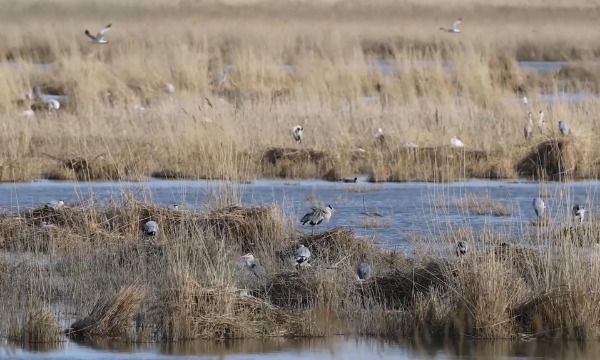 With a decade long ecological treatment, birds chirping, grass growing, water splashing, the wetlands around Hulun Lake in North China's Inner Mongolia autonomous region saw improved biodiversity.
Human activities and soil erosion had been blamed to cause a drastic fall on the water table of the lake since 2000. The lake's water storage decreased to about 4.5 billion cubic meters in 2010 from its previous average of 12 billion cubic meters, with a shrinkage rate of 60 percent.
Hou Yuguang, in his 50s, recalled that all the grass was gone and birds were gone around his house on the lakeshore at that time.
Dubbed as the "kidney of the grassland," the body of water -- the fourth largest freshwater lake in the country -- on Hulun Buir Grassland, was included on the list of internationally important wetlands in 2002.
Hulun Lake is a big part of Hou's life. As a child, he and his father would ride horses and play around the lake.
In 2014, the municipal government of Hulun Buir initiated a fishing moratorium in the core lake area, which has been prolonged through this year.
In 2016, the local government started to implement a number of ecological protection and treatment projects including treating the desertified land around the lake and shutting down the catering and tourism enterprises in the reserve. By 2020, a total of 46,900 hectares of desertified land have been treated.
Hou's family was among 460 households relocated from the lake reserve in 2018. Grazing was banned on 845,000 hectares of grassland near the lake.