Saddling up for long ride ahead
Share - WeChat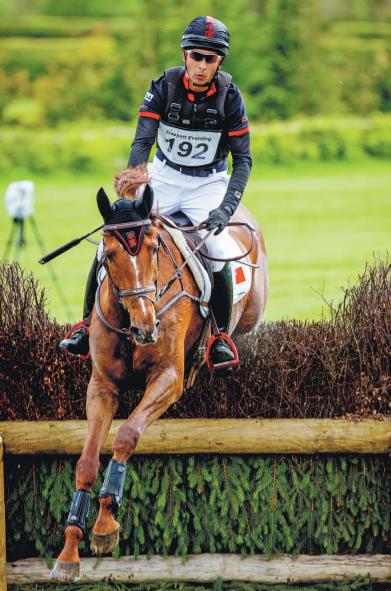 Olympian Alex Hua Tian says patient approach required to grow equestrianism in China
Trailblazing Olympian Alex Hua Tian says that, despite the giant strides made by equestrianism in China, it will still take generations before the nation's riders are "truly competitive at Olympic level" in the sport.
The 31-year-old is poised to become the first Chinese equestrian rider to participate in three Olympic Games as he saddles up for Tokyo this summer. In order for more Chinese people to become involved in horse riding, he believes the sport needs to become more accessible and more stables need to be built.
"There are lots of people in China who can afford basic riding lessons or have basic lessons for their children," Hua told China Daily from his home in Manchester. "The challenge remains to make the sport more relatable. We need to, as an industry, make sure we continue to make it more beneficial and more relatable to the wider audience in China."
Born in London to a Chinese father and a British mother, Hua competes for China while conducting most of his training in the UK, affording him the opportunity to observe the sizable differences between China and Britain in terms of equestrian sport's development.
"I think culturally the sport in the UK is so strong. Not only has this sport been here for a long time, but it's very much sowed into the fabric of society," he said.
"Culturally there are a lot of things that we in China have to learn about this sport, and (about) how to operate it and grow it in a healthy and sustainable way."
And Hua reckons-contrary to China's tendency to fast-track development-patience is required in this instance.
"It takes a long time to embed the expertise and experience of managing horses-whether it's the breeding, the buying and selling, rearing young horses-and the competition structure by our federation in China to support all of that."
"It will take a long time before all of that distills down to a long-term model," he said. "We really are still at the inception of the sport. Although it might be growing very quickly in terms of numbers, the industry behind this still has a lot of room for maturity."
At the age of 18, Hua made his Olympic debut at Beijing 2008, becoming China's first equestrian Olympian as well as the youngest eventer in Games history. Still hugely proud of those achievements, Hua feels a strong sense of responsibility to help promote the sport in China.
"I think that broader society often misses what it is that equestrian sport actually represents. I think certainly in China, but it's a problem all around the world-(people think) equestrianism equals elitism, because you look at the top of the pyramid, and it's a very expensive sport to run at the top level, like all other sports. But everybody seems to forget the core essence of the sport, which is the partnership between the horse and the rider, between human and animal, the harmony and the moments of perfect communication that represents," he explained.
And Hua reckons these principles should be particularly attractive to Chinese people looking to enrich their kids' overall personal development.
"I think Chinese society has a great opportunity to benefit from the sport, from what it can give to our children and to our families. The character development that horses can give, something that I have benefited from, and I think it gets too easily glossed over by everybody else because they do not feel equestrianism relates to that. It's something I am very passionate about being involved in, and am trying to promote myself," he said.
Following the Beijing Games, Hua narrowly missed out on qualification for London 2012 before bouncing back with a highly commendable eighth-place finish at Rio 2016.
After a year full of challenges and uncertainties due to the pandemic, Hua said he is thrilled to have the opportunity to compete at the long-awaited Tokyo Olympics, representing China for the third time.
"I am especially looking forward to riding along with the national equestrian team for the first time at this level. We hope to bring extra excitement to Tokyo 2020," he added.
With a different approach and mindset at each Games, Hua admitted that the Olympic expedition is a learning curve for him-from not knowing too much about what was going in Beijing, to being too complacent during his failed London bid, to reaping the rewards of his comprehensive preparations for Rio.
With so many variables at play, Hua said this summer's Games are about "managing expectations", adding: "I am trying to make sure I approach it as healthily and sustainably as I can, and not trying to connect the last Olympic Games with this one."