Survival the name of game for Gabon's pros
Share - WeChat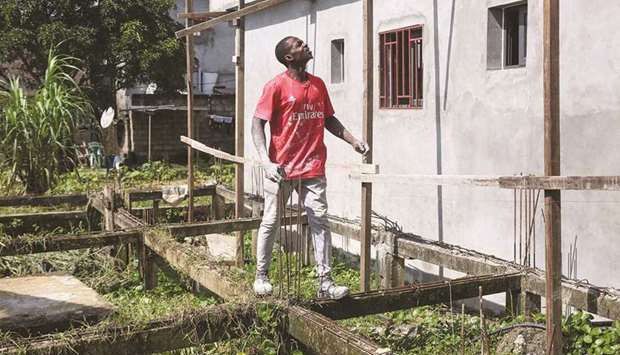 Hard-up players forced to quit African country's crumbling league
Dressed in a red Real Madrid jersey smeared with white, Gamamba Souleimane applies a fresh coat of paint to the walls of a small house in Gabon's capital Libreville.
At 28, when he should have been at the peak of his sporting career, this one-time professional soccer player has traded the ball for a paint roller and his cleats for work boots.
He has given up on playing soccer, his lifelong passion, simply to make ends meet.
"Of course it's hard-I would've liked to keep going but I realized that soccer can't take me anywhere in Gabon," he says.
Soccer is a growing source of pride in the small but oil-rich central African country.
The national team, led by Arsenal star Pierre-Emerick Aubameyang, is ranked 18th in Africa and has just qualified for the Africa Cup of Nations tournament in Cameroon next year.
But unpaid salaries, violated contracts and suspended championships mean players for local clubs struggle to make ends meet. Some professionals even depend on a food bank to survive.
"COVID-19 finished us off," says Gamamba grimly, paint flecking his face as he sweeps the roller up and down.
"Since I started work in the building trade I've been earning eight times more than on the pitch," he sighs.
"I sued my former club for breach of trust because they promised me a job if I played for them," he explains, "and they never did. And they only paid me five times in two years-150,000 CFA francs ($275) each time."