Shandong village feeding world with peppers
Share - WeChat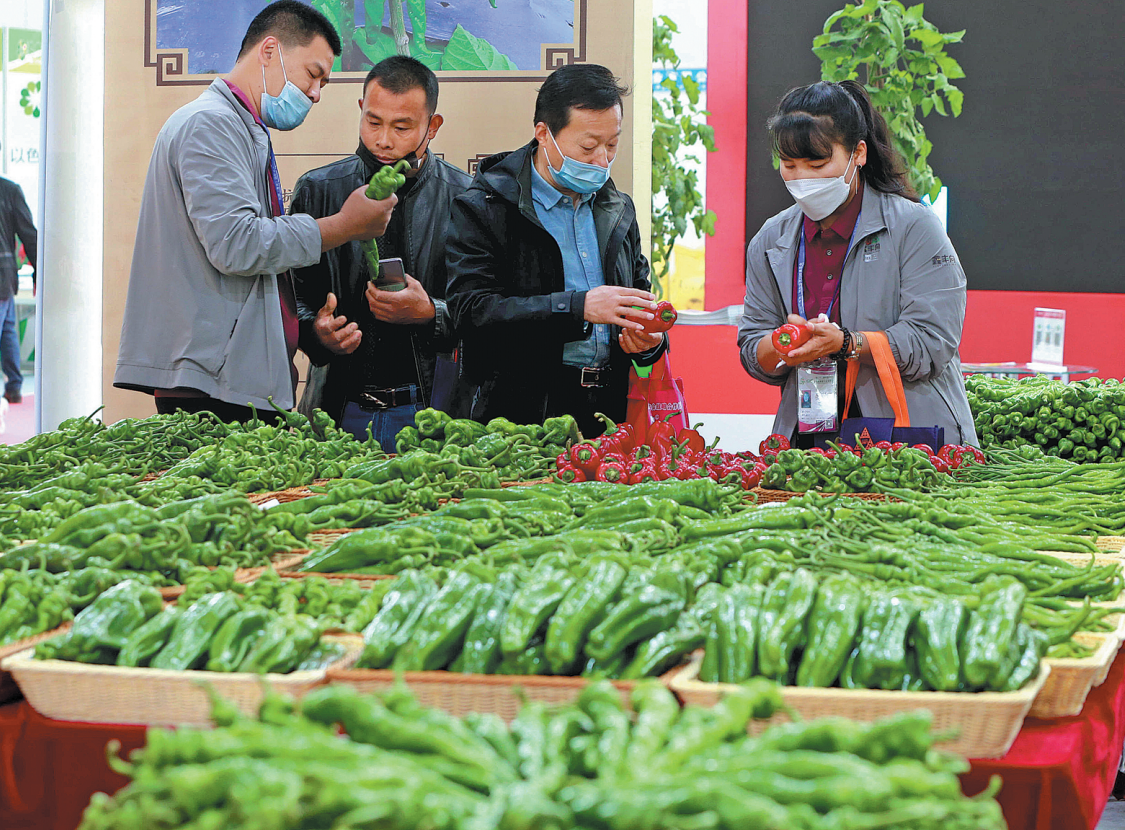 Advanced growing technologies put Shouguang on the global food map
Growers in Shouguang, Shandong province, are penetrating more overseas markets with high-quality products.
Li Xinsheng, director of the Zhendu fruit and vegetable cooperative in Dongzhenguan village of Shouguang city, said having attained certification as a vegetable production base for the Guangdong-Hong Kong-Macao Greater Bay Area is key for the cooperative to expand its market reach.
Issued last April by the bureau of agriculture and rural affairs of Guangzhou, capital of Guangdong province-and Weifang, which administers Shouguang-the certification says the cooperative's production base covers an area of 213 hectares in the village. It also lists the three vegetable varieties that the production base can supply as being peppers, tomatoes and cucumbers.
The cooperative sold around 2,000 metric tons of color peppers last year to the GBA, said Li, who is also Party secretary of the village.
"With over two decades of development, color peppers have become a business card of our village, gaining stable markets for us," he said.
The village, home to 586 families, now produces 20,000 tons of color peppers every year, with 60 percent sold to overseas markets including Russia, Kazakhstan and Singapore. More than 350 families are engaged in the color pepper industry in the village.
Although both sides of a main road at the village are lined up by greenhouses, Li said villagers are looking for space to build more greenhouses.
"Betting on increased demand for color peppers, they have been building greenhouses in neighboring villages," he said, adding that some families are expanding their greenhouses to produce more color peppers.
Back in 1998, villagers were reluctant to grow color peppers when Li was elected as Party secretary of the village.
But with greenhouse technology first being widely adopted in Shouguang in the 1980s, villages in the city started growing vegetables year round, making Shouguang China's "vegetable city" and attracting multinational agricultural companies to the city.
Li got to know about color peppers for the first time from an Israeli company that set up a demonstration base for cultivating tomatoes and color peppers in Shouguang.
"Color peppers were a foreign product. Whether they would be accepted in China, nobody knew at the time," he said.
Li and another four families started to grow the vegetables as an experiment. The results showed color peppers were not generally accepted in China at the time.
"We waited all day long at a market in Shouguang, but nobody was interested in our product," Li said.
Their color peppers were finally bought by a vegetable business runner who said he would transport them to the northeast to have a try.
"He came back to us days later and told us he would buy all the color peppers we grow," said Li, adding that the color peppers were probably sold to Russia via border markets.
"In the first year after growing color peppers, our income increased 30 percent more than from growing cucumbers," Li added.
Three years later, over 100 families in the village started to grow color peppers.
The color pepper sector saw rapid development after the village established a cooperative in 2008 to promote standardized production in the whole sector chain including growing, packaging and marketing.
"If we had not consistently upheld safety standards for our agricultural produce, we would not have been able to tap the Greater Bay Area markets in such a short time," Li said.
The Party committee of the village divided families that registered in the cooperative into several groups and gave a number to each greenhouse. Each member of the Party committee is responsible for some greenhouse production oversight such as whether farmers use authorized pesticides.
In addition to buying equipment to test pesticides on their own, officials from the Customs and agricultural and rural affairs authorities come to our village every half year to get samples from our greenhouses and bring them back to their labs for testing, said Li, adding that the color peppers grown in the village have never tested positive for pesticide residue.
If any farmer is found to be using prohibited pesticides, he will be prohibited from growing color peppers for three years, according to the cooperative regulations.
To ensure high-quality development of the vegetable industry, the Shouguang government promotes standardized production across the city in the vegetable production sector from the aspects of vegetable growing environments, seeds and seedlings selection, growing skills, fertilizers and water use, disease and pest control as well as harvesting and packaging.
The city now has 40,000 hectares to grow vegetables, yielding over 4.5 million tons of related produce, according to the city government.